HBO certainly seems to be at the forefront of reviving '70s nostalgia: Not only is the network developing Martin Scorsese's untitled series about rock 'n' roll in '70s New York City, now David Simon, the man behind The Wire and Treme, is moving forward with The Deuce, a potential series about pornography in Times Square set in the same era that will hopefully feature a better looking cast than most Real Sex features.
Simon and frequent collaborator George Pelecanos were initially hesitant about taking on The Deuce: "I don't wanna make a porn show," Simon recalls telling Pelecanos. "I'm married with kids and lawn furniture. I don't want to go there, man. That's dark." But a location manager on Treme who had been researching the life of a man who worked at a 42nd Street mob front in the '70s convinced the duo otherwise. "You've got to hear the guy's stories," he said.
The duo met with the man and were enthralled with his tales of the old, filthy New York City. Being a journalist, Simon jumped into the research process—which one can only hope involved watching lots of stag films—and began to develop The Deuce. The always well-spoken Simon says he felt strongly that he didn't want to vilify the porn industry while basically using the taboo of it to sell the show:
You don't want to make porn to critique porn be cause that would be a venal journey—nor do you want to look down on people because that also is fairly dishonest. You really have to land it in such a away where it's a story about people and it's a story about markets—about the moment where something became legal and profitable and what happens to people in that environment when markets prevail.
This "Golden Age Of Porn" is certainly prime for David Simon's take—as well as fans who love to use the term "Dickensian." New York in the '70s was fascinatingly sleazy, and there's so much from that particular era for Simon to build a show around: Department store bombings, near bankruptcy under the reign of Mayor Beame, and the end of the free love movement. Beginning with the rise of pornography from the underground productions of the '60s to the release of Deep Throat in 1972, The Deuce will follow the industry through the mid-'80s, when the rise of HIV, the cocaine epidemic, and a rejuvenated real estate market changed Times Square and New York City forever.
Simon's other HBO project, Show Me A Hero, is set to debut in mid-August, after which time production on The Deuce pilot is expected to begin.
G/O Media may get a commission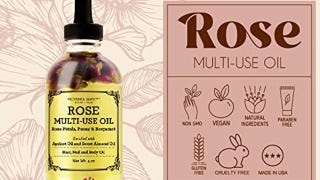 Provence Beauty Rose Multi-Use Oil