A little business first: If you're a Dollhouse fan and you spend a significant amount of time on the Interwebs—and I'm assuming I'm describing all of you here—you're probably aware of (and perhaps participating in) the widespread freakout over the show's dismal ratings in its second season. Any bump expected by DVD sales and good word-of-mouth heading into Season Two—goodness knows, FOX wouldn't add advertising to that equation—has not remotely materialized. Having 'Til Death and Brothers as lead-ins certainly doesn't help matters, but as this report from TV By The Numbers makes painfully clear, the show is in the danger zone and may get yanked before finishing the season out. (Check out this grim missive to see how dark a cloud we're talking about here.) My friend, the fine Chicago Tribune critic Mo Ryan, wrote a nice argument justifying the show's existence (and bonus Jed Whedon interview!), and I'll continue stumping for its merits here. But in case the show gets the hook between now and its return in two weeks (following baseball playoffs), I will make you this vow: I will review every episode of this show that gets produced, even if it's off the DVD.
I have to admit, cancellation worries somewhat clouded my enjoyment of "Belle Chose," an otherwise good-but-not-great hour, because I'm feeling extra impatient about the show's need to move forward and address the overarching plot. Though maybe a slightly stronger episode than last week's, it again felt like a more polished and confident version of the self-contained first five episodes of last season. As with those, there were some baby-steps forward—specifically here with regard to the insidious power of the remote wipe (if you've seen "Epitaph One," you know its significance) and Echo's ongoing retention of her imprints—but mainly it was a clever, self-contained exploitation of the basic Dollhouse premise. In fact, it looked a lot like the show FOX probably wanted in the first place.
It doesn't get any better than the pre-credits scene, which finds an effete creep we'll later know as "Terry" setting up a creepy tableaux of women arranged like upper-crust mannequins. They're dressed for croquet in an immaculate turf garden Terry has set up in a dank basement hideaway, three of the four completely paralyzed by animal tranquilizers. The fourth tries nobly to crawl away, but Terry strikes her with the business end of the croquet mallet and then sets about trying to find her replacement on the streets, only to be hit by a car. It's a wonderfully disorienting sequence, enhanced by us not knowing any of the people involved and also for toying with the Barbie-like nature of the Dollhouse itself, where actives are forced into a more complete form of dress-up for wealthy clients. (A scene later, where Echo gets made over into a bubbly college student, brings the point home.)
Turns out that Terry is connected: He's the nephew of a major client and shareholder (played by Battlestar's awesome Michael Hogan, who was a bit underused here), who takes his comatose body to Dollhouse for discreet care. Upon examining Terry's scan, Topher discovers that his brain resembles the shady topography of a serial killer's, showing no capacity for empathy or compassion. (Hey, that sounds like a Supreme Court justice Jeff Sessions can get behind!) When it's then revealed that Terry might be behind a rash of missing persons cases, the gang comes up with an surefire, foolproof, nothing-could-possibly-go-wrong kind of plan: Imprint Victor with Terry's twisted brain, and bring Ballard in to interrogate him. And when Ballard's Jack Bauer routine bears no fruit, they play the diabolical trump card of showing Terry (as Victor) a video of himself in his current state. That'll fuck with your head.
G/O Media may get a commission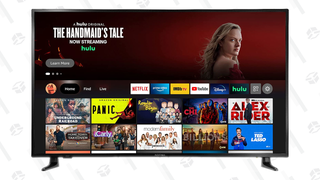 38% Off
Insignia 50" 4K UHD Smart TV
Meanwhile, Echo is off with a creep of her own, tasked to fulfill a student-teacher fantasy with a randy literature professor played by Arye Gross, who fans of bad '80s comedies will recognize as the star of Soul Man and The Experts. There's nothing particularly compelling about this bit of role-playing—Eliza Dushku in aggressive flirt mode, Gross as the mildly pathetic cretin who doesn't have the charm to seduce his real students—but I liked the connections between Ballard's interrogation of Terry and Gross' seduction of Echo's Kiki. In both cases, the men get off on asserting their horrible power over women, and in both cases, the tables are turned of them.
The union of these two storylines, via a terrific twist I never saw coming, more than justified the blah Echo subplot and led to a lot of thrilling moments. It was obvious from the start that Victor-as-Terry would break out and cause serious problems for the Dollhouse—and the women around Hollywood and Vine in general—but I never expected the remote wipe would scramble up the imprints and leave Victor humping around at a nightclub like Dushku's Faith after a good kill. We also get a tense scene of Echo-as-Terry returning to confront the other three women in Terry's improvised dungeon and confusing them (and us) with her erratic personality hiccups.
In the end, we're left in a semi-familiar place, with Echo living up to her name by echoing Terry. Will her serial-killer self reappear at an inopportune moment in a future episode? And more pressing, will we have to wait until DVD to see that episode? Stay tuned…
Grade: B+
Stray observations:
• Great callback to one of my favorite phrases from Season One: "Give him a 'man-reaction,'" says Topher. Adele: "I choose not to hear that."
• Another fine Topher moment (and he continues to his improbable run as the show's breakaway character) comes when he frets about accessing Terry's brain. "I have serious ethical problems," he says. "Topher has ethical problems? Topher?!," snipes Ballard. "Way to land it," he replies.
• Wish I had more to say about Michael Hogan, but after a couple of promising early scenes, he wasn't given much to do. He's still awesome, though, and the show's repeated nods to Battlestar are ingratiating.
• "I'm like the Scarlet lady with the F on her chest." "A" "If only…"
• Tonight was an excellent showcase for Enver Gjokai as Victor; after that nightclub scene, I'm convinced that he's the most versatile actor of the dolls in the cast.
• Topher again, deflecting the worries about leaving a wiped Victor out in the field: "He'll be an empty-headed robot wandering around Hollywood. He'll be fine."