Permanent Records is an ongoing closer look at the records that matter most.
Kurt Cobain's 1994 suicide left a giant hole in the rock world. The year before, Nirvana had released In Utero, which was on its way to becoming as seminal as the genre-altering Nevermind. Grieving fans looked anxiously to the band's surviving members, Krist Novoselic and Dave Grohl, to see if either could pick up the Nirvana baton. It didn't seem particularly likely.

Novoselic subsequently formed two bands—Sweet 75 and Eyes Adrift—and released an album with each. But Grohl was clearly more creatively inspired in the wake of Cobain's death. Foo Fighters started out as a solo project and a one-man demo; after recording the band's first album, 1995's Foo Fighters, by himself, Grohl drafted legendary Germs guitarist (and Nirvana touring member) Pat Smear and the rhythm section of another storied Seattle band: Sunny Day Real Estate's bassist Nate Mendel and drummer William Goldsmith, left behind after frontman Jeremy Enigk found Jesus.
Very few initial tracks were greeted with as much anticipation as first FF album cut "This Is A Call," but true to the song's title, it was like a siren, even as it sported silly lyrics like "Fingernails are pretty / Fingernails are good." As a staffer on a local Chicago music magazine at the time, I was lucky enough to receive a promo cassette of the album, which made me extremely popular in some circles. A date offered me $100 for it after spying it in my car stereo; even as a poor rock writer, I said no, somehow cognizant of the impact it was about to have.
Foo Fighters' follow-up, The Colour And The Shape, came out 20 years ago this month, and it's still the most commercially successful in the band's now-considerable discography, selling two million copies. (Nevermind, by comparison, has sold more than 10 million in the U.S.) Two decades later, some of its tracks hold up remarkably well, while some… not so much. But the album still stands as the effort that showed that Grohl's Foo Fighters were not some pet one-off project, but a band he remains committed to.
Not that there weren't some bumps in the beginning. Grohl, having established himself in Nirvana as a superior rock drummer, re-recorded all of Goldsmith's tracks on Colour And The Shape, causing him to leave the band. Alanis Morissette's drummer, Taylor Hawkins, stepped in before it was time to tour and has remained with FF ever since. Smear also subsequently left the band, though he eventually returned. Grohl, with Colour And The Shape, was trying to craft a specific vision for this new band, which was especially daunting since he had come from one of the best ever. Grohl revealed in a 2014 episode of his HBO series Sonic Highways that Cobain was a fan of the future Foo Fighters' stuff he had played for him: "Kurt heard that and kissed me on the face, as he was in a bath. He was so excited. He was like, 'I heard you recorded some stuff with Barrett [Jones].' I was like, 'Yeah.' He was like, 'Let me hear it.' I was too afraid to be in the same room as he listened to it."
G/O Media may get a commission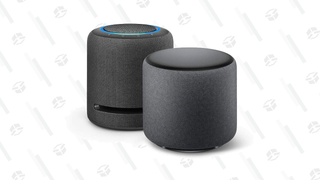 25% off - Prime Exclusive
Echo Studio + Echo Sub Bundle
While juggling band personnel, Grohl also had some serious songwriting to accomplish. Foo Fighters have never had Nirvana's bite: Grohl seems to be a fairly cheerful, laid-back guy, unlikely to ever write a song like "Rape Me." But he did have his own emotional trauma to work out on Colour And The Shape. He refers to it as his breakup album, as he was in the process of splitting from his first wife, photographer Jennifer Youngblood. He joked that the album cover should have featured a couch. Instead of the illogical mutterings on FF's "This Is A Call" or "For All The Cows," The Color And The Shape lays out Grohl's divorce like a diary.
The album starts out with the openly vulnerable "Doll," with Grohl singing in a whisper: "You know in all of the time that we've shared / I've never been so scared." He then defiantly leaps into "Monkey Wrench," a cut that seems designed to show the world that the former drummer could steer a guitar band, as Smear performs breakneck scales down his guitar neck. Grohl also harnesses a few primal screams. Where Nirvana had proved to have few peers melodically, Grohl, always the radio-rock fan, hung his album's momentum on the hook of "Monkey Wrench."
It's that enthusiasm that sells The Colour And The Shape and, in fact, Grohl's entire career. He's a rock fan as much as his own fans are. When faced with greats like Brian May or Geddy Lee, he cops zero attitude, but falls in deference. There was no better choice than Grohl (aided by Hawkins) to induct Rush into the Rock And Roll Hall Of Fame in 2013. Faced with a major life crossroads after Cobain's death (he was offered the drumming gig for Tom Petty's band, among many others), it's not a surprise that Grohl embarked on the necessary but likely terrifying path of creating his own rock outfit.
It's an outfit that nowadays gets called things like, as one A.V. Club commenter put it, "mediocre bloat rock." Even Grohl would agree that Foo Fighters was probably the band's best album (he said as much on stage in Chicago a few years ago), and more recent efforts have had some standout singles but not much else. But on The Colour And The Shape, Grohl was still in the thick of it, still trying to figure it all out. He's also pushing all that rock passion to the forefront as he tries to examine his crumbling relationship (and possibly a new one). Track three, "Hey Johnny Park!" doesn't really stand up against the surge of "Monkey Wrench," but track four realigns things. "My Poor Brain" throws a bunch of chaotic nonsense against the wall, then shifts into a meek one-note-fueled verse before Grohl steps on his guitar pedal and transcends again. For an album focused on love, "Sometimes I feel like getting stuck / Between the handshake and the fuck" might be the most romantic line on the whole record, augmented by some freight-train guitar and Grohl's anguished vocals.
The more obvious heart of Colour And The Shape, and famously, David Letterman's favorite song (which the band performed on his last-ever show), is "Everlong," a composition so emotional that Grohl recorded an equally effective acoustic version a few years later. The song features backing vocals by Veruca Salt's Louise Post, who Grohl was rumored to be in a relationship with at the time, which explains the track's commitment to the early days, not the waning days, of romance. "Everlong" is committed to capturing a fleeting, perfect moment—"If anything could ever be this good again"—that only exists in the first flushes of love, before all the bullshit seeps in, before the first fight, before cross words are ever spoken. The song's video tries to protect that same moment but does it in a stylized way: Grohl's relationship (with a dolled-up Hawkins) is plagued by dream-fueled threats like the creature from the Black Lagoon and a chainsaw murderer. Grohl's ardor grows (indicated by a ever-more-ginormous hand) to defend his love. At this point, the Foo Fighters are at least as well-known for their videos as their music (that Mentos-commercial-inspired "Big Me" video holds up amazingly well), but "Everlong" is one of the weirdest.
"Wind Up" is the band's obligatory rant against the mainstream press, even as it makes the listener really glad that Grohl re-recorded those drums himself. The tonal shifts of "Up In Arms" are meant to be jarring, but indicate how the same relationship can appear differently from different viewpoints, with different instruments—even with the same words, it's an entirely different song, as deceptively simple as an early Beatles pop confection. The waxing and waning pace continues throughout Colour And The Shape, as Grohl appears committed to continually transforming the tempo, with the sweet rat-a-tat and tambourine of "See You" (complete with smattering of applause) juxtaposed against the blinding rock rage of "Enough Space." "February Stars" starts out as a musical speck that expands into a supernova ballad, resembling what Grohl might have heard on FM radio in grade school.
Besides "Everlong," "My Hero" is the album's standout. Despite rumors, Grohl insists that it's not about Kurt Cobain, but about how greatness exists in all of us. Those same guitars now stalwartly climb, where on "Monkey Wrench" they were so easily sliding down, underlining the heroic struggle. The song's commitment to dubbing the hero "ordinary" points not just to Cobain but also to everyone, as does the faceless hero in the video, saving babies and pets (but not the band) from a burning building.
It's significant that Grohl ends the record with "New Way Home," offering hope for his post-divorce life. After another alpha-to-omega climb in volume and intensity, he triumphantly proclaims, "I'm not scared," as he discovers this divergent path in his life. It's a long distance from where Grohl started out the record, but apparently he needed the journey to get him there.

As much as I love The Colour And The Shape, I have to admit I don't give too many full Foo albums after it many listens anymore; for me they lack the cogent package of Grohl's relationship troubles and efforts to get his band on the map. A few summers ago, I was lucky enough to see the Foo Fighters play Wrigley Field, and it remains the greatest arena rock show I've ever attended, even with Grohl in a wheelchair with a broken leg (granted, I haven't seen Bruce Springsteen in a while). Grohl was committed to bringing the rock to every person in that ballpark, drawing covers from his youth, demanding sing-alongs, and breaking down in tears at the end, so grateful that a career that started at the tiny Cubby Bear club across the street had brought him this far.
What struck me so strongly after that show, and two decades after this record, is how much Grohl taps into the saving power of rock music. That initial inspiration may have faded over the years, but on those first two records, when we really needed it, Grohl and his Foo Fighters were making music that continues to resonate, so that we're still likely to catch "My Hero" on the alternative-rock station. It was clear from the beginning that he just really wanted to rock you. On The Colour And The Shape, he succeeded. Kurt died, but rock survived.