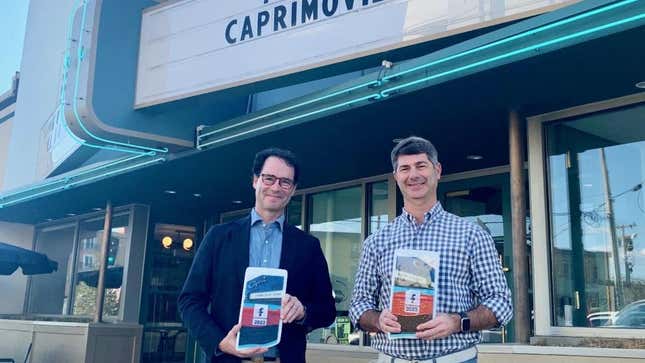 This is the second in a two-part series by The A.V. Club looking at the challenges faced by small, independent movies theaters across the country.
John Hughes says the director called his Ferris Bueller performance "boring"
The big COVID-era fall off in moviegoing hurt the multiplex circuits like AMC Theaters and Regal Theaters badly. So imagine how things went for the proprietors of old school, mid-20th century single-screen venues—those dwindling neighborhood movie palaces that book one movie at a time, and can sink or swim on a single choice. One-screen venues must have been destroyed, right?
Not quite. The imaginative ones are doing just fine.
Meet David Pharr, developer and co-owner of the Capri Theatre in Jackson, Mississippi. As with many single-screen theater operators, there's a sentimental aspect to Pharr's attachment to the Capri. "Part of our motivation is that we didn't want to see our childhood theater disappear," Pharr says. "My partner Jason Watkins and I attended the Capri as kids, and we both saw Star Wars there. We felt an emotional connection to the Capri, and wanted to do something about it."
But Pharr and Watkins are also businesspeople. They hedged their bets in creative ways, because anyone renovating a single-screen theater in the 2020s has to.
Movie theaters need to be about more than just movies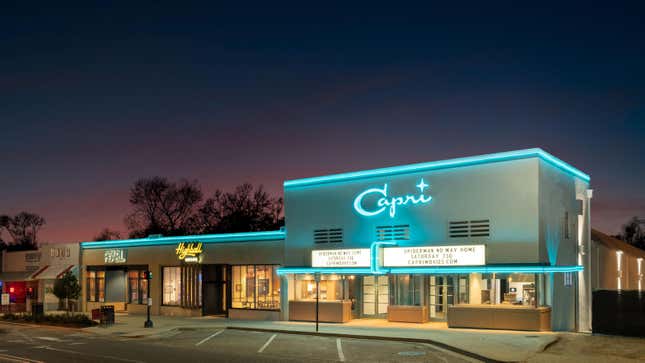 Pharr is a true believer in the "New Urbanist" philosophy of development—a contemporary movement advocating the revitalization of dilapidated urban centers. New Urbanists revere the walkable, sidewalk-lined boulevards and integrated public and private spaces of all the "old-town" shopping areas that were put on economic life support by the rise of shopping malls, and by the multiplexes that rose with them. "We are in a city (Jackson) with some really interesting, older commercial areas," he says. "Really interesting historic buildings (like the Capri) hadn't gotten a lot of love for an extended period of time, and we saw this as an opportunity."
A survey of Jackson, Mississippi's entertainment infrastructure told Pharr that one slice of the public was drastically underserved. "The thing that had been really underestimated was the demand for bowling in our market. Our consultants convinced us that bowling was the hottest added component we could find." Pharr and Watkins decided the new Capri couldn't rely on movies alone if it was to succeed. Adding a bowling alley to their renovation plan rose to the top of the list.

There were architectural advantages to exploit in the Capri as well. "This theater was kind of on the line between a palace and a neighborhood theater," Pharr says. "It was this cavernous building, built on a hill, and for that reason it has a really steep (auditorium)." That steep slope made for great sight lines, another opportunity for "value added," because according to Pharr, full meals can be served directly into the main auditorium without disturbing the sight lines of other patrons—even when a movie is underway.

Pharr and Watkins even made COVID work for them. They hit the brakes—just barely—on a planned 2020 construction start when the pandemic hit. "Our plan shifted to aiming the renovation toward a time when people would be ready to come back," Pharr says.
The Capri reopened in February 2022, relaunching to sellout crowds with Spider-Man: No Way Home as "a first-run movie theater, a 10-lane bowling alley, and a full service restaurant and tiki bar."
Finding moviegoers means finding your niche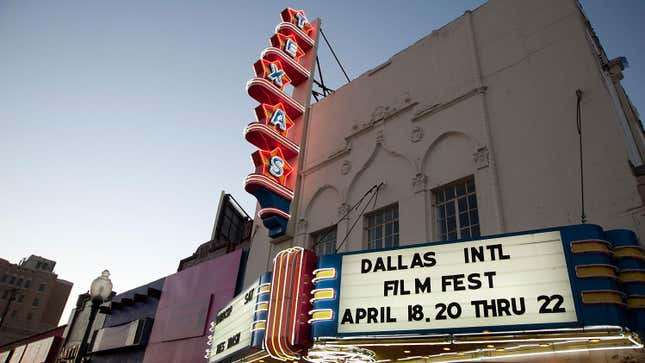 A very different programming strategy informs the wild, alternative approach to "value added" cinema at the Dallas-based Texas Theatre—a landmark property best known as the auditorium where Lee Harvey Oswald was apprehended on November 22, 1963, after he killed Dallas patrolman J.D. Tippit and assassinated President Kennedy.

In 2010, the lease to the Texas Theatre was taken over by a group of independent filmmakers who wanted to have a space to screen their own movies, and who dreamed of a hub for the non-mainstream pictures they themselves wanted to see. They called their enterprise "Aviation Cinemas" as an homage to the Texas Theatre's original owner, Elon Musk prototype and old school aviation tycoon Howard Hughes."We were very aware of all the film festival movies that weren't getting theatrical play in Dallas, which is a huge market," says Barack Epstein, the CEO of the Aviation partnership. "There were lots of theaters here, but there was still good stuff that would fall through the cracks."
Unlike the owners of the Capri, Epstein and his partners couldn't really see a way for the Texas to support a first-run strategy, so they opted for niche, and an appeal to trash cinema connoisseurs. Most Texas bookings are older repertory titles, with the occasional first run art film in the mix. The Texas Theatre's annual Oak Cliff Film Festival offers a full compliment of offbeat and international titles to Dallas-based cinephiles.
Epstein's transformative idea was to use what he calls "movie-focused event programming" to convert the Texas into a kind of live music venue without the music, where the visiting stars aren't Wolf Alice or the Mysterines but rather alt cinema heroes.
"The single-screen model, from the '40s or '50s or something, where you would just run the same movie for weeks—that's not a model anymore, clearly," Epstein says with a laugh. "You've got to treat it like a venue. A lot of single-screen theaters have been converted into 100 percent venue, where there's nothing but live events. Our idea was that we could do that but come at it from a 'movies first' perspective, so the events are based around films."
Clerks and Jay And Silent Bob filmmaker Kevin Smith uses the Texas as his Dallas headquarters for live appearances. As this article was written, the Texas was promoting both an upcoming evening with Troma Films schlockmeister Lloyd Kaufman and "Bruce-O-Rama," a double feature of Sam Raimi's Evil Dead movies hosted by their star, cult actor Bruce Campbell. The Texas leans into its slot on the death tourism circuit too, offering customized Lee Harvey Oswald mugshot merch for sale, alongside ticket-stub tees dated 11/22/1963.

What's old is new again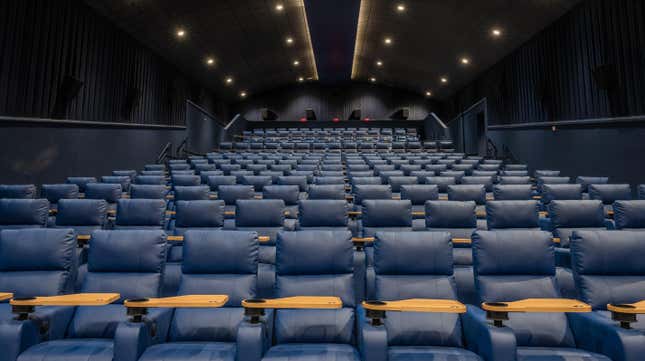 Even with all the creative energy single-screen operators lavish on their theater, the life of the solo operator remains precarious. The Capri Theatre's Pharr dreams of acquiring another space he can subdivide into two auditoriums for programming flexibility. And in 2021, after over a decade operating the Texas as a single screen, Epstein and his Aviation partners used their theater's COVID closure to modify an unused balcony into another auditorium, so that repertory titles and alternative first run films could play side by side.

But even now, Epstein still believes in the single-screen possibility. "There are people who want to go somewhere different. Some of it's just being in this 90-something-year-old building, and seeing its architecture. A lot of one screen theaters have that—they have history. My advice to the one-screen-theater operator is to lean into your uniqueness. Because you're already unique. The importance of place is a big part of why people come to an older space."