Monopoly continues to upset cherished childhood memories of familial anger and resentment, as visualized by your Scottie dog getting trounced by your brother's top hat. And now, as it did in 1942, 1999, 2000, 2007, and 2013, Monopoly is again switching up the game's player tokens: This time it removes the thimble, boot, and wheelbarrow and replaces them with a T. rex, penguin, and rubber ducky.
While the game has historically reflected a "rich man/poor man" theme, with the player tokens falling into the rich category (scottie dog, top hat, a literal bag of money) or the poor (an iron and a thimble, both items of which would never dirty Mr. Moneybags' fingers), maybe it's due to 2017's historic income inequality that the voting public decided to do away with these symbols of poverty in favor of something more fun.
Or maybe it just reflects the 1 percent and the 99 percent, those two categories that now reflect "rich" and "poor." The T. rex represents the dinosaur skeleton that can only be owned by the uber-rich, or maybe the investors who made Jurassic Park happen. The rubber ducky, meanwhile, is the product of a poor baby, whose parents can't afford the organic soy-made rubber alternative. We don't know about the penguin, but let's just say it's an animal the working class can only see in public zoos while the elite can see them on their cruise ships. The current line-up is certainly more animal-heavy than it's ever been (the cat was added in 2013):
The new pieces were decided in Monopoly's "Token Madness" voting contest back in January, where fans cast 4.3 million votes out of 64 options. And considering the options—which included a flip-flop and a couple emoji—the T. rex, rubber ducky, and penguin are petty good picks, even though it's baffling that sliced bread didn't get chosen.
G/O Media may get a commission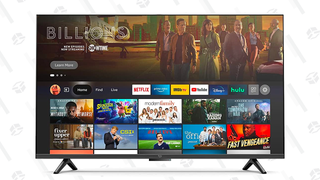 22% off
Amazon Fire TV - 50" Omni Series 4K - Early Access Deal
Seriously, look at this magnificent option that future capitalists won't get the option to play with! America may be above voting for monster trucks and the kissy emoji, but we're clearly not evolved enough to realize the humble but appealing pleasure of representing our monopolistic enterprises with a miniature metal loaf of sliced bread.