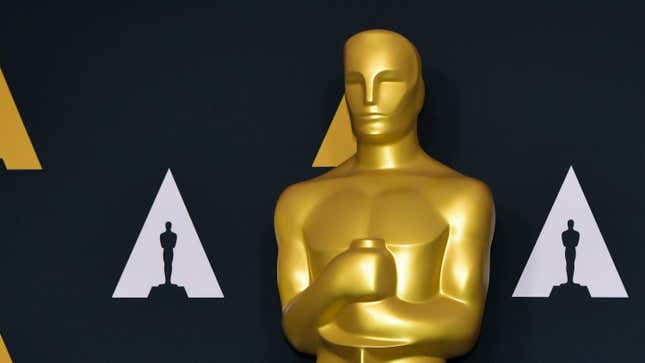 Celebrities who are up for a big award like to say that it's "an honor just to be nominated," but we know that's not true. While it's nice to get the implied approval of your friends and colleagues, what they really mean is that it's an honor to get the absurd (and unofficial) Oscars gift bag that select nominees get every year. As always, the 2023 gift bag is full of things that nobody actually wants and certainly doesn't need—especially if you're a famous celebrity and especially because the contents of the gift bag are considered taxable income if you use them—but it's still fun to look at what these celebrities are getting for free and think to yourself "boy, it sure would be nice if I got a no-strings-attached trip to Italy just for doing my job." On the other hand, do you know what the tax would be on a $10,000 chemical peel treatment from Dr. Konstantin Vasyukevich? We don't, but it's probably a lot.
But first: Who gets these gift bags? CNBC explains that the bags aren't an officially sanctioned part of the Academy Awards, which means the organization that puts them together—marketing company Distinctive Assets—just chooses who deserves one the most. This year it's host Jimmy Kimmel, all of the Best Director nominees (Everything Everywhere All At Once's Dan Kwan and Daniel Scheinert each get their own), and then all of the nominees in the acting categories (including supporting).
That CNBC story adds that the gift bags are actually two gift suitcases that are delivered to the nominees' hotel rooms, and the contents of those two suitcases is valued at $126,000 or so. The priciest freebie is a $40,000 three-night stay at a "remote luxury property" called The Lifestyle in Canada, which includes a "fully-stocked fridge," an "in-home movie theater," and access to a 1965 Shelby Cobra and a 2023 McLaren Artura. Some of these nominees could just afford all of that themselves (looking at you, Spielberg), but it would be a lot of fun if, say, Ana de Armas showed up at The Lifestyle expecting a nice getaway only to realize that… Martin McDonagh or whoever was already there, eating everything in the fridge and doing donuts in the McLaren. We'd watch that movie, by the way.
Other high-end items include a $9,000 trip to Italy, a one meter plot of land in Australia, a $12,000 arm liposuction procedure, and the aforementioned chemical peel from Dr. Konstantin Vasyukevich. Delish has a funnier list, though, which includes some of the weirder inclusions, like some Clif Thins bars, M.Cacao's "Expressio" (which is apparently the "first-ever chocolate box with a personalized video embedded inside"), microwave popcorn (it's probably fancy), chocolate-covered pretzels (they're probably fancy), and some Bored Rebel undershirts (it's just a white shirt that says, like, "Baller Energy" or "Smartest Person In The Zoom," or "Covid Made Me Miss The Office").
Now imagine Brendan Fraser wearing a shirt that says "Drive for show, put for dough" under his suit at the next event and see if he's still lovable. (He might actually be more lovable, especially if he's snacking on Clif Bars and his skin is freshly... peeled.)