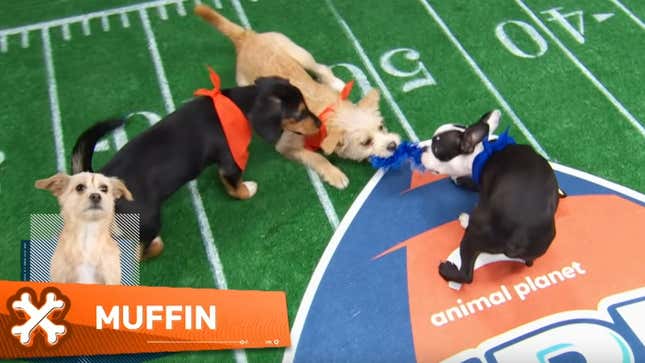 Last night, a nation gathered to watch some of its finest athletes come together in fierce competition. Bars and living rooms were packed with excited fans, eager to cheer on the proceedings. Only one group of gridiron warriors could win. And it was the one that included a player that got excited and peed on the field during the national anthem.
Puppy Bowl XIX, the latest installment in the long-running Super Bowl companion show, took place last night, starring two opposing sides of four-legged champions divided into Team Ruff and, the victors, Team Fluff.

While the Puppy Bowl's official commentary and branding are gratingly colored by internet doggo humor, the event itself is still filled with excellent moments—mostly because good stuff happens when more than a hundred puppies are put in a room together with cameras aimed at them.
Among the highlights, the very best is an Onion story come to life that saw an overeager Team Fluff competitor unable to contain his excitement before the game began. As captured by @briandoesntexist on TikTok, this star athlete took a leak as the national anthem was played.

While the statement made by this player is sure to inspire argument, those who truly care for the sanctity of the game were more concerned by other moments. Take, for instance, Perry Kostidakis' observation of Team Fluff's Pickle carrying out a tackle that should, in a more responsibly run version of the sport, result in an immediate suspension.

There were less dramatic scenes from the game, too. At one point, a competitor decided that the entire event was just too much and had to be coaxed out of hiding in a little tunnel.

Fortunately, most of the game was played properly, courageously, and at such a high level that the 122 puppies ended up in the first overtime in Puppy Bowl history. A "double touchdown" occurred with a stuffed hamburger toy, leading to a nail-biting finale that eventually, Mashable's Belen Edwards writes, saw Team Fluff emerge triumphant.

While the Puppy Bowl is held largely as a display of athletic prowess, we should mention, too, that it's also an event in which the competitors are all up for adoption as well. Take a look at a page showing them off and remember, depending on which one you take home, it might not be a good idea to play "The Star-Spangled Banner" around them if they're sitting on the carpet.

Send Great Job, Internet tips to gji@theonion.com