Nick Marsh, the British vocalist and guitarist best known for the years he spent fronting the band Flesh for Lulu, has died at the age of 53 after a battle with cancer.
Marsh, along with drummer James Mitchell, founded Flesh for Lulu in 1982, with the band scoring an early break when they caught the ear of legendary disc jockey John Peel and were invited into the BBC studios to record a quartet of songs – "Dancer," "Walk Tired," "Missionary," and "Spy in Your Mind" – for Peel's show. Although additional musicians for the session included bassist Philip Ames and former Tom Robinson Band keyboardist Mark Ambler, Marsh and Mitchell soon filled out Flesh for Lulu's lineup with bassist Glen Bishop and guitarist Rocco Barker, formerly of the post-punk band Wasted Youth.
By 1983, the band had secured a deal with Polydor Records, releasing their first single and EP, "Roman Candle," which was followed in 1984 by their self-titled debut album, but neither the album nor its two singles, "Subterraneans" and "Restless," proved commercially successful, resulting in a parting of the ways between Polydor and Flesh for Lulu. In addition, Bishop bailed out of the band, with Kevin Mills, late of the band Specimen, stepping in to fill his spot, but the year ended on a bit of an up note: "Subterraneans" managed to secure a slot of Peel's famed "Festive Fifty" countdown.
1985 proved to be a transitional year for Flesh for Lulu, with the band first releasing a mini-LP on Hybrid Records (Blue Sisters Swing), then issuing their sophomore album, Big Fun City, on Statik Records later in the year, but after signing to Beggars Banquet in 1986, Flesh for Lulu's fortunes began to change, thanks in no small part to the work of John Hughes. When the Hughes-scripted film Some Kind of Wonderful hit theaters, its soundtrack featured the track which would come to be considered Flesh for Lulu's signature song: "I Go Crazy."

"That was a big sort of game-changing chapter in the band's history," said Marsh, in a video interview for Flesh for Lulu's official YouTube channel in 2014. "Because we were playing in these small clubs, and all of a sudden we were playing bigger audiences and younger audiences."
The band also found success on the college charts for the first time in their career, resulting a deal with Capitol Records and a new album, Long Live the New Flesh, which featured the single "Postcards from Paradise," a song later covered by both Paul Westerberg and the Goo Goo Dolls.
Although "Postcards from Paradise" earned further college radio airplay for the band, it failed to cross over to the mainstream, and the album's other single, "Siamese Twist," suffered a similar fate. Flesh for Lulu's 1989 album Plastic Fantastic was equally ineffective at delivering a crossover hit, but thanks to Billboard adding a Modern Rock chart to its pages, both of the album's singles did well, with "Decline and Fall" entering the top 15 and "Time and Space" cracking the top 10. (It's worth noting that the videos for both tracks were helmed by Peter Webber, future director of The Girl with the Pearl Earring.) Unfortunately, Modern Rock success apparently wasn't enough for Capitol, who dropped the band, and after attempts to secure a new deal with Hollywood Records came to naught, Flesh for Lulu fell apart, with Marsh conceding, "To coin the oldest cliche of them all, there were musical differences."
In 1996, Marsh re-teamed with Barker to form the band Gigantic, releasing their self-titled, Tim Palmer-produced debut album on Columbia Records, but despite having a harder sound and securing a high-profile opening slot for Bush and The Goo Goo Dolls, the album failed to sell, and Columbia dropped the band. (Marsh and Barker would ultimately reissue Gigantic in 2007, this time crediting it to Flesh for Lulu.)
G/O Media may get a commission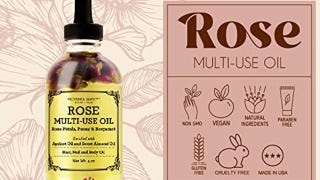 Provence Beauty Rose Multi-Use Oil
In 2003, Marsh and singer/songwriter Paul-Ronney Angel co-founded The Urban Voodoo Machine, a London-based musical collective which delivered a concoction described on their website as "Bourbon Soaked Gypsy Blues Bop'n'Stroll." Although Marsh served as the Machine's lead guitarist, he can be seen whistling his way through the video for their 2012 single "Rather You Shot Me Down."
In addition, Marsh also self-released a solo album, A Universe Between Us, in 2006, revealing a heretofore unheard side of his music, a more introspective sound that writer Andy Close described as "something to listen to at 2 a.m. with a bottle of red wine while watching the moon and the stars through your window."

More recently, Marsh had been working with his wife, Katharine Blake (formerly of Miranda Sex Garden and The Mediaeval Baebes), under the moniker From the Deep, having completed a debut album which - as of this writing - still remains scheduled for release this summer.
But Marsh hadn't forgotten the band that first brought him fame: in 2013, he revived Flesh for Lulu with a new lineup and big plans for the future, but those plans were derailed when he was diagnosed with throat and mouth cancer. After going through radiotherapy and chemotherapy, Marsh - feeling upbeat about his chances for recovery - launched an IndieGoGo campaign to finance the recording of a new EP and a tour of the U.S. and recorded a heartfelt video message to his fans about the state of his affairs.
Sadly, the campaign failed to meet its goal, but things got far more tragic in February of this year, when Marsh got word that his cancer had returned with a vengeance, and although he continued to fight the disease, the battle proved to be unwinnable. During what proved to be the final weeks of his life, the Marsh Family Cancer Crisis Fund was established to assist his wife Katharine and their two daughters while Marsh was unable to perform, and it remains open for donations even now, but the message issued by the fund on Friday was heartbreaking:
Dear all,

Sadly, Nick lost his fight this morning. He passed peacefully away, with Kat by his side holding his hand. A massive thank you to everyone who has shown support, in so many ways, to Nick, Kat and their beautiful girls. We've lost a good'un.
xx