Ready For Love is a catastrophe of a television show, a desperate attempt to cheaply create drama out of the sad, pathetic lives of women who seem to believe that they can find true love on a television show. It arises fully formed out of the idea that the problem with single women is that they are flawed—so the show is constructed of people who tell the women exactly what is wrong with them, over and over again, as they struggle to impress a monomaniacal narcissist who is only interested in advancing his tepid musical career. And in their attempt to do something "new" or "different" or "better" than all of those other dating shows out there, NBC (and producer Eva Longoria) in their infinite wisdom have introduced even more bizarre twists and turns to torture the women—three matchmaker-judges, who seem to largely function as pimps, two celebrity hosts, and a live audience, because nothing with a live audience has ever led us astray.
What's most shocking about Ready For Love, at the end of the day, is how undramatic it is. A dating show with a few semi-famous guys in front of a live audience seems to promise a certain amount of fun. Ready For Love has none of it. Tim Lopez, guitarist for the one-hit wonder band Plain White Ts (who made that song called "Hey There, Delilah" that you may have heard approximately 1,000 times), is one of the three men who are nominally "ready for love." (The première is just about Tim; the rest of the season tackles the slow elimination of the women and the other two men.) Unfortunately, Tim appears to have agreed to this television show in an attempt to kickstart his flagging music career, and in several scenes, he can't even muster up the energy to pretend to care about the contest occurring around him. A single conversation is mined for abrupt sound effects and cutaways for at least half an hour in the back half of tonight's première. So little happens, the editing team and the hosts have to frantically work to either creatively cut or prod the women into saying things they probably don't actually mean. At one point, Giuliana Rancic asks contestant Leah if she's had sex with Tim Lopez, right there on the stage in front of everybody. Leah, to her credit, prefers not to answer. The audience boos. It's riveting stuff.
If it were only boring, superficial, and bland, Ready For Love might merit a "D." There is something gripping about its sheer banality; the women are goaded to perform rote expressions of affection and care for the male of the species, who uses every available opportunity to talk up his band (which, for God's sake, is only famous because of one song!) or play guitar or sing, staring out into the distance otherwise, as if the prospect of being a lonely "rock" "star" on a dating show with nine women fawning over him is just too hard for his sensitive, creative soul. This show has "hate-watch"  written all over it.
But it's more than that. Ready For Love is pure evil. It's a horrible display of women being (figuratively) slaughtered upon the altar of glossy, fake platitudes about romance and love. The way the contestants are treated on this show is despicable, hovering somewhere between demeaning and inhumane. After all, this is an arena where, purportedly, several different talented women who are all looking for their soulmate are transported to a live studio audience, complete with strange, coffin-like cells that ascend and descend in sync with the whims of their masters. They are presented with the personalities of their hunky male protagonists, and decide, on the basis of photos, interviews, and perhaps compensation, to uproot their lives for a feeling they are experiencing which they have ascertained is something akin to "true love." What kind of horrific torture chamber is this?
G/O Media may get a commission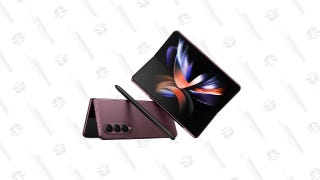 Save Up to $300
Galaxy Z Fold4
Allow, for a moment, that these women really do feel love or affection for these men—as we are told and even expected to believe. Shows like The Bachelor may have prepared these women for the dehumanizing experience of living with and competing against several other competent and beautiful women for a man who cannot possibly be worth all of that trouble. But Ready For Love takes it a step further. The women won't just be judged by the male of the species—they will also be eliminated based on how much they impress or disappoint their matchmakers, three different judge-mentor-madam types that give them critique on how they should fall in love. The structure of the show is Byzantine at best; the upshot is that in each episode, the women are trotted out in front of a live audience, publicly excoriated for doing things wrong in front of the ever-important male of the species, and then sent away to be systematically eliminated. If you are thinking to yourself that this sounds like some serious Hunger Games garbage, it's because IT IS SOME HUNGER GAMES GARBAGE. There are mentors and gamemakers and hosts and a live audience. There is also an evil empire, presumably, and that's either the audience or NBC—it's hard to say which anymore.
The "matchmakers," as they are called, are probably the most appalling element of the show. The dating reality-show thing is bad enough—the hosts, professional fame whores Bill and Giuliana Rancic, are bad enough—but the matchmakers are the icing on the disaster cake that is Ready To Love. The three matchmakers come from different parts of the world, and their approaches vary somewhat in tone, but not in execution. It's on the woman to make a relationship succeed. Matt, from London, describes his job as trying to understand "the male brain." Tracy, from Los Angeles, points out that single women are often "bitches," and that's why they aren't with someone. Throughout the show, they critique the women's appearances, behaviors, personalities, conversational topics, backstories, and relative aggression compared to the other contestants. They never critique any aspect of the man's dating methods. Love is a competition made to be fought and won by women, against women, didn't you know?
This is one of the most culturally defunct moments in current television. It could be fun—it should be fun—but it's just awful, instead. In tonight's première one of the contestants is sent home, sight-unseen, after Tim Lopez is not suitably impressed with her introduction. As she's descending the coffin-elevator, she bursts into tears and tells the camera that it's okay, because she does deserve love, and she'll keep trying. This is the show we are dealing with—this pit of despair, covered with the shiny gloss of a romanticized, cheap version of true love. It's a show that says: Let's put women in an enclosed space with one man, and then put them on stage to tear them apart for doing the exact things we have goaded and edited them to do. It's a show that says, if you're single, it's your fault. If you don't have love, it's because you're doing it wrong. And if you're a woman, the burden of catching a man is on you.
But here's the thing: It's wrong. It's wrong about relationships, it's wrong about love, and it's wrong about women. And along the way it is pushing the floor of the most depraved and stupid that pop culture and reality TV can be. The producers of this show, quite honestly, should be ashamed of themselves.
Stray observations:
Hey there, Delilah
I hate this song so much and yet it's now
stuck in my head
Hey there, Delilah
Why aren't you with this guy, Tim
So this show
would not exist
Oh, it's what you do to meee
Ohhhhh, whyyy, NBC
Oh, it's what you do to meee
Ohhhhh whyyyyyyy, NBC…