When Fall Out Boy and Missy Elliott recently unveiled their remake of Ray Parker Jr.'s classic Ghostbusters theme song, the endeavor was greeted with the same rancor as seemingly every other aspect of the Paul Feig-directed, female-driven reboot. The standard charges of childhood- and memory-ruining were brought out again, and many disgruntled YouTube reaction videos were made. But what the fanboys may have forgotten is that this was not the first time the original song got a hip-hop makeover.
In 1989, as part of the Ghostbusters II soundtrack, the legendary Run-D.M.C. released its own rap remake of the beloved hit, complete with added lyrics. To wit: "Something strange going on! Something's wrong! Gloom in the room, outside is the storm." Run and D.M.C. would also like people to know that they are not, in fact, afraid of no ghosts. It's actually a pretty decent, catchy record, one that maybe should have gotten a little more love back in 1989. It's very much in the tradition of Whodini's supernatural-themed 1983 classic, "Haunted House Of Rock."
That track has largely been forgotten in the ensuing 27 years, possibly because Bobby Brown's "On Our Own," with its own plot summary in rap form, was the big single from the sequel. When people think of the music from Ghostbusters II, this is the track that comes immediately to mind, thanks in part to awesome lyrics like these: "Found out about Vigo, the master of evil. Try to battle my boys? That's not legal!" Unlike the Run-D.M.C. song, this one got a great music video, too, with Brown's image projected onto the sides of various structures throughout New York City. And what a roster of cameos! Celeb sightings include Malcolm Forbes, Iman, Rick Moranis, Jane Curtin, two of the Ramones, and more. (Plus, uh, Donald Trump.)
In addition to Brown's song, a monster hit in its own right, it can't help that MC Hammer's "Addams Groove" and Vanilla Ice's "Ninja Rap" both handily eclipsed the Run-D.M.C. track in the public's minds. But comedy musician Insane Ian Bonds remembers, and he's assembled some of his fellow nerdcore artists like Devo Spice and The Great Luke Ski, for a high-energy remake. Or, more specifically, a remake of a remake.
The track is available for free download from Bonds' Bandcamp page.
G/O Media may get a commission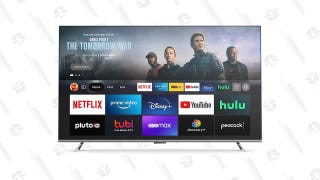 Save 46%
Fire TV 55" Omni Series 4K UHD Smart TV