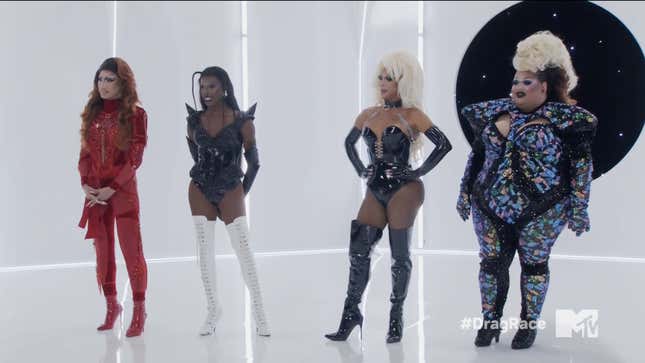 After Loosey's elimination, Anetra, Luxx, Mistress, and Sasha return to the werkroom. And it's is the top four Mistress envisioned right from the beginning. Even with Loosey gone, Luxx and Mistress get in a few final digs while Anetra and Sasha continue to mind their own business. Luxx and Mistress need to channel that energy into the episode, which feels like a triathlon in pageant form for the queens. They have a moment of respite, to savor and acknowledge their achievement, before RuPaul interrupts.

The video message undercuts the queens' communal serenity with an ominous mention of a winner and loser for this episode. RuPaul appears to underline the point when she states that only three queens will appear in the finale. The revelation shocks the queens—and in particular Luxx, who, as the Drag Race her-storian, states that there has not been a top three since season eight. In addition to introducing a sword of Damocles over the queens, RuPaul informs them that they must perform in the Season 15 rumix of her song "Blame It On The Edit." Each queen will write and record their own unique verse and perform choreography for it for a new music video. Furthermore, the queens have a Tic Tac lunch with RuPaul and Michelle, a final Drag Excellence runway, and must confront pictures of their younger selves.
With so much going on in the final competitive episode before the finale, I feel it's is best to take on each queen's journey individually—and alphabetically.
Anetra
During her Tic Tac lunch, the Las Vegas queen addresses her soft-spoken nature growing up queer and Mormon. She explains that drag freed her from an oppressive upbringing and allowed her to loudly express herself. Anetra speaks passionately about her love for ballroom culture, its overlaps with drag, and the art of lip syncing. And she hopes to convey all of this in her verse. While her explanation for what winning would mean to her is somewhat standard, it's also genuine. RuPaul and Michelle emphasize the idea that Anetra has blossomed through the competition, which comes up repeatedly throughout tonight's episode.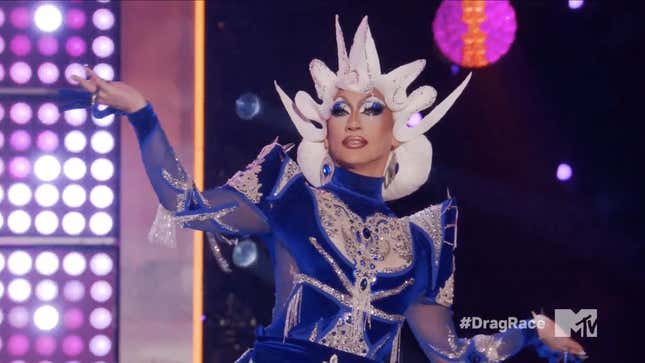 On the music-video set, Anetra is in monochromatic red from head to toe. She seems to do well in rehearsals, in contrast to Mistress, but when they start recording Anetra's face broadcasts discomfort. As they continue filming takes, it appears that by the end Anetra nails the steps. And in the finished product, Anetra excels. Her verse look is a graphic bodysuit that constrasts the black and white cinematography, and her spiked headpiece is a perfect call back to her entrance look. While the set limits movement, Anetra manages to showcase her prowess for dance. The verse itself is a slow rap that cleverly brands Anetra as the voguing queen, points out her slashed eye makeup signature, and references the season's enduring "walk that fucking duck" tagline.

On the runway, Anetra's blue velvet intergalactic gown with silver and white embellishments feels like quintessential-yet-elevated Anetra. The sculpted hair mimics a crown, and the overall look fits with Anetra's signature warrior style, incorporating metallics and spikes. Ross nails it when he talks about how it both connects to the past and signals the future—or as RuPaul puts it: Flash Gordon. Similar to the comments made by the queens in the werkroom, the judges focus on Antera's ferocity and how she has blossomed. They acknowledge Anetra's initial struggles with the choreography, which she herself admits, and commend the branding of her verse. Looking at her younger self on the main stage, Anetra delivers a moving, if customary, story about perseverance and the reward of releasing her authentic self.

Luxx Noir London
Luxx's Tic Tac lunch is evenly divided between the external and the internal. RuPaul and Michelle focus on Luxx's careful planning of her aesthetic and the origins of her innate confidence. In contrast to the other queens, Luxx speaks about a healthy relationship with her parents and how they instilled in her a kind of Black Queer Magic outlook on life. Luxx's unabashed confidence might read as cockiness to some, but she defiantly decides to live "fearlessly and freely" as a "slap to the face" of those who tried to stop her. The lunch ends with RuPaul calling Luxx a "good kid," which simultaneously feels endearing and equivalent to "see you on All Stars."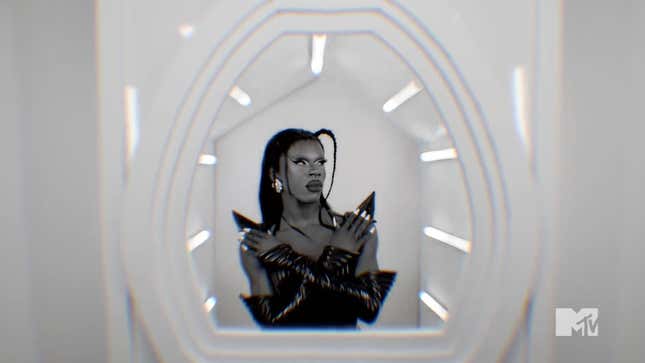 During the writing session, Luxx, who says she writes all the time, is so at ease that she even takes a nap. Mistress warns that that kind of confidence could be her downfall, but on set Luxx seems completely at ease. She is the fastest to pick up the choreography. For all the talk of Luxx's aesthetic and iconic looks in this episode, the music video ensembles look good, in a Gia Gunn voice. There is a somewhat, to use Luxx's term, generic quality to both the sculptural black and the flame-etched white bustier costumes. Her choice to wear black and white works for the cinematography, but the particular choice of white might have been a mistake considering the all-white set construction. Like her Tic Tac lunch, Luxx's lyrics are all about aesthetics and bold confidence.

For her final look, Luxx chooses all white again. The gown plays with asymmetry from the slit to the bustle to the half-bedazzled bodice. It is at once very simple and overworked. She says it's an uncharismatic look for her but that it displays elegance, poise, and glamour. But it's definitely not her best one of the season, which is sort of the point of the Drag Excellence category. Luxx is singled out as the most at home on the music-video set, fulfilling her "video vixen" fantasy. Perhaps the most important moment for Luxx is when she shows more emotion. She normally has a dry delivery, but she is overcome with feelings by the end. This carries over into her address to her younger self, which, while similar to Anetra's, reads more like a powerful manifesto about becoming a star.
Mistress Isabelle Brooks
Like Anetra, Mistress connects her outspokenness to her childhood during the Tic Tac lunch. Instead of repressing herself, she decides to be bigger. RuPaul and Michelle call it healthy but also express the consequences of speaking one's mind so freely and often. And then there is a slight detour dragging Loosey's name through the mud one last time before the reunion. The conversation ends on a more positive note, with Mistress discussing the importance of making her drag family proud.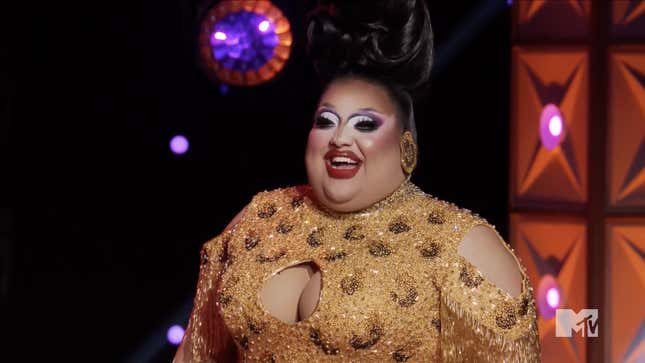 The music-video rehearsal segment is dominated by Mistress (and I'm not just talking about the exaggerated shoulders on her sparkling jumpsuit). Like earlier choreography, Mistress struggles to learn the moves. Her mistakes are magnified with only four queens left in the competition. She is near panic mode when she pulls out the "I'm not making excuses" before presenting an excuse. The choreographer encourages her, but it's Michelle's tough talk that gets Mistress to power through. It comes together when Mistress stops worrying about accuracy and focuses on attitude. The final product, minus a few missteps, looks great. Her verse is full of drag lingo and asserts her claim to the crown while celebrating her "big girl" role. Mistress' worry resurfaces the next day in the werkroom as she tries to mask the nerves.

On the runway, Mistress exudes confidence in a golden leopard gown. The glittering fringe combined with the impeccable and staggering construction of the look is mesmerizing. Meticulous work aside, the fact that Mistress recycles this sentimental piece works nicely with her narrative of pageantry, chosen family, and the power of drag. Similar to her lyrics, the judges emphasize Mistress' love of drag with a capital D and her "big girl" status, which has always felt secondary to Mistress' drag. RuPaul calls her a "smart queen" who is unapologetic but always with a "wink and a nudge." Mistress' address to her photo fits with the other queens in its focus on overcoming the hard times and finding reward in your "tribe."
Sasha Colby
After joking about the Sasha Meet and Greet, her Tic Tac lunch turns into the origin story of the superhero that is Sasha Colby. Ever a humble queen, Sasha pays tribute to the greats she learned from while speaking about overcoming her own struggles in the competition. She relates her desire to be liked by the other queens to the acceptance she was denied by her mother. While Sasha has mentioned this strained relationship before, she really opens up and shows her vulnerable side here while discusses her father's tragic death. After delivering a stellar package all season long, this feels like the moment she secured the crown.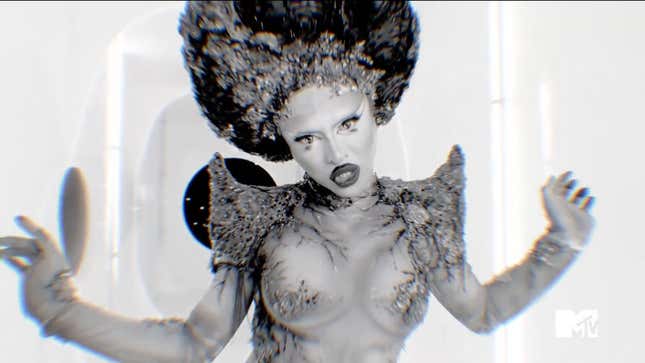 While Mistress and Antera struggle on set, and Luxx is showered with praise, Sasha quietly does what Sasha does best: slays silently. Looking like a carbon copy of Pamela Anderson in Barb Wire, she is the consummate professional on set. It's almost easy to take Sasha's talents for granted because it looks like they come so easily. The way Anetra and Luxx lust and awe over Sasha proves she has something exceptional. It might be most evident during her verse in one of the season's most jaw-dropping looks that came out of nowhere. Her sexy alien attire combined with a deservedly boastful and confident verse is unforgettable.

She continues her excellence on the runway in a completely crystallized look. The curvature element that travels from the neckline to hug her hips complements her own curves. The sleekness of the gown makes the bracelets almost distracting. The only other drawback is the way her gown hits the floor almost makes one wish for a train. Minor issues aside, the orchid headpiece that frames her gorgeous face and pays homage to her heritage is the real showstopper. Sasha's critiques and much of her narrative this episode and season center on her legendary status. She is one of the biggest names in drag to ever compete on the show, and the question was always: Can she live up to expectations? The judges and her competitors answer with a resounding yes. Her address to her younger self is moving, but also extremely pertinent to today's climates. With all the current anti-queer political rhetoric and legislation, the most alarming is directed toward trans children. Sasha's words of wisdom are not just for Sasha but for an entire generation of kids.

The lip sync
The judges' deliberations are a love fest. It feels like it has been a long time since RuPaul has been so enamored with a top four. RuPaul seems genuinely perplexed about who might have to go home. Sasha, correctly and impressively, wins her fourth challenge of the season. Luxx, who has consistently fixated on second place, fittingly earns an empirical second-place finish in this episode. As a result, Anetra and Mistress, who both struggled with choreography, end up in the bottom.
After a couple less-than-stellar lip-sync song selections, this episode makes up for it with David Guetta and Kelly Rowland's "When Love Takes Over." The over-the-top orchestration and dramatic lyrics fit the moment. They both start with affecting stationary performances, but as the tempo increases it would appear Anetra has an advantage. Ironically, Mistress is now in an outfit that is really hindering her movement. This is in contrast to Anetra, who has strategically constructed a gown that easily transforms into a dance costume. They both give excellent renditions of the song that capture the drama and also find comedic moments. It reaches a peak as Anetra does her signature duck walk in front of the notoriously combative Mistress, who mimics bludgeoning the aforementioned duck.
It's a nearly impossible choice between Anetra and Mistress. They are opposites in demeanor but equals in drag excellence. Anetra has more wins, but Mistress has the cleaner track record. In the end, RuPaul reneges on her elimination edict and decides to send them both to the finale. Blame it on the edit, but this conclusion feels correct.

Stray observations:
Rupaul must be listening to the werkroom conversations because the two queens who are implied to have not heard "Blame It On The Edit" ended up in the bottom two.
That was a great plug for the Cecily L. Tyson Community School of Performing and Fine Arts.
Luxx's relationship with her parents is a little confusing. Didn't she talk about how they used religion against her during the teacher makeover? It must be complicated.
One of the best moments was Mistress joking about stealing something else. If you check around on social media, it seems like Mistress was a bit of a klepto on set.
Luxx loosing a nail should have gone on for a few more minutes, just for comedic effect.
After the success of the Pamela Anderson documentary on Netflix, they need to greenlight a Barb Wire 2 with Anderson and Sasha Colby as sisters immediately.
Michelle was momentarily possessed by Chevelle Brooks when she "gathered" Mistress on set.
Future Drag Race queens need to write down FLASH GORDON in a notebook. Any reference will clearly delight RuPaul. It must be one of her foundational texts.
A 60-pound dress! You'd have to pay an extra fee just to check that luggage!
Sasha's line "Cracked the code, now you know Sasha Colby run the show" will only add fuel to the rumor that she might take over the show in the future. Depending on the settlement from Asia O'Hara's lawsuit against RuPaul.
Sasha saying "it's not chocolate" is such a reminder of all the non-eliminations of last season that made it feel endless.
I'm personally glad all four are in the finale. At the same time, I would have really respected RuPaul for keeping a cut-throat mentality when it comes to eliminations. That said, I have no idea who she would have eliminated.