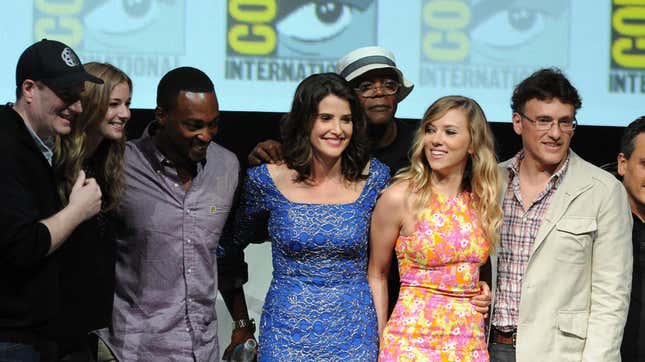 Marvel Studios' latest Disney+ series, Secret Invasion, is here, and despite being the Samuel L. Jackson solo superhero story that fans have wanted ever since he made that surprise cameo at the end of Iron Man, Secret Invasion doesn't feel like Marvel's Next Big Thing in the way that some other entries in the canon—even other Disney+ TV shows—have. That's increasingly true for other MCU projects as well, which often feel like they have to either be The Most Important Ever or Not Important At All, and there's a specific reason for that: Marvel Studios can't stop moving.
Natalie Portman and Christian Bale on working with Taika Waititi
Avengers: Endgame would've been the opportunity to stop, but Marvel obviously didn't do that, and the studio has been in a long transitional period since then to set up the big crossover events of the future. But the groundwork for this transitional period was laid 10 years ago, the first time Marvel Studios really had to think about what its future would look like.
The Marvel method? Lots of reshoots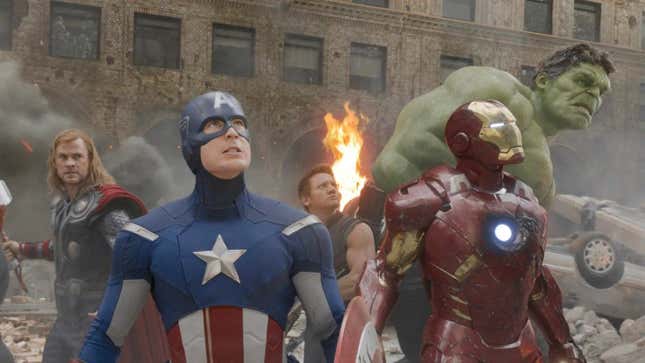 2013 was a fairly rocky year for Marvel Studios. The Avengers was released the previous year, and that was the one thing that all of the movies up until then had been building toward, so there was some unease about how the franchise would work going forward. As detailed in Tara Bennett and Paul Terry's surprisingly candid—if understandably sanitized—2021 book The Story Of Marvel Studios, the company and boss Kevin Feige made some crucial decisions in 2013 that still reverberate today.

This was the year Thor: The Dark World came out, after a tumultuous post-production process, as well as the year that Guardians Of The Galaxy and Captain America: The Winter Soldier—two high points for the entire franchise—started filming. Bennett and Terry's book is broken down by years, and the 2013 chapter begins with Dark World in disarray: The movie simply isn't working. It's too dark and too bleak.
The Marvel Studios braintrust convenes to break the movie down and figure out how to fix it, a process the ends with the producers deciding on 35 days of reshoots—which is a lot, especially for what was essentially an indie studio at the time that had yet to be fully absorbed by Disney and its bottomless vat of money. Feige and Marvel Studios had already established the creative-friendly ethos that "the best idea wins," and on The Dark World that evolved into a new philosophy that reshoots are good. As Bennett and Terry put it, the studio decided that reshoots are "the optimum tool to make those best ideas a reality."
That's an idea that has expanded to a lot of big-budget tentpole movies. Films like Rogue One: A Star Wars Story were famously shaped in reshoots, and it says a lot that Marvel consciously made a decision 10 years ago that reshoots are not only an important part of making these movies, but they are the most important part. There were a lot of stories about Doctor Strange In The Multiverse Of Madness needing major reshoots, for example, but Marvel sees that more as a regular step in the process rather than a problem—they're more like a crisitunity, as Homer Simpson would say.
On The Dark World, that resulted in reshoots where Chris Hemsworth and Anthony Hopkins weren't in the same room, and a final battle that the book says was actually filmed across three different continents. But director Alan Taylor—who comes across like a real trooper, bless his heart—points out that the reshoots also made the movie lighter in tone (that's where the gag of Loki turning into Captain America comes from) and helped uncover Hemsworth's comedy acting chops. That led them to the full-on jokey comedy of Thor: Ragnarok, which completely changed how that character and his world are perceived.
For Marvel, offbeat is still on-brand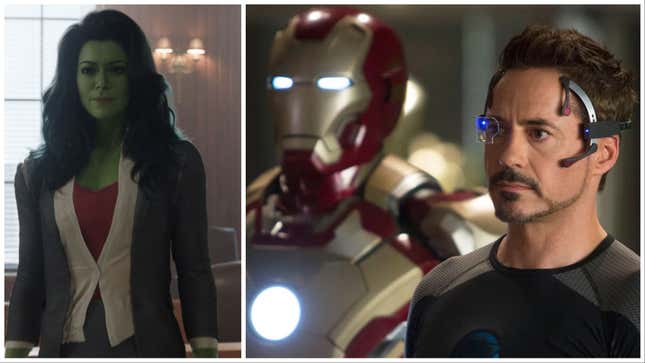 The book also includes interesting details about Iron Man 3, like how the studio developed the movie as an explicit reaction to the big, flashy excitement of The Avengers. Feige specifically wanted a movie that took Tony Stark out of his suit for most of the story to prove that Marvel could still do "smaller" stories, and when it worked—at least financially, since Iron Man 3 is weirdly a "cult classic" among the rest of the series—it convinced him that they could do more off-beat movies like that and Guardians without necessarily doing endless sequels.

Marvel has leaned pretty far into endless sequels, but Disney+ is where those more off-beat stories that Feige wanted to tell are ending up. Secret Invasion is definitely one of those, as the studio follows up the sitcom gags of She-Hulk with a paranoid spy thriller starring a man in his seventies. It also shows the constant malleability of the MCU, inspired by The Dark World's desperate need for reshoots. Captain Marvel played against comics continuity by revealing that the shape-shifting Skrulls aren't evil schemers but frightened refugees who lost their home, and now Secret Invasion is reversing that by deciding that evil schemers are actually pretty compelling as well.
Once you consider its "best idea wins" concept, Marvel Studios' output during these transitional periods—post-Avengers, post-Endgame, post-whatever else—makes more sense. Ten years ago, Marvel Studios decided that nothing it makes is ever finished, which means Marvel Studios itself will never be finished. As long as there's some new "best idea" to chase, then it will keep moving and these transitional periods between big must-see events will get longer and longer.