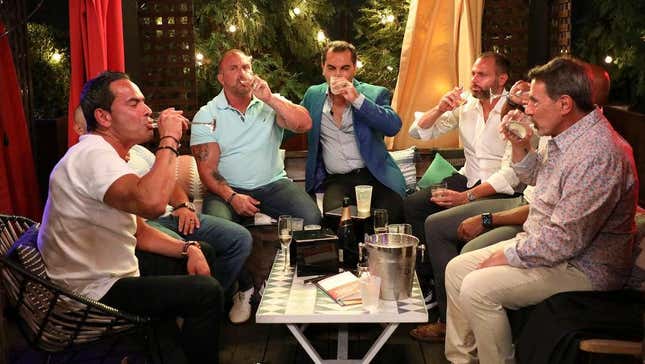 The ever-increasing involvement of the "Househusbands"—the spouses of Teresa Giudice, Melissa Gorga, Dolores Catania, and the rest of The Real Housewives Of New Jersey cast—has been a point of contention among longtime fans of the franchise. Some feel like focusing the spotlight on the fellas steals precious airtime from the women, especially cast newcomers like Danielle Cabral and Rachel Fuda, while others warmly welcome the jaunty quips of Dolores' ex, Frank, and the hot-headed intensity of Joe Gorga each season.
This recapper is left somewhere in the middle—yes, watching Frank and Dolores' new beau Paul have a verbal sword fight over her is certainly entertaining (especially when Paulie refers to the former in nothing but spud-related terms: "Mr. Potato Head," "French fry," and the like), but having to sit through 15 minutes of these Muscle Milked men perform chest-beating intimidation displays over apple martinis is a lot, even for the most Bravo devout.

But first, the ladies: Episode three picks up where we left off, mid-mozzarella party, where Teresa and Melissa are fighting–yet again–about the latter's place at the Guidice-Ruelas nuptials. "I'm fine not being in the wedding," Melissa claims. "Do you want to be in the wedding?" Teresa asks, offering to make her snubbed sister-in-law a bridesmaid. "Why are you acting like you're doing me a favor?" Melissa retorts. Uh, because she is, girlfriend.

G/O Media may get a commission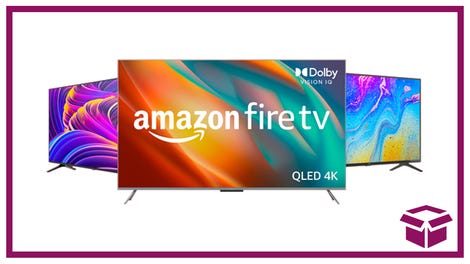 Ooh. stunning.
New Amazon Fire TVs
Melissa turns down the offer but they do hug it out, so it seems like the Gorga sibling issue is put to bed…for about six minutes of screen time, until Teresa, her daughters, and fiancé Luis reopen the discussions in the cartoonishly tranquil Guidice household. (Seriously, pour yourself some Pinot Grigio and play Count the Buddhas.) No surprise, the nuclear family is backing Teresa, with eldest daughter Gia, in particular, calling bullshit over her aunt and uncle's claims of having been there for the girls while their parents were in prison. "The only times we really saw them was when we were on camera together," Gia says of the sad family dynamic. "The train's gotta stop."

For her part, Melissa's also clearly not over the white-wedding slight—not only her own seating downgrade but also the lack of invites for her mother and sister, who have known the Gorga clan for two decades—and talks it through with Danielle, who knows a little something about family estrangement. A sibling ice-out occurred between Danielle and her own brother after she put her unwanted two cents into his wedding planning, and the two haven't spoken in the two years since. Danielle blames his wife for not helping to reconcile them, but Melissa is quick to add: "It's not always the sister-in-law's fault…he's a grown man, and I can only try so many times."

Speaking of "grown" men, it's time for Guys' Night, a gathering of Jersey's protein-pumped finest for burgers, Bombay-tonics, and, of course, bitching. Specifically, it's Pledge Night, an initiation ceremony of this season's new Househusbands, Danielle's Nate and Rachel's John, the latter of whom gamely brings adult diapers and TUMs tablets for the elders. ("I need all this stuff!" jokes Frank.)

Paulie is MIA because of work obligations, which means the only man-on-man melodrama we're served up at the dinner table is between Joe and Luis. "I just found out Melissa's family, they're not invited to the wedding. Everybody's in but anybody on my side of life [is not invited]...that's fucked up," Joe kicks things off. The guys agree that not extending an invite to the in-laws is insulting ("This is an Italian family. I'm Italian. I know how it works," proclaims etiquette guru Joe Benigno), but Luis pushes back: "There's a lot of slaps in the face going on; you're not the only one feeling like this."

Things nearly go full-on gorilla fight, with Joe getting progressively redder in the face and looser with the expletives, but it seems as if Luis might just be The Gorga Whisperer, able to calm Joe down with words just as he did Teresa in the premiere. "Your sister deserves to hear how you feel…you should also hear what she feels, too, and end it," Luis tells him. Joe is ambivalent about reaching out to his sister to make amends—which isn't surprising because, without Teresa and their neverending antagonism, his RHONJ spotlight will surely dim.

Stray observations
One plus point for the continued inclusion of the househusbands: the image of a bunny-eared Frank dousing himself in straight-up PAM cooking spray for his shirtless charity calendar shoot.
Jennifer Aydin is offering her children $14 per hour to do household chores and, honestly, in this economy, sign us up.
Speaking of, Jen's daughter Olivia continues to be iconic, yelling "I'm a child, I can get away with everything!" before unleashing a Drag Race-worthy hair whip.
Olivia does have some kiddo competition in the form of Danielle's seven-year-old Valentina, who extolled the artistic expressions of Mondrian, Kandinsky, and Pollock while wearing a rainbow tutu and a hairbow the size of her own skull.