Here's what's up in the world of TV for Monday, February 29. All times are Eastern.
Top pick
The Voice (NBC, 8 p.m.): NBC's reason for "living," The Voice, is finally back for its 10th season. You probably thought it was already on, didn't you? You probably thought it was always on, to be completely honest. Trust us—NBC wishes it could just be The Voice, all day, every day. But it's not, so here we are. Blind auditions! Clap, clap, clap clap clap! Apparently that kid from Curly Sue is a contestant on the show this season? Or maybe she's just the secret love child of Gwen Stefani and Blake Shelton, who as we all know, are in love. Speaking of Gwen, since there can only be one woman in the sausage party that is televised singing competitions (?), she's out this season, and Christina Aguilera is back in. We're very confused by the narrative of this season, you see. Also, Carson Daly.
Oh yes, before we forget: This is The Voice!
Also noted
Supergirl (CBS, 8 p.m.): This week's episode of Supergirl is titled "Solitude," and no, we're totally not worried that Supergirl's first season is burning through way too much, too soon. Of course not. Why would we be? Oh hey, Smallville's Supergirl (Laura Vandervoort) is in this week's episode as Indigo, "a dangerous being who can transport via the internet" and, of course, "has a connection to Kara's past." By Caroline Siede's count, that's three Supergirls on Supergirl so far. Who will be the next Supergirl to grace Supergirl with her presence? (Nerd law says Summer Glau would be the logical guess, but her stint on Arrow might make that slightly problematic.)
G/O Media may get a commission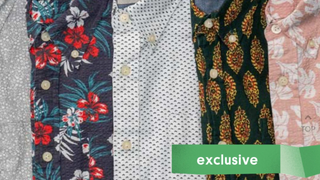 Grab three styles!
JACHS NY Summer Pack
Crazy Ex-Girlfriend (The CW, 8 p.m.): In "Josh And I Go To Los Angeles!," "BJ Novak Guest Stars As Himself." You know what? Crazy Ex-Girlfriend knows what it's doing in this world, which is a lot more than we can say about all the people who still aren't watching Crazy Ex-Girlfriend. We mean, where else tonight—no, this week—are you going to see the words "BJ Novak Guest Stars As Himself"? We'll wait. By the way, Allison Shoemaker is still waiting for her own Hollywood encounter with an Office star, but this should be enough for now.
WWE Monday Night RAW (USA, 8 p.m.): If there is a wrestling God (sorry, JBL), then this is the episode of RAW where The New Day accepts The Elite's challenge and begins a beautiful feud that will make this year's dire-looking WrestleMania card all worth it. If not, expect Kyle Fowle to dedicate his entire review to why you should give Roman Reigns a chance. A chance at what? We're honestly no longer sure.
Gotham (Fox, 8 p.m.): Oh great. Gotham is back, and this time it's subtitled "Wrath Of The Villains." The rise wasn't good enough, apparently. But if you're excited for this, then you'll be happy (or possibly disappointed) to know that the episode synopsis actually mentions Gordon. In the first sentence, even! "Penguin takes a hit for Galavan's murder, but doesn't let Gordon off easily. Meanwhile, Gordon and Bullock investigate the body-snatching spree of Victor Fries (guest star Nathan Darrow), one of Gotham's preeminent cryogenics engineers." Despite the lack of applicability, Kyle Fowle will also dedicate this review to the concept of why you should give Roman Reigns a chance. (Yes, usually we would put Gotham ahead of RAW here, but we had to move it solely to continue this great joke.)
Wander Over Yonder (DisneyXD, 8:30 p.m.): "In this special half-hour musical episode, Lord Hater enlists Wander's help to finally ask Dominator on a date." That sounds like as good a reason as any to go the musical route, right, Kevin Johnson?
Mavis! (HBO, 9 p.m.): Psst. You interested in a Mavis Staples documentary? Well you might want to check out Mavis! We're just saying—you're not going to get a Mavis Staples documentary tonight if you watch Scorpion. Also, check out Molly Eichel's pre-air review of Mavis!, where she says that the documentary "soars because of its lovely, legendary subject."
Blindspot (NBC, 10 p.m.): While TV Club is no longer the home of regular Blindspot coverage, that doesn't mean we don't still want you to know what's going on with it. And now the show is back with its winter premiere, "Cease Forcing Enemy," in which "the team follows a dangerous case overseas." Alright, we know that says a lot of nothing, so let's try this again: "Jane (Jaimie Alexander) reels from a series of massive revelations about her tattoos and grapples with whether to trust Oscar (guest star Francois Arnaud). Meanwhile, a tattoo leads the team to a shocking discovery in the Black Sea." That's still vague, but it at least says a lot more than "the team follows a dangerous case overseas."
Regular coverage
11.22.63 (Hulu, midnight)
Jane The Virgin (The CW, 9 p.m.)
The Magicians (Syfy, 9 p.m.)
Better Call Saul (AMC, 10 p.m.)
Elsewhere in TV Club
100 Episodes is where it's at. What is "it," specifically? Well that would be Sarah Kurchak's piece on the A&E true crime series City Confidential (which had 134 episodes and a little Keith David). Question asked and answered.
If you watched the 88th Academy Awards last night, in between head-scratching Kohl's commercials, you most likely saw promos for ABC's newest nighttime soap, The Family. Sure, it doesn't have a title you can shout like "SCANDAL!" or "REVENGE!" (seriously, "FAMILY!"?), but the promos feature plenty of dramatic moments about DNA and cake, so that's something. And so is Joshua Alston's pre-air review of the series. What, did you think this was just a reason to write "REVENGE!"? It mostly was.
What else is on?
The Bachelor (ABC, 8 p.m.): Oh, this is still on. "Ben goes into his final date of the week more confused than ever." We're pretty sure Ben has gone into every date "more confused than ever," so this really isn't a change of pace. Even if it does happen in Jamaica.
Fashion Police: The 2016 Academy Awards (E!, 8 p.m.): The title says it all.
The Fosters (Freeform, 8 p.m.): "After a student objects to Brandon and Mat's Romeo and Juliet musical, Lena has to tell Brandon that he might not be able to put the production up at school." Bless this student. Bless this student for all of their days on this televised Earth. Wait. This synopsis says that Brandon may not be able to put the production "up at school." That means there's still a chance for Brandon's derivative and oh-so-Brandon musical to see the light of day. Damn, damn, damn!
Antiques Roadshow (PBS, 8 p.m.): Do the Charleston with Antiques Roadshow, "Charleston (Hour Three)." Yes, it took us until the third episode to tell y'all to do the Charleston. See? We have some restraint.
Love & Hip Hop (VH1, 8 p.m.): "Reality series examining the lives of women involved in hip-hop either by the men in their lives or their own ambitions." Thanks a lot, TV Guide Dude. You really helped us out here.
American Dad (TBS, 8:30 p.m.): "Stan takes Francine to a baseball game for her birthday, but their kiss-cam moment goes awry." It can't have gone as awry as the kiss-cam situation on last week's Man Seeking Woman. (Too soon, huh? Because of the lack of regular coverage?) "Meanwhile, Steve and Roger journey to Nevada to help on a polluted water issue." At least that should go well.

Top Gear (BBC America, 9 p.m.): "Matt LeBlanc finishes the countdown of memorable Top Gear races." Thank god.
Vanderpump Rules (Bravo, 9 p.m.): "Katie surprises Stassi in Palm Springs. Meanwhile, James continues to focus on Kristen; Scheana frets that she's losing her friends; and Jax, Tom Schwartz and Peter try to serve as babysitters." This all sounds fairly dramatic, right?
Scorpion (CBS, 9 p.m.): "Host Drew Carey and Announcer George Gray from The Price Is Right Guest Star as Themselves," while "Eric Roberts and Joely Fisher Guest Star as Cabe's Old Friends." Were we right this whole time? Is Scorpion officially a farce?
Cake Wars (Food Network, 9 p.m.): There's a baby hippo in this episode of television.
Lucifer (Fox, 9 p.m.): Your friendly neighborhood What's On Tonight contributor recently watched every episode of Lucifer in the haze of a flu, and now she only cares about this show. "Lucifer bails on Chloe when he becomes bored with her investigation into a ruthless biker gang murder. However, when he discovers something was stolen during the crime that was very personal to him, he demands that Chloe let him rejoin the case." That's so Lucifer. We love it. We love Luci.
Recovery Road (Freeform, 9 p.m.): "In the episode 'Heaven Backwards,' which unfolds in real time, Maddie is at a loss with how to help when Trish faces a crisis." While we're pretty intrigued by this Freeform series telling a story in real time, we've also just got to point one thing out: "heaven" backwards is "nevaeh."
Angie Tribeca (TBS, 9 p.m.): "Illegal pet ferrets leak into California. It all gets dicey when clues lead Tribeca and Geils to a high-stakes poker game." But what about the lieutenant? Is he sick about it? What is the status of the lieutenant's health?!?
Major Crimes (TNT, 9 p.m.): "After finding another victim, Sharon angrily turns her attention back to former LAPD Det. Mark Hickman, who has developed given his habit of appearing in the wrong place at the wrong time, and has a secret that may be a motive for murder for either him or his wife." Ruh roh, Raron.
NCIS: Los Angeles (CBS, 9:59 p.m.): "After extensive surveillance footage of Sam's family is found in Africa, Sam and Callen fly there to determine who is responsible and for what purpose. Also, Sam's family is moved from their home to a safe house." Still not an "N" (to go with the "CIS") in sight.
Castle (ABC, 10 p.m.): "PARLEZ-VOUS MURDER? CASTLE INFILTRATES AN ESL CLASS." No.
The Graham Norton Show (BBC America, 10/11 p.m.): You know the drill: Johnny Depp! Benedict Cumberbatch! Daniel Radcliffe! James McAvoy! The Corrs! Ralph Fiennes! Tracey Ullman! James Nesbitt! James Bay! Any One Direction-ers, former or otherwise? Nope!
Watch What Happens: Live (Bravo, 10 p.m.): Well we've got two words for you: Jennifer Lopez.
Lost Girl (Syfy, 10 p.m.): This week's episode of Lost Girl is titled "Family Portrait," so here's a Pink music video for you:
Full Frontal With Samantha Bee (TBS, 10:30 p.m.): "Abortion restrictions at a Texas clinic are investigated," because Samantha Bee doesn't play around.

True Life (MTV, 11 p.m.): True Life gets true this week with "My Parents Are In Porn." That should be a fun night cap.
Bitten (Syfy, 11 p.m.): Laura Vandervoort is what's on tonight. We've finally cracked the case.
Batman Returns/Sister Act 2: Back In The Habit (WGN America/Lifetime, 8 p.m.): We don't know how anyone can decide between these two movies, and that's why we're excited that DVRs exist.
Pootie Tang (HBO Comedy West, 9:50 p.m.): No need to look it up—this won an Academy Award last night.
Sports, sports, all type of sports
Women's Basketball: Alabama State at Texas Southern (ESPNU, 5 p.m.)
College Basketball: Syracuse at North Carolina (ESPN, 7 p.m.)
Women's Basketball: South Florida at Connecticut (ESPN2, 7 p.m.)
College Basketball: Oklahoma State at Iowa State (ESPNU, 7 p.m.)
Women's Basketball: Kansas at TCU (FSN, 7 p.m.)
College Basketball: Kansas at Texas (ESPN, 9 p.m.)
College Basketball: Alabama State at Texas Southern (ESPNU, 9 p.m.)
Women's Basketball: Texas at Baylor (FS1, 9 p.m.)
In case you missed it
Togetherness: Gwen Ihnat asks: "What's so funny about Togetherness?"