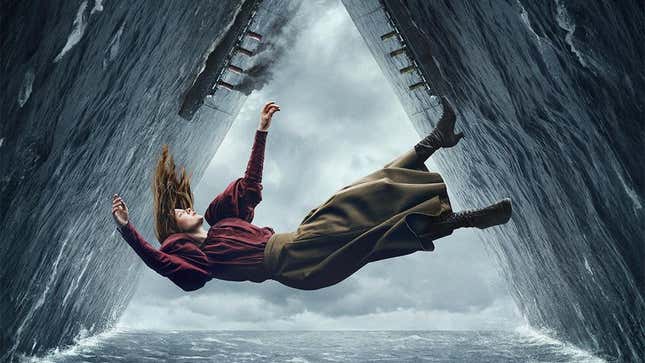 Oh, 1899, we barely knew ye. In fact, it seems we barely knew any of the new shows that Netflix put out this year. One might have expected the sci-fi series to fare better given that it sprung from the minds of Baran bo Odar and Jantje Friese, who created the critically acclaimed cult favorite Dark. Yet it is clear now that nothing short of Stranger Things is safe from the streamer's trusty ax.
AV Club Interviews Tom Kenny and Bill Fagerbakke
In a note posted on bo Odar's Instagram (captioned "Sad but true") and signed by both co-showrunners, the 1899 writers lamented the cancelation, which occurred just six weeks after the series premiered. "With a heavy heart we have to tell you that 1899 will not be renewed. We would have loved to finish this incredible journey with a second and third season as we did with Dark. But sometimes things don't turn out the way you planned. That's life," the statement read. "We know this will disappoint millions of fans out there. But we want to thank you from the bottom of our hearts that you were a part of this wonderful adventure. We love you. Never forget."
1899 joins a long list of Netflix series canceled after one (or if you're lucky, two) seasons. In 2022 alone, that list includes Blockbuster, The Midnight Club, The Bastard Son & The Devil Himself, The Imperfects, Partner Track, Resident Evil, and First Kill, to name just a few. Some of these shows even had strong viewership numbers, to the extent that the streaming service has shared its data. For instance, The Midnight Club debuted at No. 4 in Netflix's Top Ten (peaking at No. 3) and garnered 90.3 million hours viewed in its first three weeks, according to Variety. Yet Mike Flanagan's haunted teens still did not meet whatever mysterious metric Netflix requires to earn a second season.
Now that some of the shine has worn off the Netflix model (which doesn't even look like the original model if you're on the ad-tier version), viewers have begun to question the business logic behind paying lots of money to make a new television show only to quickly turn around and cancel it. In 2020, Netflix execs argued that their renewal rate (which they claimed is around 67%) aligns with the industry standard (per Deadline). According to a Wired piece from that same year, Netflix Originals on average get the ax at season two. There are a number of data-based reasons for this, including the all-important 28-day viewership, referring to audience members who finish an entire season within a month.
But as the streaming bubble seems primed to burst, dissatisfied audience members may find themselves turning back to broadcast—sure, traditional television can be just as ruthless, but at least there a floundering show might be given time to find its footing, or possibly build momentum week to week. Netflix series simply don't have the same luxury.