In Films That Time Forgot, The A.V. Club digs up trashy, obscure movies and looks for memorable moments in films that few people remember.
Film: Blood Of Ghastly Horror (1972)
Director: Al Adamson
Tagline: "Human zombies rise from their coffins as living corpses!"
Choice IMDB keywords: Zombie, murder, mad scientist, strangulation, nonlinear timeline
Also known as: Psycho A Go-Go; The Man With The Synthetic Brain
Plot: Who can tell? Troma's DVD re-release of Blood Of Ghastly Horror starts with a three-minute pre-title chat with producer-writer Sam Sherman, who explains that he and Al Adamson originally shot the film as "a serious movie that was serious," a heist movie called Two Tickets To Terror. But no one would buy it, so it sat on the shelves for years until they started a company and decided to revive it by adding several additional horror plotlines. As Sherman says, "Yes, the story's a little bit choppy. If you fall asleep—I'm warning you! If you fall asleep for five minutes during this movie, you're going to think you're in two other movies. Stay awake, please!"
G/O Media may get a commission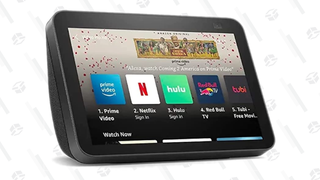 Incidentally, none of this stops Sherman from being simultaneously defiant and defensive about the film. He starts off his intro by dragging a couple of trash bags around, claiming they're full of body parts: "I just had to get rid of a few of our critics there, who don't like Blood Of Ghastly Horror, had some critical things to say. Ha ha ha ha! They're in the bag now! Yeah, okay, they're in the bag now. You hear what you have to say, critics? Every one of you critics who knocked this movie, remember your buddies are down there, right down there."
Death threats notwithstanding, it's hard not to be critical of Blood Of Ghastly Horror; the story is as much of a mishmash as that meaningless title. The film starts with a zombie murdering random passersby, plus some cops casually wandering by the area. These events make one detective flash back to scenes of a jewel heist where a violent mug (Roy Morton) kills his partner, but loses the jewels, which end up in the back of a bystander's pickup.
It turns out that Morton was a violent man because he was "one of the first casualties in Vietnam," but rogue doctor John Carradine, in almost precisely the same role he played in Astro-Zombies three years earlier, replaced part of Morton's shrapnel-damaged brain with a machine, which left him erratic, enraged, and with a bad case of spontaneous women-strangling. Still later, Morton's father (Kent Taylor), "an anthropologist interested in communication by telepathy; experiments in savage practices, pertaining to centuries-old religious rites; and ancient ceremonial acts related to voodoo," decides to avenge Morton via zombie murders. He also kidnaps Carradine's daughter (Regina Carrol) to turn her into a zombie slave as punishment for her father's crimes—but first, he regales her with more flashbacks about Morton's past adventures as a jewel thief trying to wring his missing jewels out of the pickup truck's owner (Kirk Duncan), his wife (Tacey Robbins), and their young child.
Key scenes: It's hard to tell what's key in all this muddle, given how it leaps back and forth between '50s heist movie, '50s science fiction, and '70s exploitation flick. This is the kind of micro-budget schlock indie that feels like the filmmakers were out to use every scrap of footage they could find, and damn the continuity, as long as there were enough stranglings, stabbings, and shootouts to get viewers to the drive-in.
But a few scenes do stand out. Morton's finest moment as an actor comes when he confronts Carradine and expresses his displeasure over being turned into a murderous monster. And what better way to do that than by performing a monstrous, murderous act?
The lengthy conclusion to the heist plot is also impressive, as Morton chases Robbins and her daughter through a dimly lit but beautiful landscape, while not remotely dressed for the cold; he looks more like a Mormon missionary plopped in the middle of Alaska, and scurrying about looking for a door to knock on.



Finally, when Taylor turns Carrol into a withered hag, the visual effect is crude, but the makeup is authentically creepy, and so is her wavering hag voice.
Can easily be distinguished by: The possibility of falling asleep in a mad-scientist-and-monster movie and waking up five minutes later in a crime picture, or vice versa. Also, the many extreme close-ups, particularly of the detectives casually discussing their zombie-killer case. The camera choices suggest some of the inserts attempting to tie the story together were shot after the set was demolished, and having the camera practically crawl up the actors' noses was the best way to disguise the lack of backgrounds.
Sign that it was made in 1972: The scene where a woman catches Morton snooping in an office and he stabs her to death, and the later scene where he meets a woman at a party, gets her alone, and strangles her are both pure '70s drive-in exploitation fare, lurid and clumsy and panting with prurient glee.

Timeless message: Brain-damaged Vietnam vets who've been unwillingly transformed into rage-filled cyborgs are not the best or most stable partners in crime. For that matter, neither are their vengeful, voodoo-obsessed fathers.
Memorable quotes: A typical transition from one film story into a flashback: "That's it! The Corey case!" "Wait a minute, Lieutenant! You don't mean the time that half-dead guy was brought back to life and slaughtered all those people?" "Right! And that strange Doctor Vanard was responsible for the whole thing!"