Looking back at the films of 2022, one recurring trend seemed to cycle through over and over: the excitement for a new project in a series we loved, followed by mounting trepidation as bad reviews rolled in, and finally the first-hand disappointment of actually seeing that subpar film. Lather. Rinse. Repeat.

Investing in a franchise used to be a safe bet in Hollywood. From a financial standpoint, it makes sense; audiences are generally more likely to turn out for a title they recognize than something completely new. In an era with escalating budgets and a splintering marketplace, including stiff competition between physical theaters and ubiquitous streaming platforms, attracting fans with something familiar should be a no-brainer.
And maybe that's the problem. Last year we saw plenty of projects taking advantage of established intellectual property as their selling point, but it felt like there wasn't much thought put into those films and shows, beyond getting the band back together. Sure, there were a handful of successes, including Tom Cruise's triumphant return to the cockpit in Top Gun: Maverick. But for every Maverick, there were multiple critical and financial flops that felt like wasted opportunities.
Now, as 2023 begins to heat up, we decided to revisit how the big franchise installments from the past 12 months performed, and to look ahead at the big IP releases that are teed up for the year ahead.
The quality gap
Gone are the days when a studio or a network can be assured success with nothing more than a recognizable title on the poster. Now the business of show is more complicated. The impact of instantaneous word of mouth through social media has only intensified in the post-pandemic era. And just as film production has changed dramatically, so has the experience of going to see films in theaters.
G/O Media may get a commission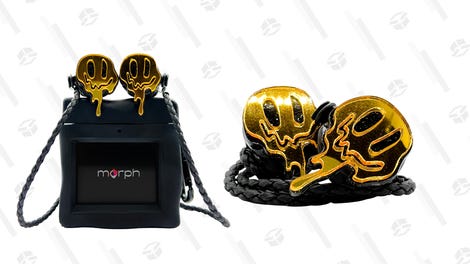 morph audio
Morph Earphones
But the make-or-break factor is what it's always been: quality. If a film isn't actually good it won't stick around long. An underperforming sequel may slash enthusiasm for future installments. Last year's Jurassic World: Dominion, for instance, reunited the original cast of Jurassic Park, only to waste them on a poorly constructed retread of tired ideas. The film wasn't just bad, it may prove to be a franchise killer, with both critics and fans wondering if it might finally be time to call for the extinction of this long-in-the-tooth dinosaur series.
Compare that to Maverick, which didn't break any molds but had a tight, easy-to-follow plot, lots of spectacular aerial acrobatics, and a cast of fresh faces ready to accept the torch passed on by Cruise. Other winners from 2022 followed a similar formula: Prey, The Batman, and Black Panther: Wakanda Forever all earned the kind of acclaim from fans and praise from critics that is bound to keep those respective franchises healthy for some time.

Tarnishing a legacy
There were far more misses than hits last year. If you've forgotten that Fantastic Beasts: The Secrets Of Dumbledore came out in 2022, we wouldn't blame you. Following the lukewarm reception fans gave the previous film, Fantastic Beasts: The Crimes Of Grindelwald, there was a lot riding on Secrets Of Dumbledore to keep the Harry Potter prequel series going. Yet it didn't even reach $100 million in domestic box office receipts, dropping a steep 67% from its first week of release to its second last April. The fate of the previously announced fourth and fifth films in the series is now uncertain.
And then there's Marvel and its once mighty MCU, which is finally showing signs of vulnerability. Two of last year's phase four films—Doctor Strange In The Multiverse Of Madness and Thor: Love And Thunder—fell below expectations, both critically and financially. And let's not forget Sony's infamous flop Morbius; meme-ification doesn't always translate into box-office success.
Other letdowns included Lightyear, which failed to capture the magic of its Toy Story inspiration and fell flat with audiences. Disney also missed the mark with two direct-to-streaming sequels of beloved films that relied more on nostalgia for the originals than original storytelling—Hocus Pocus 2 and Disenchanted.
Horror fans weren't spared disappointment in 2022 either, with legacy sequels like Halloween Ends, Texas Chainsaw Massacre, and Jeepers Creepers: Reborn failing to measure up to the expectations of franchise fans. Truth be told, we'd be fine taking a break from all of these characters and worlds for a while.
Can franchise films make a comeback in 2023?
Despite the diminishing returns, Hollywood studios continue to defer to accountants over creatives as they churn out sequels with no sign of slowing. Whether this approach is sustainable in the long run doesn't seem to matter. These conglomerates live from financial quarter to financial quarter, and are historically slow to adjust to an ever-changing market.
Which franchise titles figure to break out this year? We can make some educated guesses. In the potential win column, based on preview trailers and the level of talent involved, hopes are high for Magic Mike's Last Dance, John Wick: Chapter 4, and Creed III. One of last year's few successful sequels, Scream, which invigorated Kevin Williams' meta slasher series for a new generation, gets a 2023 followup with Scream 6, and there's no reason to think it won't be just as popular. There's also a new Fast And Furious film, Fast X, on the way with new cast members Brie Larson, Jason Momoa, and Alan Ritchson joining the family.
Marvel has some big ensemble projects of its own planned this year, and may have more success with the fifth phase of the MCU than it did with the fourth. Ant-Man And The Wasp: Quantumania will be essential viewing for the next phase, introducing the MCU's newest big bad, Kang The Conqueror (Johnathan Majors)—not the same guy as the variant we met in Loki, in case you were wondering—and uniting elements of the multiverse that will be carried through in future films. Upcoming crossover team-ups like The Marvels and Thunderbolts should inject some much-needed energy into the superhero mega-franchise. We're also feeling good about James Gunn's big Marvel swan song Guardians Of The Galaxy Vol. 3, which he made before taking over at rival studio DC. The performance of these films may tell us whether 2022's downturn was an anomaly or a sign of broader superhero fatigue.
Riskier bets
There are a number of upcoming films that currently exist on the cusp between "could be awesome" and "could go horribly wrong." Expendables 4 will yet again unite a group of action stars—including Sylvester Stallone, Jason Statham, Dolph Lundgren, and Randy Couture—but director Scott Waugh doesn't exactly have a filmography to match his cast. New cast members Megan Fox, 50 Cent, Andy Garcia, and Tony Jaa may add some value, though.
There's also another Transformers film on the way, Transformers: Rise Of The Beasts. The previous film in the franchise was 2018's Bumblebee, a reboot that was widely considered a hit. This will be a follow-up to that film, under the direction of Steven Caple, Jr., whose previous work includes Creed II and The Land. We'll see if this one continues to revitalize the robots-in-disguise series or dismantles it for the time being.
After Maverick, it's hard to bet against Tom Cruise, but the upcoming Mission: Impossible — Dead Reckoning Part One will be the seventh in the series. Crazy stunts aside, there's not as much novelty to seeing him play Ethan Hunt yet again as there was in catching up with Captain Pete Mitchell after 36 years.
And then there's the Indiana Jones film seemingly no one asked for, Indiana Jones And The Dial Of Destiny. Will it be as poorly received as Indiana Jones And The Kingdom Of The Crystal Skull? Hard to tell at this point, but director James Mangold is a great choice to give an aging Indy the proper sendoff he deserves, as he did with Wolverine in Logan (future Deadpool appearances notwithstanding). We have to say we're intrigued by the supporting cast, including Phoebe Waller-Bridge, John Rhys-Davies, Mads Mikkelsen, Toby Jones, and Boyd Holbrook.