James Brown 101
Any number of singers could lay legitimate claim to the title The Godfather Of Soul. But it fell on James Brown. Or rather, he seized it. In 1969, at the height of his powers, the R&B icon released the Black Power anthem "I Don't Want Nobody To Give Me Nothing (Open Up The Door, I'll Get It Myself)." It's one of many such classics he's responsible for, but in this case the title sums up Brown's entire approach to music—not to mention life. From his early recordings as the leader of the incendiary group The Famous Flames in the '50s to his ascendancy as a funk overlord with the J.B.'s in the '70s, Brown redefined what it was to be a pop star. And he did so on his own uncompromising terms.
Born into poverty in 1933—and doing time for armed robbery by the time he was 16— Brown had nothing to rely on but himself. He siphoned that determination into his music. With longtime bandleader and collaborator Bobby Byrd, Brown turned The Famous Flames from a middling vocal group into a powerhouse outfit that began redefining R&B with its first hit, 1956's "Please Please Please." A potent cocktail of gospel fervor and smoldering sexual longing, the song catapulted Brown to the top of the black entertainment world. But it was the one-two punch of 1963's triumphant Live At The Apollo and 1965's proto-funk smash "Papa's Got A Brand New Bag" that allowed him to cross over to white audiences—and made him a household name. As Peter Guralnick says in his definitive history of Southern R&B, Sweet Soul Music: "I don't think it would be overstating the case to compare [Live At The Apollo] to the advent of Italian neo-realism in cinema, when a rediscovery of the poetry of the everyday demanded a new vocabulary, and a new aesthetic, to replace the old."
A slew of immortal hits followed "Papa's Got A Brand New Bag." Among them is the 1965's upbeat, ubiquitous "I Got You (I Feel Good)" and the haunting 1966 ballad "It's A Man's Man's Man's World"—a seemingly well-intentioned yet nakedly chauvinistic song that sadly reflects Brown's own heinous history as a misogynist. Brown's ferocity as an artist had a dark side. Notoriously difficult to work for—no one worked with James Brown—he wound up driving away almost his entire band by 1970, when the vast majority of The Famous Flames quit en masse. As usual, though, Brown turned defeat into victory: He hired a young Cincinnati group called The Pacesetters, renamed them The J.B.'s, and launched a new phase of his career. The breakout stars of the J.B.'s were brothers William "Bootsy" Collins on bass and Phelps "Catfish" Collins on guitar. The brothers' stark yet sculpted style brought a new level of innovation and idiosyncratic genius to funk.
The Collinses were part of yet another mass defection within a year of the formation of The J.B.'s. (Many of them, most notably Bootsy, wound up in George Clinton's Parliament-Funkadelic collective, which would supersede Brown in popularity and potency by the end of the '70s.) Before they left, though, the brothers Collins helped their volatile boss take funk to new levels of militancy, minimalism, and gutsiness. Acting as a combination of conductor, drill sergeant, and lightning rod, Brown morphed his entire ensemble into a massive rhythm section, revolutionizing R&B with elongated jams, intricate counterpoint, and hypnotic syncopation. That alchemy can be heard on Brown's stunning onslaught of hit singles at the start of the '70s, including "Super Bad," "Soul Power," and one of his most infamously hip-busting workouts, "Get Up (I Feel Like Being A) Sex Machine."
Advanced Studies
The '70s were the backdrop for some of Brown's biggest wins—and steepest dips. The decade began with Brown's hard funk setting the pace for R&B. As both a force of nature and a cultural figurehead, he'd reached his peak. After leaving a tumultuous tenure with King Records and given new autonomy on Polydor, he began stretching funk to almost abstract extremes, issuing LPs that frequently consisted of exhaustingly long songs—which predicted the rise of the bass-heavy, DJ-friendly, 12-inch single that would fuel both disco and hip-hop. By 1976, though, Brown was following the trends instead of setting them. Case in point: "Get Up Offa That Thing," a solid song that tries too hard to integrate disco rhythms and riffs into its grunting, squealing funk. As far as disco goes, it's bracingly raw—but the strain shows, especially compared to up-and-comers like Rick James and Chic, who were about to take many of Brown's innovations and contemporize them in a way Brown couldn't.
G/O Media may get a commission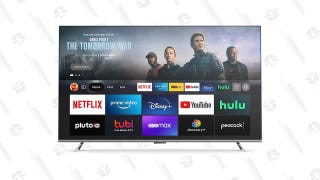 Save 46%
Fire TV 55" Omni Series 4K UHD Smart TV
Brown's most consistent and intriguing work in the '70s was, atypically, a trilogy of soundtracks. His albums that were commissioned for the blaxploitation films Black Caesar, Slaughter's Big Rip-Off, and Hell Up In Harlem (the latter was rejected and released under the name The Payback) came out in quick succession in 1973 and '74. Those conceptual canvases gave Brown a boost of ambition. All three have standout funk tracks among richer, moodier R&B interludes, but it's The Payback that truly shines. Brown followed The Payback with 1974's Hell, a staggering double album that's overstuffed to the point of disintegration. Weaving together blues, ballads, compelling remakes of his own classics, and even a disco-fied version of "When The Saints Go Marching In," Hell closes with a staggering, 14-minute version of the loping, simmering "Papa Don't Take No Mess." A leftover from the Hell Up In Harlem sessions, "Papa Don't Take No Mess" was also released as a whittled-down single. It would prove to be Brown's final No. 1 hit on the R&B charts—although his career was far from over.
[pagebreak]
With the rise of both hip-hop and '60s nostalgia in the early '80s, Brown experienced a resurgence in popularity. Unfortunately he wasn't able to turn that into a creative comeback. His 1983 collaboration with Afrika Bambaataa, the single "Unity," is stiffly delivered and suffers from a lack of chemistry between him and his hip-hop counterpart. As fun as Brown's appearance as a gospel preacher in 1980's The Blues Brothers is, it borders on self-caricature—and so does his biggest hit of the decade, 1985's "Living In America." Made for the soundtrack of Rocky IV, it's as slick as the film that inspired it. Brown gets points, though, for showing he could still craft a tight, punchy pop anthem after so many years of grinding funk.
Demerits
Rap's golden age in the '80s brought Brown's music to a new generation of listeners—mostly in the form of samples. Brown became the go-to source of beats for DJs and producers. But the purity and perfection of his breaks meant Brown was destined to be caught in a creative loop of his own making. By the end of the '80s, artists such as Eric B. & Rakim and Public Enemy were constructing monumental tracks out of Brown's building blocks, while Brown himself was reduced to collaborating with the cheese merchants of Full Force. A production team backed Brown in his 1988 album I'm Real, and on the title track, as Brown rants over samples of his own past glory, it's clear the sound and fury are gone. In the span of just 20 years, Brown had gone from righteously proclaiming his pride to desperately reaffirming his existence.
It didn't help that in '88 he began serving three years of a six-year sentence that resulted from a highly publicized meltdown involving guns, drugs, and high-speed car chase. After that, he remained a tireless live performer, but his recorded output in the '90s and beyond slowed to a merciful trickle. His final album was 2002's lackluster (and inaccurately titled) The Next Step. It's not terrible; in fact, it's downright poignant in places, such as on the bitterly ruminative "Why Did This Happen To Me." But it bears little resemblance to the James Brown of old. Brown's barrier-shattering career finally came to a halt with his death on Christmas Day, 2006, at the age of 73. The paradox at the heart of his music and soul—discipline and freedom, self-mastery and utter abandon—had finally caught up with him. His legacy will live forever, but the closure of a late-career comeback ultimately eluded him.
Miscellany
Before "Papa's Got A Brand New Bag" threw Brown into the national limelight in 1965, he'd already established himself as a luminary on the R&B scene. Much of his early work, though, has been glossed over in the mad rush toward his funkier, more mature output. Granted, much of Brown's output in the late '50s and early '60s was middling at best, but even his flops showed signs of the forcefulness and dynamism that would fuel him in the decades to come. His 1961 B-side "Love Don't Love Nobody"—a cover of a more sedate tune by legendary bluesman Roy Brown—became a trembling, start-stop plea for romantic release in the hands of The Famous Flames. Shifting through Brown's back catalog takes time, but it's worth uncovering those intermittent gems.
The Famous Flames and The J.B.'s were both crack outfits, stocked with some of the most inventive, virtuosic players of their era—including names that are now almost as legendary as their former boss', including both of the Collinses, guitarist Jimmy Nolen, trombonist Fred Wesley, and saxophonist Maceo Parker, not to mention Clyde Stubblefield and John "Jabo" Starks, perhaps the two most sampled drummers on the planet. But like the jazz big-band leaders that preceded him, Brown molded and conducted his musicians, finding the sweet spot between his vision and their strengths. This is best heard on Brown's live albums. From the game-changing Live At The Apollo to the epic funk meltdown Love Power Peace: Live At The Olympia (recorded in 1971 but not released until 1992), Brown demonstrates that a sweaty stage was his true medium.
[pagebreak]
He's not as well served on video, although there are numerous random documents of his superhuman prowess before a live audience. In 2010, the 1964 concert film T.A.M.I. Show was released on DVD, and among historic sets by the likes of Marvin Gaye and The Rolling Stones are four electrified performances by Brown's Famous Flames. Of particular note is "Out Of Sight," the 1964 single that was Brown's first true funk song (not to mention being the template for "Papa's Got A Brand New Bag"). As fiery as it is, Brown appears to be actually toning down his athleticism and theatricality just a bit for the broader audience. Regardless, it's jaw-dropping.
Part of Brown's force-of-nature persona was his acumen as a businessman. As his career progressed musically, so did his entrepreneurial empire—which included People Records, the label he started with Byrd in 1971. Before folding five years later, it released an incredible run of singles and albums, most of them by members of the J.B.'s (or the J.B.'s as a unit, minus Brown). The best cross-sections of People's formidable stable are the three volumes of James Brown's Funky People. The compilations collect a dazzling array of meat-and-potatoes funk—as well as fantastic songs by female singers Marva Whitney and Lyn Collins. Particularly strong is Collins' 1972 single "Think (About It)," a relentlessly grooving feminist anthem, co-written by Brown, that wound up being the source of some of the most recognizable samples in hip-hop.
The Essentials
1. Star Time
The number of James Brown anthologies available to the buying public is overwhelming, especially considering that so many of them contain vast amounts of overlap. While a humbler collection would serve as a decent sampler of Brown's genius, there's no substitute for Star Time. In 71 tracks, the 1991 box set covers the years 1956 through 1984, and it does so with an ideal mix of chart-topping milestones and stylistic breakthroughs—always keeping an eye on the best versions of classics that in some cases have been recorded numerous times. And the extensive liner notes are a treasure trove unto themselves.
2. Live At The Apollo
Released in 1963 and recorded the previous year at the famed Apollo Theater in Harlem, Live At The Apollo is one of the most indispensable live albums of all time. At that point in Brown's career, his studio albums—like those of many artists at the time—were spotty affairs that cobbled together singles, standards, and lots of filler. There's not an ounce of flab on Live At The Apollo. But it's more than just the crackling performances by Brown and The Famous Flames that make it great. Brown's acrobatic showmanship is palpable even through the audio, and the cult-like rapport and catharsis Brown shares with his audience is breathtaking.
3. Love Power Peace
It took 20 years for Love Power Peace to be officially released, but it would have been worth 10 times the wait. Capturing the untouchable Bootsy-and-Catfish lineup of the J.B.'s during a thunderous concert in Paris in 1971, the album shows Brown firing on cylinders he might not have even known he had. Some of Brown's old chestnuts from The Famous Flames are given a spit shine, but it's the extended whiplash renditions of his fresher material—"Super Bad," "Soul Power," "Sex Machine"—that make Love Power Peace such a vital snapshot of a band whose funky synergy borders on the unreal.
4. The Payback
Brown's considerable ego must have taken a hit when his soundtrack for Hell Up In Harlem didn't make the cut. But revenge is sweet, and 1973's The Payback stands as one of his most well-rounded and consistently rewarding albums—and that's from an artist who always spent far more effort on his singles. Covering the spectrum from sultry to defiant to inspirational, the double album balances smoky ballads and funky spasms with a keen compositional eye. But it's also an intimate, even mature portrait of the artist, one who was about to hit middle age just as his career began to lose focus.
5. Say It Loud, I'm Black And I'm Proud
Although few of Brown's albums in the '60s are solid, he'd finally started to get the hang of the full-length by 1969's Say It Loud, I'm Black And I'm Proud. By then, the album was being seen as a cohesive artistic statement, and Brown uses the format here to play up all sides of his craft—from yelping firebrand to tender yet gravelly crooner. Say It Loud was recorded just before the advent of the J.B.'s, so the funk on display isn't nearly as crisp and precise as what would soon follow. That intimacy and warmth only adds to the album's title track, a searing Black Power anthem to end them all.