HBO had a little fun with the promos for the new season of Curb Your Enthusiasm, framing Larry David as the hero we've been waiting for in the age of Trump. That wasn't really apt for a couple of reasons—even though he's railed against bureaucracy and meaningless social conventions in the past, "Larry David" is hardly a man of the people. (For clarity's sake, let's just refer to real-life Larry David by his last name, and the character as Larry.) Some episodes, like season 8's "Palestinian Chicken," manage to reverberate beyond their comedic setup, but you'll have to look elsewhere for timely takes on current events. Occasionally, Curb might play like a fantasy where the rich man with no filter and little demonstrable empathy gets his comeuppance, but cruel twists of fate are just as often in store for the decent people in Larry's life. So we'd be better off enjoying the show for what it is—an escape.
"The Pickle Gambit" is very much in that spirit, combining elements from screwball comedies and heist films, as well as featuring the return of some old favorites. The episode remains deliriously detached from reality, ending with what looks like a tableau out of The Benny Hill Show. But it also picks up right where we left off in "Foisted!", with Larry hiding out in a hotel despite the FBI's reassurances that the fatwa against him isn't a credible threat. To maintain the momentum (and Leon's social life), the action soon returns to Larry's home, but not before he manages to make an enemy out of the hotel manager, played by Dean Pelton (that is, Jim Rash).
Larry's interactions with the hotel manager are a reminder of how he plays by his own rules. When asked in a perfunctory fashion if he has any feedback for management, the old curmudgeon launches into a whole thing about tuck-ins before criticizing their baked goods and baked-goods display. He may be in disguise and supposed to be laying low, but Larry can't let things like a cookie transportation method that compromises the integrity of the cookie go unchallenged. Feedback is something he takes seriously, even though more often than not, the invitation to leave any is merely a gesture. After all, why ask a question you don't want answered? But given that he probably didn't fill out the little comment card in the hotel room, it's just a tad disingenuous (which is perfectly in character).
G/O Media may get a commission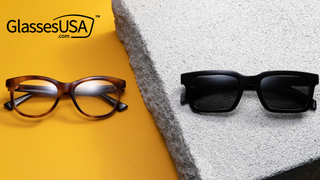 60% off frames
GlassesUSA.com Back to School Sales
Some good points are made in the cookie-tong debate (Claudia obviously should have replaced the tongs, though), but the best food gag is the one that lends the episode its name. Curb often homes in on our desire to be seen trying to be good to one another, whether it's holding a door open for a stranger or trying to be the pickle jar hero. It's so common that it's the basis for the big diversion at the hotel, where Leon-as-Chappie-Johnson's battle with the jar draws in the manager as well as several other staff members and guests. It's so prevalent that it yanks Larry from the sidelines, where he was wryly observing, on both occasions. Everyone really does want to be the pickle jar hero, especially after seeing their ex-wife with Ted Danson, not to mention being rejected by Mary Steenburgen.
Before the ensuing ruckus can get too zany, Curb switches to the more grounded story of Ted and Cheryl's budding romance. This new pairing was hinted at in the premiere, but it catches Larry offguard, who's also rather incensed that Ted didn't have the decency to sneak behind his back (which, we learn, is how Marty Funkhouser played it). The relationship presents as great a threat to Larry's sanity as the fatwa, which is still very much in effect, despite Larry's best (read: worst) efforts.
With Larry's diplomatic debacle set to provide a season-long arc, callbacks to "Palestinian Chicken" seemed inevitable, and "The Pickle Gambit" does not disappoint. Well, it mostly doesn't. Shara's (Anne Bedian) return was welcome, and Larry's sex talk consisting of naming white supremacists and their Jewish sons-in-law was inspired, but the story hit all of the same beats as last time, minus the interruptions from SWAT (just going to assume that his name is a reference to a tactical team and not the motion used to bat at flies). On the other hand, Curb has now gotten comparisons with that episode, a series high, out of the way, which means the fatwa story is now free to fester into some entirely new abscess or international incident.
And Larry's ill-fated video chat with the consul of Iran is a good start, bringing together the seemingly disparate stories of cookie retrieval systems, tense relations with a foreign power, Larry's new security guard, and Marty Funkhouser's all-American nephew. That last bit is the weakest, even though Larry and Marty's breakdown of masturbation techniques came right out of a Seinfeld episode. The career advice Larry gives to the sex worker (Dawson's Creek and Rules Of Attraction's Bianca Kajlich) consists of not looking like a sex worker, which sounds more like something Hector Elizondo would have said in Pretty Woman than the work of a comedy auteur. And it stands in stark contrast to the payoff of that story, which finds everyone listening in on little Funkhouser having sex for maybe the first time. But even though one B-story fell by the wayside, "The Pickle Gambit" proves that the season arc has some legs on it.
Stray observations
In this age of electronic correspondence, Curb continues to champion the handwritten letter, as Larry appears to be writing an apology to the shah of Iran in the episode's opening scene. That would-be missive joins countless ones that Jeff (and Larry) composed throughout the series.

Larry might not be a match for Mary Steenburgen, but he's more than a match for a pickle jar.
"Can you go to your left? Nah, no one can."

Larry's rules of etiquette: Never let someone know you're pursuing their ex. In this case, going behind their backs is preferable and/or kinder.

"The Puffy Shirt" and "The Raincoats" are great picks, Mr. Rashayar.

Leon's assessment of Forrest Gump: "That motherfucker lived a life."

I'm not surprised that no one was able to open that pickle jar, given their terrible technique. Only one person thought to tap it at any point.

But speaking of, Larry's "victory" has to come with an asterisk—those other people clearly loosened the lid for him.