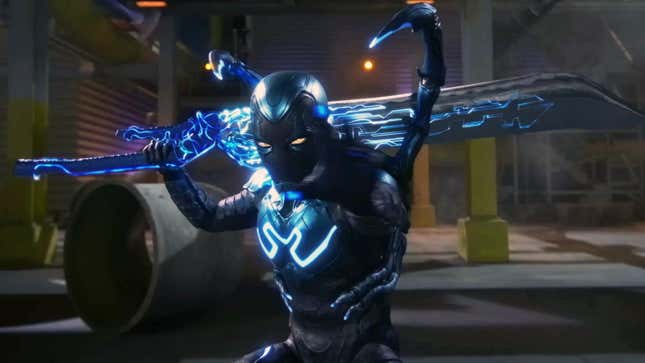 Blue Beetle, the live-action onscreen debut of the DC Comics character and Warner Bros.' first feature to center on a Latino superhero, arrives with much anticipation. After some major (and very public) wobbles earlier this year with the box office returns for Shazam: Fury Of The Gods and then the messy release of The Flash, DC Studios is clearly looking for a win this time out. Those inclined to read the tea leaves left behind by the previous regime may see the selection of Blue Beetle as a commitment to a more inclusive production slate, although others may view it as a calculated move to cash in on the entertainment preferences of one of the nation's fastest growing demographics.

Why Robert Rodriguez still loves "Spy Kids"
While recently installed DC Studios co-CEOs James Gunn and Peter Safran may be eyeing a franchise role for the character, Blue Beetle ultimately feels more like a teaser than a fully satisfying experience replete with memorable characters and impressive world-building. Ironically perhaps, the initial impression is almost similar to Gunn's 2014 Guardians Of The Galaxy. A not-so-superhero feature that seemed to almost come out of nowhere, it briefly blazed like a comet, leaving audiences to wonder if there was any chance of repeating the feat in subsequent installments. Like Guardians, it's likely that box office results will determine whether Blue Beetle turns out to be just an appetizer or the prelude to a fully loaded franchise feast.
Whatever the outcome, it's clear that Blue Beetle's superpower is its cultural specificity as it foregrounds Latino traditions and values in telling the story of recently graduated Jaime Reyes (Xolo Maridueña), who returns to his hometown of Palmera City to find his extended Mexican-American family in crisis. His parents, Alberto (Damían Alcázar) and Rocio (Elpidia Carrillo), are facing foreclosure on the family home they share with his younger sister Milagro (Belissa Escobedo), the kids' grandmother Nana (Adriana Barraza), and their Uncle Rudy (George Lopez). Jaime attempts to help out the family by taking a low-level job at a hotel that's part of the multinational Kord Industries conglomerate, but quickly runs into trouble.
This early sequence showcases screenwriter Gareth Dunnet-Alcocer and director Ángel Manuel Soto's (Sundance award winner Charm City Kings) facility with adapting the DC Comics material. A quick series of scenes introduces Victoria Kord (Susan Sarandon) as the movie's villain, flags her niece Jenny (Bruna Marquezine) as Jaime's love interest, and demonstrates the Reyes kids' contempt for the exploitative service economy in just a few minutes of screen time.

It's not until later that Jaime discovers that Jenny is in possession of a vibrant blue, fist-sized, beetle-shaped remnant of ancient alien biotechnology that was discovered by Jenny's inventor father, Ted Kord. When Ted disappeared years earlier Victoria began developing the object as a super-weapon. Now secured in a Kord Industries lab, cracking the scarab's operating system is proceeding apace when Jenny steals the relic and inadvertently turns it over to Jaime. After he unexpectedly activates the scarab and it attaches itself to his face Alien-style, right in front of his horrified family, the device commandeers Jaime's nervous system, rapidly developing a symbiotic relationship that transforms him into the alien-human hybrid Blue Beetle.

Although Jaime's metamorphosis would typically be treated as an intense action sequence, the filmmakers instead strive for an often comedic tone here and throughout the film. It's a frequently effective technique but it cuts both ways; when characters are engaged in dialogue dense with culturally specific references, wordplay, and jokes—even with subtitles—some viewers may be left focusing on parsing the underlying meaning rather than following the flow of the narrative.

However, it's the cohesiveness among the cast members playing Jaime's family that lends their performances both authenticity and relatability. Alcázar and Carrillo are the parents providing unconditional love, while Barraza's sly Nana conceals more strength than she initially reveals, and Lopez overplays Uncle Rudy's conspiracy theorist old-school tech geek for all the laughs that he can eke out of it.

It's all to show their support for Jaime, with Cobra Kai's Maridueña demonstrating that he has a solid grasp of the character's internal conflicts as he attempts to gain control of his superhero persona while bringing the fight to Sarandon's effortlessly vile Victoria, who's backed by her bionically enhanced henchman Carapax (Raoul Max Trujillo).
Although Jaime's struggle with the alien entity implanted in the scarab (voiced, J.A.R.V.I.S.-style, by Becky G) to gain control of Blue Beetle's abilities is often played for laughs, in reality the filmmakers and the SFX team have created a memorable visual style for the film, supported by a wide array of Latino talent that underpins the authenticity of the narrative and the visuals.
While not immediately apparent, there's also a deeper, more profound thematic thread running throughout the film, which indicates that Nana has a secret past as an anti-imperialist insurgent. Meanwhile, Carapax's personal history suggests that he was recruited as a child soldier decades earlier in Central America, likely as part of a program associated with the U.S. Defense Department's notorious School of the Americas. This is rich, relevant material that may have to await exploration in a box office-contingent future installment of the franchise, not so subtly tipped in the closing credits.

Blue Beetle opens in theaters Friday August 18