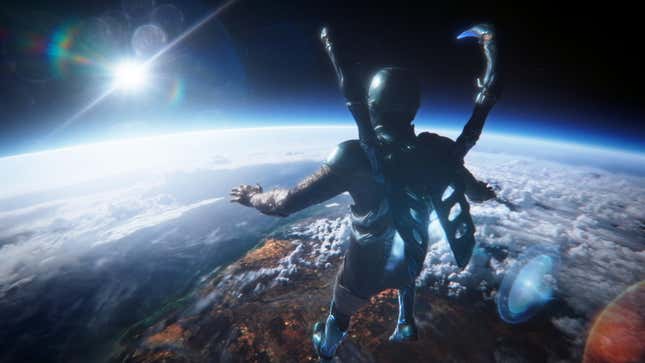 As noted earlier, Blue Beetle opened in the top spot of the U.S. box office this weekend, finally ending the run of Greta Gerwig's Barbie—though it only fell to second place and only lost to Blue Beetle by a hair, so it's going to keep making money and might even be back on top next week. But today is Blue Beetle's day, with the film making $25 million in its debut, beating Barbie ($21 million, $567 million after five weeks), Oppenheimer ($10 million, $285 million after five weeks), and Teenage Mutant Ninja Turtles: Mutant Mayhem ($8.4 million, $88 million after three weeks).
You can now buy a Weird Barbie — but isn't that missing the point?
The other newcomer in the top five, R-rated talking dog movie Strays, opened with just $8.2 million, which was at least enough to comfortable hold off Meg 2: The Trench, which fell to sixth place and made $6.7 million (it has $66 million in its third week). The rest of the top 10 is a little grim, with Talk To Me holding on to seventh place for the second week, Haunted Mansion falling further down, Mission: Impossible—Dead Reckoning Part One still making less money than it deserves, and finally The Last Voyage Of The Demeter falling hard with only $2.5 million in its second week (and only $11 million total). Maybe they really should've called it Dracula On A Boat, like all of those memes suggested?
This week, the top 10 must also unfortunately say goodbye to Sound Of Freedom, the movie that the WOKE LEFT doesn't want you to see (it's playing in thousands of theaters and has been doing so for seven weeks). Also, the re-release of Oldboy made $500,000 this weekend, which is less than you'd think since the movie was pulled from VOD services to promote this re-release, but it was always more of a DVD-seller anyway.
The full top 10, courtesy of Box Office Mojo, is below.
Blue Beetle
Barbie
Oppenheimer
Teenage Mutant Ninja Turtles: Mutant Mayhem
Strays
Meg 2: The Trench
Talk To Me
Haunted Mansion
Mission: Impossible—Dead Reckoning Part One
The Last Voyage Of The Demeter