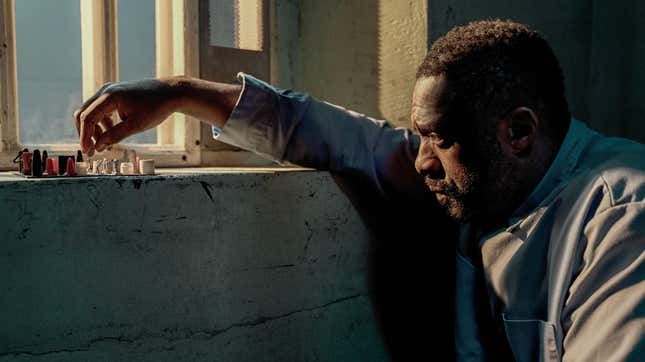 DCI John Luther (Idris Elba) is back and once again he's pursuing a criminal mastermind while going rogue. Fans of the BBC series, which ran for four seasons between 2010 and 2019, are in for more of what they like in Netflix's film continuation, Luther: The Fallen Sun. The film has small ambitions: basically to play like an extended special episode of the show. It delivers on that promise but doesn't do much more.

The A.V. Club's weekly film round up
Written by the show's creator Neil Cross and directed by James Payne (who directed episodes of Luther, Outlander, and The Alienist), the film picks up where the series ended. Luther has been disgraced and imprisoned while a psychopathic killer terrorizes London by planning and executing a series of gruesome public murders. Before long Luther is out pursuing the killer while the new police chief, Odette Raine (Cynthia Erivo), pursues Luther.
The film's effectiveness hinges on transferring the hallmarks of the series to the big screen, and to that end, Cross and Payne succeed. Luther: The Fallen Sun maintains the series' potent mix of tough action and psychological warfare. As we follow Luther through London, the camera is fluid while capturing the spaces inhabited by the story's characters. There's potent danger when capturing the mayhem of choreographed destruction. The screenplay takes a simple premise—what would someone do to hide what they're ashamed of—and makes an intriguing cat-and-mouse game out of it. As Luther puts the clues together, the audience becomes privy to how a serial killer's mind works. The antagonist has a knack for finding people's secrets, then blackmailing them to do his bidding. Consequently, he has cultivated an army of scared, desperate people willing to participate in his macabre games, which he then broadcasts to the world.
G/O Media may get a commission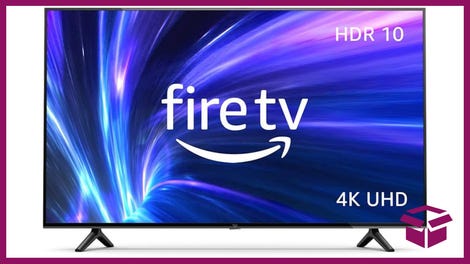 42% Off
Amazon Fire TV 50" 4K Smart TV
Elba has the charisma and presence of a movie star, despite his biggest successes coming on shows like Luther and The Wire. Here, it's evident why this became his signature role, one that's synonymous with his name. Luther makes intense connections with people, whether he's getting them to reveal something intimate or trying to save their lives. Even his phone conversations are animated. In all these instances Elba's eyes tell so much by the way he looks at the other actors. He sets fire to the screen with poise and command, thus telegraphing Luther's superhuman instincts.

This is unquestionably the Elba show; none of the other actors get as juicy a role. Erivo's chief has the requisite characteristics of an authority figure, with only two moods to play: concerned and in charge. The script shoehorns in a personal backstory for her character that feels rote and not in sync with the film's overarching themes. Andy Serkis has fun hamming it up as a bad guy though the performance never goes beyond skin deep.
At slightly more than two hours, Luther: The Fallen Sun's pace suffers. What could have been a taut thriller comes padded with extraneous material, as if the filmmakers are working hard to reach feature length. In particular, the first half-hour acts as an expository preamble that lacks any thrills. All the more disappointing since the series is known for its short seasons and compact, thrilling episodes. As the story unfolds, the psychological intrigue dissolves into ludicrous gore and mind games with a lot of unnecessary violence. The film introduces a fascinating idea: the notion of people subscribing to watching murder online and the voyeuristic nature of continuous online existence. Yet it's never explored beyond being a plot swerve to show more violence.
In an attempt to make this a movie with broader appeal, the filmmakers actually dilute what made Luther so compelling on the smaller screen. Though the film can stand on its own as a separate piece of work, new audiences might question what the fuss is all about.

(Luther: The Fallen Sun premieres on Netflix on March 10.)