Darby Forever, a short film written by and starring Saturday Night Live's Aidy Bryant premiered on Vimeo today. Darby Forever follows Darby (Bryant), a shopgirl at a fabric store in a small town who spends her shifts lost in her elaborate daydreams, most of which lead to some musical fantasy sequences à la Crazy Ex-Girlfriend. Darby Forever also stars Parks And Recreation's (and, more recently, Girlfriends' Guide To Divorce's) Retta, Best Friends Forever's Luka Jones, Orange Is The New Black's Natasha Lyonne, and Mary Sohn. Oz Rodriguez, who previously directed Lil' Baby Aidy in SNL's "Back Home Ballers," directed the short, which packs small-town existential angst, a powerful crush, and musical numbers into its 20-minute runtime.
Darby Forever was made as part of Vimeo's new Share The Screen program, a three-part initiative built by the streaming service to support and empower female filmmakers. As part of the initiative, Vimeo has committed to investing in a minimum of five projects from female filmmakers this year. Today, Bryant has even taken over Vimeo's Instagram to promote the short and provide a behind-the-scenes look at the making of Darby Forever.

For those who haven't gotten enough of Aidy Bryant—and who could?—the Saturday Night Live star also appears in this week's episode of The A.V. Club's own Talent Show series.
G/O Media may get a commission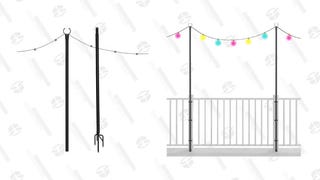 Up To 49% Off
Holiday Styling String Light Poles