If the internet existed 50 or 60 years ago, how many of Old Hollywood's most beloved stars would be called out for always playing the same part? Actors who can disappear into a role have long been the subject of admiration, yet so few leading performers operate with this aim—in general, and especially in movies made during the first 40 or 50 years of the medium—that a versatility requirement would disqualify many beloved figures from legendary status.
No one, for example, would claim James Stewart as a chameleon. That handsome face, seeming to narrow slightly as he reached middle-age and his hairline receded; that lanky frame; the deliberate pace of his impression-friendly voice. He's not an easy man to disguise. (Even hiding under clown makeup doesn't really work.) Stewart played a great variety of roles in more than 40 years of Hollywood work, but his most famous parts solidified his persona as a reliable (if capably funny and sometimes flustered) man of decency.
By the time he appeared in Alfred Hitchcock's Rope in 1948, he was fully able to function as a pivot point. The film, based on a stage play possibly inspired by the Leopold and Loeb murder case, follows Brandon (John Dall) and Phillip (Farley Granger) as they commit the "perfect" murder of a former classmate, then—to flaunt their superiority—hold a dinner party at the scene of the crime, with the body hidden in a trunk the whole time.
Early on, the natural audience identification lands with the two killers; as reprehensible as their deed is, they're the ones under pressure as more guests arrive and Phillip grows more apprehensive. When Stewart (playing the murderers' former headmaster and current party guest) enters the picture, he brings with him an air of moral authority and introduces an additional point of view. By laying a detective picture over the aftermath of a horrible crime (essentially creating the proverbial "bomb under the table" scenario Hitchcock has discussed as instrumental in the creation of suspense), the movie's focus shifts from how Brandon and Phillip will get away with their crime to how they will be caught.
G/O Media may get a commission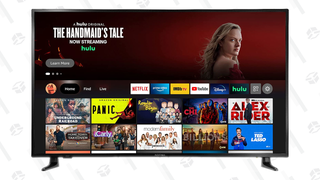 38% Off
Insignia 50" 4K UHD Smart TV
In other words, in their first of four films together, Hitchcock uses Stewart the way that filmmakers were accustomed to using him, albeit in a more murder-centric narrative than many of his previous films. Seen in context of their later collaborations, the entirety of Rope feels like the first, set-up phase of a larger plan to toy with and at least partially dismantle Stewart's image.
It probably wasn't, of course, but Hitchcock did start tinkering with Stewart's accessibility as soon as they teamed back up in 1954. For Rear Window, Stewart works as an audience surrogate from the start—to such an extent that the entire movie is about the unsavory kick he gets from voyeurism, as a de facto audience member. His wheelchair-bound L.B. Jefferies takes up watching his neighbors during a heat wave, and eventually becomes convinced that one of them has murdered his sickly wife.
Watching ol' Jimmy Stewart on screen is normally such a warm, inviting arrangement that it feels peculiar, if fascinating, to see one of the biggest movie stars of all time confined to a wheelchair, bored, and eventually enraptured by the everyday lives of "normal" people. It's stranger still to identify with him as a voyeur, rather than a more traditional hero. One of his first moments on screen has Stewart leering at a lithesome blonde across the way. On paper, it's a mildly sleazy moment of a guy noticing his sexy neighbor. In the context of both Hitchcock and Stewart's respective careers, it feels like the former is imposing his sensibility on the more conventionally handsome, likable latter. Hitchcock makes the darkening of Stewart's persona literal for several shots later in the movie that feature him backing into the shadows as he peers out the window, making this one of the few famous Stewart roles that could be said to involve skulking. The climax of the movie involves Stewart and a murderer both concealed in darkness; Jeffries' suspicions may be vindicated, but he's still subsumed in the darkness with his foe.
Before Rear Window, Stewart's previous amateur sleuth for Hitchcock approached his accidental case from a position of moral uprightness; Jeffries, who doesn't make any serious ethical consideration about his actions until 90 minutes into the movie, basically stumbles into that vantage point. Despite these against-type moments, Stewart makes the role fit. His easy charm bridges the gap between a nosy, borderline creepy voyeur who won't commit to his lovely girlfriend and the amateur detective who won't let a man get away with murder.
So as much as Vertigo might be reasonably considered the film where Hitchcock tweaked the image of James Stewart as the lovable everyman, he'd actually been chipping away at that veneer for a few movies beforehand. The process continued with Hitchcock's 1956 remake of his own The Man Who Knew Too Much. It's not as unseemly, at first glance, as the voyeurism-driven Rear Window or the obsession-driven Vertigo. Hitchcock casts Stewart as a family man—a doctor, a father, and the husband of America's sweetheart Doris Day, even. But as close as Stewart seems to hew to Hitchcock's typical wrong man/wrong time, his Ben McKenna is a weaker, less stable leading man than, say, North By Northwest's Roger Thornhill, played by Cary Grant. Grant's later-period Hitchcock roles, more or less concurrent with Stewart's, lean into his charm, rather than playing against it.
Stewart, meanwhile, breaks plenty of sweats during The Man Who Knew Too Much—he finishes the movie looking prepped for Vertigo. Early in Man, his Dr. McKenna learns some crucial espionage information, knowledge that leads to the kidnapping of his young son. The basics of the plot are Hitchcock-style happenstance, but McKenna, by turns trusting and short-tempered, helps set these bad things in motion by consorting with a Frenchman on the bus to Morocco. The first moment of suspicion in the movie belongs to Day, not Stewart, as Hitchcock cuts to emphasize her face in a way that puts the audience slightly on edge without any dialogue to that effect.
The Man Who Knew Too Much becomes the story of a fraught marriage, with McKenna trying to get his son back on his own while his grief-stricken wife Jo (Day) tries to keep her composure—and consistently proves herself a worthy and necessary partner to her stubborn husband. McKenna's regular guy bumbling through a high-stakes situation doesn't feel especially out of character for Stewart; the role doesn't offer him a dramatic transformation. Instead of disguising his star, Hitchcock let time do the work for him. The 1956 version of Stewart looks older than most of his classic roles, and looks a degree more foolish than, say, Grant while, say, angrily tussling with the wrong suspects at a taxidermy shop.
McKenna eventually rises to the occasion, a process that nonetheless involves him getting knocked out after another weak scuffle. The movie positions Jo as her husband's equal, and possible superior. Though she's clearly working under the expectation of subservience, just as Day had less tenure as a movie star than Stewart, the two actors are given equal weight. When Hitchcock frames them together, and when Stewart is apart from Day, Hitchcock sometimes uses long shots to make him look smaller and less imposing.
Again, it's not as if Stewart typically played imposing, lone-wolf characters. But he would, by this point in his career, be seen as a comforting presence by at least some of the audience, and The Man Who Knew Too Much does its best to subtly undermine that sense of comfort. Vertigo, of course, goes further. Hitchcock's thriller was not a major commercial or critical success upon its original 1958 release, and while Hitchcock is said to have blamed some of that failure on Stewart's advanced age as compared to co-star Kim Novak, it seems entirely possible that audiences reacted more strongly against seeing Jimmy Stewart lose his shit over a woman he's been asked to tail than his middle-aged visage specifically.
But Stewart's visible aging does affect a viewing of Vertigo, in ways that contribute to the movie's effectiveness (as a disturbing thriller, not a crowd-pleaser). John "Scottie" Ferguson, like L.B. "Jeff" Jefferies before him, is a bachelor getting on in years who has been recently lamed. Scottie, a retiring cop, is injured in a rooftop pursuit, during which a fellow officer died trying to help him through his attack of vertigo. Later, an acquaintance has Scottie follow his wife, who he claims to suspect is possessed. Scottie falls in love with the woman, Madeleine (Novak), but due to his fear of heights and accompanying vertigo, cannot save her from an apparent suicide at a belltower. When he meets a woman who bears a striking resemblance to Madeleine, his obsession is rekindled.
Scottie's age isn't key to making sense of his obsession, but it does add a layer of sadness and loneliness to his pursuit of Madeleine in whatever form he presumes her to have taken. It's easy to imagine him as an alternate version of Rear Window's Jeffries, who continued to resist settling down with his lady, only to be pulled into another bout of chronic voyeurism—the first chunk of Scottie's relationship with Madeleine consists of him following her around in secret. Again, Hitchcock cloaks Stewart in shadows during key moments, whenever he ascends up the belltower steps. But otherwise, Vertigo is a rich, even lushly colored movie, leaving its star in plain sight. Filtered through Scottie's obsession with Madeleine, the colors take on a feverish quality not often associated with Stewart's steadfast image.
There are traces of that image here: Scottie is a cop who feels guilt over his colleague's death and protective instincts toward Madeleine. On paper, he sounds like a pretty decent guy. But by the end of the movie, those instincts have curdled into creepiness as he dresses up Judy Barton to resemble his beloved Madeleine, attempting to recreate the recent past. This is another point where Stewart's onscreen age (and his vaguely tweedy costuming throughout the film, heavy on high-waisted pants) adds an extra hint of desperation, as does his onscreen past playing men whose notions of romance were more honorable, sometimes borderline milquetoast. In The Philadelphia Story, almost two decades earlier, Stewart's character Mike Connor falls for Katharine Hepburn but is set aside so she can remarry the love of her life, played by Cary Grant. Stewart, who won a Best Actor Oscar for his work in the film, plays sort of a noble goofball, without too much sadsack self-pity (he's the rom-com best friend/"nice guy" who's actually, genuinely nice). In Vertigo, he copes with his desires by "helping" the versions of Madeleine he meets, by insinuating himself into their lives (actually a single life, but treated as separate by Scottie). Along with Stewart's image, Hitchcock's movie deconstructs the whole notion of a male savior. Scottie doesn't murder anyone, but seems to leave an awful lot of bodies in his wake.
The film can also be read as a self-criticism of Hitchcock's chosen profession: the hyper-controlling film director. Stewart's demeanor doesn't suggest an obvious Hitchcock stand-in, but as with his peeping leer in Rear Window, the movie gives it a shot anyway. Once he "discovers" Judy, Scottie oversees costuming, hairstyling, and art direction, all to create a person who wasn't exactly real in the first place. In his films with Stewart, Hitchcock does the same thing, but less overtly than with his parade of blonde women. He subtly re-arranges the "real" Jimmy Stewart, tweaking elements of his persona that may have been created for his film career in the first place. Stewart was by most accounts a fine, upstanding man in his personal life, but that doesn't mean he was actually George Bailey or Mike Connor off-camera—or that he had to be them on-camera, either, despite the similar mannerisms. His later Hitchcock films are a reminder that stars don't need to shapeshift in order to play someone different. Much as Hitchcock might have objected in retrospect to his star's advancing age, I'm not sure if it would have worked as well at any other time.
Next time: A wildly popular movie star's most frequent collaboration gets cut short.
Purchasing via Amazon helps support The A.V. Club.