Here's what's up in the world of TV for Monday, July 23. All times are Eastern.
TOP PICK
Alphas (Syfy, 10 p.m.): Season one of this show was the best new Syfy series in several years. So, naturally, many of the key members of the creative team exited the show after the end of that season, which means everything should be just fine! Anyway, in the wake of last season's spiffy cliffhanger, in which Dr. Rosen outed the existence of Alphas to the world, the team has split up. Naturally enough, they're going to get back together to stop some new threat as this new season begins. Watch along with Todd VanDerWerff and marvel that not only is David Strathairn on TV, but he's on a show on Syfy, even a good one.
---
REGULAR COVERAGE
Adventure Time (Cartoon Network, 7:30 p.m.): "Jake becomes a copy of himself after a run-in with Martians," says the episode summary, and we're still trying to wrap our heads around that one. Not the Martians part. We get what Martians are on a deeply instinctual level. Oliver Sava is a Martian.
Bunheads (ABC Family, 9 p.m.): It's a wild night in Paradise, as Michelle's friends from Vegas drop in, and the girls try to sneak into an R-rated movie. It all sounds like fun to Erik Adams. Sometimes, he buys tickets to a PG-rated movie, then sneaks into an R-rated one just for the thrill of the chase.
Teen Wolf (MTV, 10 p.m.): "Derek locks his new wolves up on their first full moon together," and that description makes us wistful for the time when we locked up all of our new wolves together for their first full moon. Phil Dyess-Nugent spent most of the night snarling, but by the end, he was a puppy dog!
G/O Media may get a commission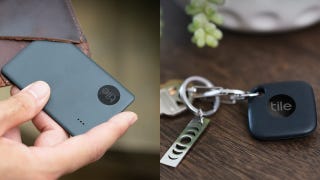 Up to 35% off
Tile Item Trackers
Web Therapy (Showtime, 11 p.m.): If you're not watching this enjoyable, visually inventive comedy, you could at least read Brandon Nowalk's reviews, so you could say, "Oh, hey, I read the most thorough Web Therapy reviews on the Internet, and you don't." Your friends will all be so jealous of your exciting life.
---
TV CLUB CLASSIC
The West Wing (11 a.m.): President Bartlet may have been re-elected, but the campaign trail marches on, at least for his Vice President, John Hoynes, who's being stubborn about all manner of things as he prepares for his own run in four years' time. Steve Heisler has spoilers from the future: Hoynes is out.
Justice League (1 p.m.): Oliver Sava returns to this classic animated series with an episode in which the League signs up with the New Gods to defend the homeworld of Darkseid against the threat of Brainiac. Why is the Justice League working to protect Darkseid's home? Oliver will have to explain that to you.
Strangers With Candy (3 p.m.): In addition to all of her other talents, Jerri turns out to be a violin prodigy. Meredith Blake discovered at the tender age of 5 that she could play the duda like nobody's business, but the more she showed off her talents, the more she realized no one needs a duda player.
---
WHAT ELSE IS ON
Bachelor Pad (ABC, 8 p.m.): We couldn't stand this show the time we dropped in on it, but we've got enough friends who seem to plan their summers around the airing of this show that we thought we'd let all of you know. If you're the kind of person who enjoys this as a guilty pleasure, now you know it's back.
WWE Raw (USA, 8 p.m.): It's only taken almost 20 years, but the series reaches its 1,000th episode tonight, and if you're good boys and girls, we might just drop in on the program and discuss its place in the TV landscape. Either way, you can be prepared for three hours of wrestling excitement.
Vito (HBO, 9 p.m.): This new biodoc takes an in-depth look at Vito Russo, a gay rights pioneer who was working for the cause in the early '70s, then authored the highly influential book The Celluloid Closet, which looked at how Hollywood coded gay characters into its films during its golden age.
I'm Having Their Baby (Oxygen, 11 p.m.): A new six-episode series takes a look at stories of adoption, following birth mothers as they make the choice to give their babies up to adoptive parents. We're sure it will be highly emotionally manipulative, but we're also sure we're just going to need a moment. Sniff.
The Tree Of Life (HBO Signature, 7:30 p.m.): Terrence Malick's magnum opus won the Palme d'Or at the Cannes Film Festival and received a surprise Best Picture nomination at the Oscars. None of this enticed the reclusive Malick out of his woodland hidey-hole, however, and he lives there still, hoarding berries.
Mutiny On The Bounty (TCM, 8 p.m.): If anyone ever asks you what the last movie to win the Oscar for Best Picture without winning any other Oscar, you can answer this one. If you've never seen it, it's a rousing adventure film with great performances and solid direction from Frank Lloyd.
MLB Baseball: Red Sox at Rangers (ESPN, 8 p.m.): The Rangers have the second-best record in baseball, just mere inches behind the New York Yankees. The Red Sox are… well, they're over .500 by a half a game. So that's something, right?! Better luck next year, Bostonians and New Englanders!
---
IN CASE YOU MISSED IT
Breaking Bad (Sunday): We take a momentary break from the tale of Walter White and his downward spiral to visit the desperate men of a company named "Madrigal" in a country named "Germany." Donna Bowman hasn't been to Germany, but she knows not to trust a man who loves chicken nuggets.