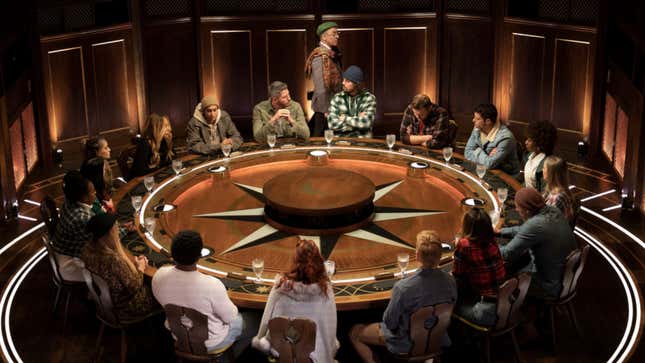 The past several hundred years have made it abundantly clear that America isn't always what it's cracked up to be, but this violently selfish, racist, and sexist dump is occasionally good at stuff. People seem to like our superhero movies, for one thing, and nobody can take that away from us! But something we, as a nation, seem to be terrible at is creating ridiculous high-concept reality shows.
For evidence, you don't really need to look any further than Peacock's buzzy winter reality hit The Traitors, which finished off its first season last week. Featuring a cast of regular people and reality show veterans—plus Ryan Lochte, who just seems to really enjoy being in a house for so long—the show is basically a large-scale version of Mafia (or Werewolf, if you prefer). The contestants complete reality show-type challenges to bank money for the eventual winner of the show, all while trying to suss out who among them are actually "Traitors" trying to undermine the other players. Every night, the Traitors pick someone to murder, booting them from the show immediately, and the next day everyone has to vote to banish someone who they think is a Traitor.
It's undeniably entertaining, combining the jazzed-up Double Dare competitions of something like Survivor or Big Brother with all of the mean, underhanded scheming of the "social game" directly integrated into the gameplay. But unlike Big Brother specifically, there's a greater incentive to not make friends with anyone and to stay completely under the radar. No one will think you're trying to double-cross anyone if they never notice you're there! But, of course, it's a reality show and everyone involved wants to be on TV, so the few times people played like that on The Traitors it just looked more suspicious.
The other strategy is to just treat it like a game. Everyone who has played Mafia or Werewolf has surely encountered the player who doesn't really give a shit about the theater of it and just wants to win, and The Traitors has Below Deck's Kate Chastain thrillingly filling that role for the whole season. Early on, she decides to go into full DGAF mode and just straight-up tells everyone how she feels about them, which rubs the other reality show people the wrong way (especially Big Brother vet Rachel Reilly, who has a memorable showdown with Kate where both of them insist that they're not taking each other's suspicions personally even though you can tell that only one of them actually means it).
In that sense, the cast at least feels familiar to American reality TV: It's a group of people who either want to be famous or are already famous, and most of them can't stand to be in the same room as each other. But beyond that, The Traitors is explicitly European. The show is filmed in Scotland, in a big ugly Scottish mansion, with noted Scottish person Alan Cumming serving as the playful, occasionally flirtatious host—with his accent and tendency to share fake quotes from famous people clearly setting him apart from all-business hosts like Jeff Probst or Julie Chen. In addition to the brogue-y aesthetics, the show is based on a hugely successful British version that was filmed at the same castle, but even that one was based on an original Dutch series called De Verraders.
G/O Media may get a commission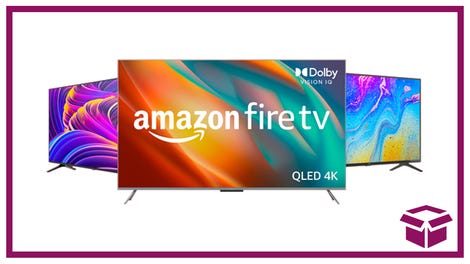 Ooh. stunning.
New Amazon Fire TVs
In fact, if you go back through all of the best high-concept reality shows like The Traitors, very few of them were made in America. Survivor is based on a Swedish concept. The Mole is Belgian. Masked Singer is famously inspired by a South Korean show. The Voice began life as The Voice Of Holland. Big Brother is also Dutch. Shark Tank, the hyper-capitalist celebration of billionaire generosity, originated in Japan. Even Fox's Special Forces, another buzzy new reality TV show that seems extremely American ("look how tough our military is!"), can trace its ancestry back to a British series.
So where's the America-born version of those ridiculous shows? The singing or dancing contest with a silly twist? The dating show where no one is telling the truth? (Bring back The Joe Schmo Show!) The jazzed-up Double Dare competition where everyone is encouraged to be a dick? The answer might actually be that nobody really wants to see the kind of high-concept nonsense America can come up with, because it didn't work out so well for anyone the last time that happened.
See, one of the few smash-hit American reality TV shows that was big enough to spawn international franchises, like The Traitors, was The Apprentice—and its success is going to be the thing that ultimately kills us all. But the question isn't why don't international audiences want high-concept American reality TV, it's why aren't there any high-concept American reality TV as interesting as The Traitors? What would a show like that even look like?
In all honesty, American society being what it is, it would probably be something like Gaten Matarazzo's mean-spirited prank show about razzing people trying to find work. Maybe they could do a singing show where everyone has crushing medical debt and the winner gets it paid off? Or they gather up a handful of suspected criminals and make them complete wacky physical challenges to see who gets to be represented by the best lawyer (in the season finale, all of their cases go to trial and you get to find out who gets acquitted). It's all bleak and horrific, sure, but that's America in 2023 anyway. Or maybe it's just safer to adapt hit shows from other countries.