Other than dropping the occasional mixtape or online freestyle, rapper and social media star Lil B seems to spend most of his time spreading his "based" message of irony-free positivity on the internet, applying it not just to people, but to the myriad creepy-crawlies of the world. Known as "The Based God" to his fans, Lil B is always quick to share a video of himself helping out a bug "in nature," or offer up some questionably true bug facts to his 1.3 million followers on Twitter.
The Daily Dot recently decided that it might be time to fact-check some of B's well-intentioned arachnid declarations, recruiting arachnologists from a number of universities to weigh in on his stances on our eight-legged friends.
For example:
G/O Media may get a commission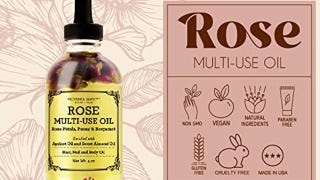 Provence Beauty Rose Multi-Use Oil
"Yes, many spiders do grow very quickly, especially when prey are abundant," responded Catherine Scott, a presumably bewildered Ph.D. student studying spiders at the University Of Toronto.
Meanwhile, other assertions were greeted with a bit more skepticism:
Scientists in this case were quick to point out that most brown recluse bites don't become dangerously necrotic, and also that spiders are neither insects, nor parasites.
Sometimes, though, Lil B was just completely off based:
Scott's response: "Anal bleeding is not a symptom of any spider bite that I'm aware of. That's a new myth for me."
The very patient scientists and grad students went on to answer several more of the questions Lil B has raised in the wider entomological world, although they left his more political asides on the life of the spider-mind for the philosophers of the future to dissect: