Welcome to Stream And Stream Again, a monthly column highlighting films (and the occasional TV series) new to streaming catalogs that are of special interest to The A.V. Club's staff—and hopefully to you, our readers. Here are five new titles streaming this August.
---
Mother! (August 26, Hulu/Amazon Prime)
Is Mother! a religious allegory? An environmental fable? A statement on the twisted dynamic between artist and muse? A confession from director Darren Aronofsky that he's a terrible boyfriend? Whatever it means, Mother! is one of the boldest, strangest, and most uncompromising films released by a major studio in this decade, and you've got to give it credit for that. You can marvel at how crazy and awesome it is that this film came out in wide release when Mother! hits Hulu and Amazon Prime later this month.
---
Jacob's Ladder (August 1, Amazon Prime)
Fatal Attraction director Adrian Lyne took a break from erotic thrillers to direct the 1990 horror oddity Jacob's Ladder, bringing a sense of psychosexual danger to the surreal story of Jacob (Tim Robbins), a Vietnam vet who's plagued by terrifying hallucinations and the unnerving sense that he's already dead. Described as an "underappreciated horror classic" by our own Clayton Purdom, the film has been slowly building a reputation among fans of the genre, a phenomenon that can only be helped by its newfound accessibility on Amazon Prime.
G/O Media may get a commission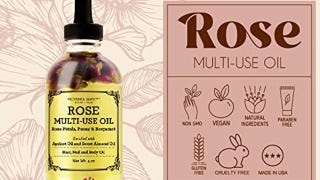 Provence Beauty Rose Multi-Use Oil
---
In The Mouth Of Madness (August 1, Shudder)
Another classic in the extremely specific subgenre of "horror movies from the '90s in which beloved character actors lose their damn minds" hit streaming at the beginning of this month, in the form of Sam Neill investigating the disappearance of horror novelist Sutter Cane in what's arguably John Carpenter's best film of the '90s, In The Mouth Of Madness (1994). If that's not enough to sell you on the film, the soundtrack is particularly awesome, adding a heavy-metal edge to Carpenter's signature synthesizer sound.
---
Female Trouble (August 2, FilmStruck)
In addition to gifting the world with such immortal lines as "the world of heterosexuals is a sick and boring life" and "I'm a thief, and a shitkicker, and I want to be famous!," Female Trouble (1975) is one of the most accessible films of John Waters' classic period. Female Trouble channels the debauchery and anti-establishment attitude of Pink Flamingos into the story of bad girl Dawn Davenport (Divine) and her quest for ultimate beauty and fame. The scene where Divine freaks out over not getting cha-cha heels for Christmas is a classic, as is Dawn's psychotic one-woman show that makes Sid Vicious look like Perry Como. This one's only available until August 30, so get on it, freaks.
---
This one might not be a descent into madness per se, but the frozen cheerfulness on Matt Damon's face as his inner monologue rambles on about polar bears and butterflies makes a solid case for Midwestern Nice as a form of insanity. Come for the labyrinthine true-crime tale of biochemist Mark Whitacre—who blew the whistle on agricultural conglomerate ADM for price fixing in the mid-'90s—and stay for the cameos from the likes of Joel McHale, Patton Oswalt, and Paul F. Tompkins.