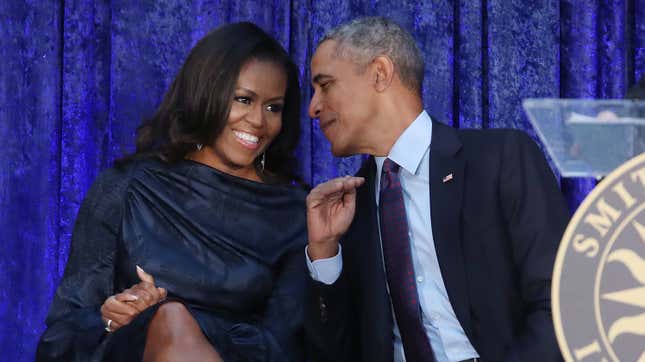 Last May, Netflix signed husband-and-wife producing team Barack and Michelle Obama to a multi-year development deal—sorry, "storytelling partnership"—that would allow the two of them to put their very famous names on various forms of content through their Higher Ground Productions label. Now, the Obamas have finally announced their first slate of projects for Netflix, with the former President saying in a statement that these projects touch on "issues of race and class, democracy and civil rights, and much more," and he believes they will not only "entertain" but "educate, connect, and inspire us all." (Apropos of nothing, remember when we had a competent guy running the country and not a stupid shit monster?)
John Hughes says the director called his Ferris Bueller performance "boring"
As for the projects themselves, Rolling Stone says the first one will be Sundance award-winning documentary American Factory, which is about a Chinese billionaire who opens a factory in an abandoned plant in the American midwest. After that will be Crop Camp, a documentary about the teenagers at a summer camp who helped launch the disability rights movement. There's also Bloom, a drama series about women and minorities facing struggles after World War II, a non-fiction show called Fifth Risk about everyday people "guiding our government and safeguarding our nation," and an anthology series based on The New York Times' overlooked obituary feature (which looks to pay tribute to important men and women whose contributions to humanity were ignored when they died because they were not, as The New York Times specifically puts it, "white men").
How many is that? Five? Well, the last two are a feature documentary based on David W. Blight's Pulitzer-winning Frederick Douglass: Prophet Of Freedom and a show about "the story of food" for young kids called Listen To Your Vegetables And Eat Your Parents—which is just a dynamite title. There are still no comic book adaptations or true crime documentaries, but the deal is supposed to last for a few years so they've got time.