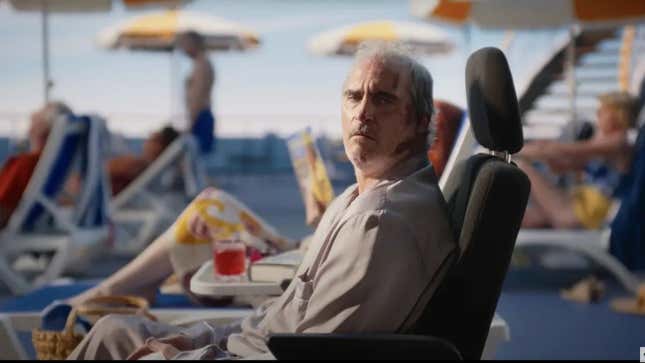 There's a certain kind of bad movie that reaches a special threshold of annoying. It's a bad movie where every few scenes you have to admit that what's happening right now kinda rules. If it was just bad all the way through, you could easily dismiss the whole enterprise. Instead, you argue with yourself about the part where one character does this and another character does that. "And the set design!" you think. "You gotta give props to that. Okay, this is not a total failure," you conclude, "but please never make me sit through it again." Then you come across it one day and say, "I hate this movie, but this bit coming up is great, hold on."

The A.V. Club's weekly film round up
The newest entry to this ignoble pantheon is Ari Aster's Beau Is Afraid, an insufferable three-hour slog that would make Terry Gilliam say "reel it in a bit, would ya?" It is juvenile and pointless, loud and abrasive, and not anywhere as clever as it thinks it is. There are, however, individual moments sprinkled throughout that genuinely hum with greatness.
After a short introductory scene where Beau Wasserman (Joaquin Phoenix, at his most whiny and affected) has a therapy session with his warm and trustworthy shrink (Stephen McKinley Henderson), we discover that the world of this film is not our reality. Sure, one could say the exaggerated urban hellscape is just this delusional paranoid's interpretation of city living, but if that's the case we're never given that third-person anchor. We're inside Beau's head the whole time, and while the over-the-top violence, chaos, and filth is certainly very funny (there are murder-hungry homeless zombies and plagues at every turn), it gets exhausting rather quickly.
Beau is planning a trip to visit his mother (Patti LuPone now, Zoe Lister-Jones in memory), but fate has other plans. When Beau turns his back on his luggage and his keys for three seconds, they're snatched. Then he learns that Mom has been killed in a freak chandelier accident and he must return for a burial immediately. Every second he delays he is being a bad son.

A strange odyssey (with direct references to Homer's The Odyssey) ensues, expanding out to punishing, maximalist lengths. Some scenes are quite good, like a tale-within-the-tale that mixes animation and clever stagecraft. Other sequences, however, drag on; an abrasive B-plot about an angry war veteran who wants to kill Beau strives to be the "Lone Biker of the Apocalypse" bit from the Coen Brothers's Raising Arizona, but it cuts together like the noisy bedlam of Steven Spielberg's 1941. The movie concludes with a slew of sophomoric dick jokes and hackneyed gags about an overbearing Jewish mother (For the record, my Jewish mother is very nice).
The main problem is this: Phoenix is acting his brains out and taking this all very seriously but when a movie is so untethered to reality there are simply no stakes. Aster and Phoenix bet the ranch that when the zaniness is paused and the chronically-afraid Beau expresses sadness or terror, we will connect with the drama. It's very difficult to thread that needle, and Beau Is Afraid is not, unfortunately, a successful model. It's different from cringe comedy; it's genuine discomfort. Eventually you just have to shout "shut up, already!"
The movie starts with the volume cranked to 10, then never takes a breath. At three hours it is unbearable. Yes, this is meant to be a "bad trip" of a movie, taking you inside the experience of someone undergoing a crisis, but there's a limit. And then it's revealed that this grown man has mommy issues. For that you made me sit through all this noise?
It's like the satanic speed metal band, Slayer. A Slayer song now and then really gets the blood pumping, but I have never been able to listen to an entire Slayer album. At some point I shout "enough!" and turn the friggin thing off. Beau Is Afraid is a Slayer album.
Ari Aster is a pretty clever dude, and Midsommar and Hereditary are well-respected movies. In a recent interview with GQ he showed that he's well aware many will share my reaction to the movie. At the end of the day, a "big swing" is always better than a throwaway, and anyone who sits through Beau Is Afraid won't forget the experience. Indeed, what should terrify a filmmaker most is having no impact on an audience. Of that, Aster has no reason to be afraid.
Beau Is Afraid comes to theaters on April 21, 2023