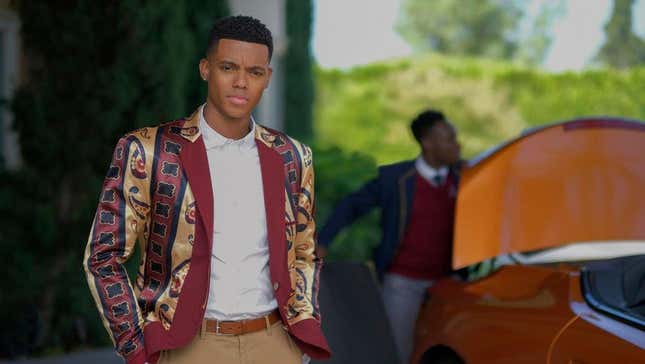 The viewing public's demand for TV stories that transform literal sitcom plots into prestige teen dramas continues to be insatiable, apparently, as journalist Daric L. Cottingham reports that Peacock has renewed Bel-Air for a third season on the streaming airwaves. News of the renewal comes as the series—which reimagines The Fresh Prince Of Bel-Air, but only as those episodes where, say, things got super serious because Carlton was addicted to drugs all of a sudden—is less than halfway through its second season, a clear vote of confidence from the streamer.
The news comes partially in the form of a video, showing the show's cast—including Adrian Holmes, Jordan L. Jones, Simone Joy, Akira Akbar, Coco Jones, Olly Sholotan, Jimmy Akingbola, Cassandra Freeman, and the non-Will Smith Will Smith himself, Jabari Banks, all showing three fingers to the camera in celebration of the news.
Bel-Air has been a decent-sized success story for Peacock, quickly becoming one of the most successful pieces of original programming in its library. Back in 2022, the NBCUniversal-owned streaming service announced that the show was its most-streamed original series. It's also the first live-action original series to make it to three seasons like this, after a slate of first-season cancellations; take that, Vanderpump Dogs.
All told, it's a big win for a show that had a pretty unconventional origin: A fan film by Morgan Cooper reimagining The Fresh Prince as a drama that caught the attention of original star Smith. (Cooper serves as an executive producer on the series, and directed its first episode, although current showrunning duties are in the hands of Carla Banks Waddles.) The series aired its first season back in February of 2022, to a warm reception from critics; the show's second season unveiled its fourth episode earlier this week.