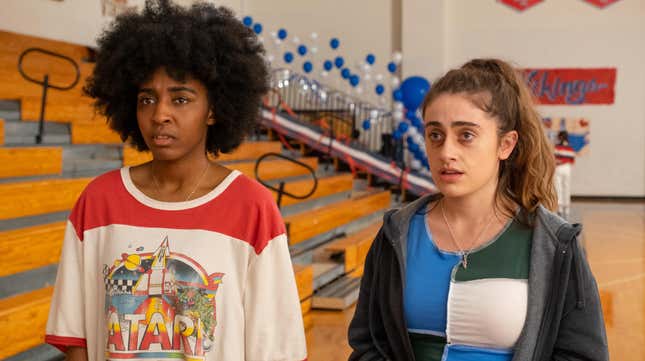 Everything is sex, except sex, which is power. So goes the famous quote attributed to Oscar Wilde, and reproduced in Janelle Monáe's album Dirty Computer. If the main characters from Bottoms, the new comedy from director Emma Seligman (Shiva Baby), have heard of Wilde or Monáe, they've internalized the quote's mirror image. In Bottoms, everything is violent, except violence, which is horny.
The A.V. Club's weekly film round up
High school seniors Josie (The Bear's Ayo Edebiri) and PJ (Rachel Sennott from Bodies Bodies Bodies) are introduced in Bottoms in classic '80s sex comedy fashion: scheming about how to convince their female classmates to have sex with them. No one dislikes them because they're gay, they tell us, but because they're "gay and untalented." At a carnival marking the beginning of the school year, they mistakenly give credence to a rumor that they spent the summer in juvie. Combined with the minor maiming of quarterback Jeff (a stand-out Nicholas Galitzine) with their car, they enter senior year tiptoeing toward street cred. With the homecoming game on the horizon, promoted as an unspeakably violent affair, they cook up the idea of a women's self-defense club.
Of course, since they didn't actually spend the summer in juvie, they know nothing about self-defense. This is simply a fight club, and it's an extracurricular activity they joined for the same reason that football players play football: to have sex with cheerleaders. But while football players are clad in armor and engage in relatively bloodless confrontations, the violence of the women is far more visceral—black eyes and mouthfuls of blood. Bottoms is horny but largely sexless—Galitzine is the only one who shows any skin—so the violence is the film's erotic act.
The atmosphere of the high school is so exaggerated and theatrical it's reminiscent of Glee. Football players wear their uniforms, cleats included, every day to school, while the flyers advertising the homecoming game depict a ripped, shirtless Jeff. At least twice, students make off-handed comments about needing to buy guns. Pep rallies start with a command to "Get Horny!" A history class reenactment of the Treaty of Versailles turns into a brawl that hardly anyone pays attention to. There are bombings, plural. In an environment like this, the fight club is hardly dissonant; what's unique about Josie and PJ's extracurricular is that it appears to be the one place in the school that centers the female students.
If that sounds self-righteous, it's not. The script, co-written by Seligman and Sennott, is easily one of the year's funniest. The jokes are constant and unforced. At a brisk 92 minutes, Bottoms moves the entire time. The film often lives somewhere between a live-action cartoon and a school play, saving the more brutal scenes from being too distasteful. The complete lawlessness of the environment also blocks the satirization of empowerment culture from feeling too pedantic. We're spared any coming-out monologues, and the characters' sexualities are handled refreshingly matter-of-fact.
Occasionally, though, Bottoms sacrifices character work for gags. Josie is the film's most fleshed-out character, a testament to Edebiri's skill as an actor as much as the script, while Sennott easily delivers her strongest film performance yet. Elsewhere, the performances of the supporting cast are stuffed with wonderful grace notes, even if the script doesn't offer payoff for all of them. The character of Hazel Callahan (Ruby Cruz) can feel like a conflict driver without sufficient motivation. Kaia Gerber's Brittany bemoans her status as just-a-pretty-face, but she seems to exist for PJ's self-actualization more than the character's own.
Ultimately, these issues are forgivable, even if they may leave some audiences cold. You can hardly fault a comedy for prioritizing laughs, especially when it's so successful at earning them. There's nothing about Bottoms that suggests air-tight logic, but the ideas are sound and fun to play with. Most interesting is how violence is presented as a facet of power and maleness, but not exactly masculinity; it's the male students who most exhibit the stereotypically feminine attributes of emotionality and vanity. In favor of any specific character arc, Bottoms is about the female students at large grappling with this.
In the end, what stands out about Bottoms is its guts. Theatrically released feature-length comedies are becoming rarer these days. Good ones even more so. Films like this that are willing to operate with such abandon feel like a minor miracle in our current media landscape. If Bottoms doesn't land every single punch, we can be happy that at least someone is out here swinging.
Bottoms opens in theaters August 25