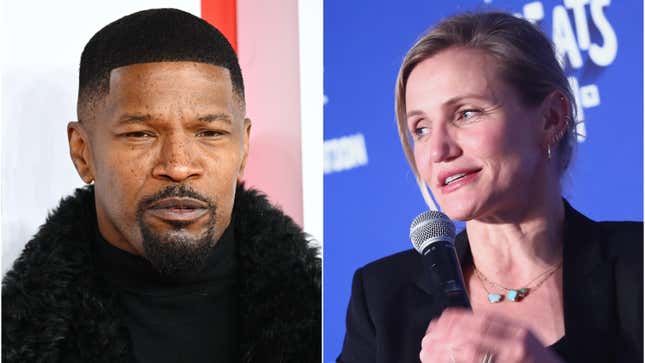 Cameron Diaz's highly anticipated new film Back In Action has hit a serious snag, according to new tabloid reports. Diaz was coaxed out of retirement by Netflix and Jamie Foxx, with whom she previously starred in Any Given Sunday and Annie (her last movie pre-retirement). Unfortunately, it seems like Foxx might also be the one to send her back into retirement, as sources say Back In Action has been plagued by chaos stemming at least partially from Foxx himself.
Kerry Washington talks "Unprisoned" and "Django Unchained"
An insider speaking with The Sun said that some of the film's delays are due to run-of-the-mill issues like the weather, but Foxx was at the center of a larger drama that supposedly triggered an investigation on the set. The source claims a crew member was fired after "someone tried to get access to £33,000 in cash from Jamie Foxx." (That's about $35k in U.S. currency.) Police were reportedly contacted after it was discovered that "the same staffer may have been linked to similar attempts to extract large sums of cash from wealthy stars in the past." (Netflix did not immediately respond to The A.V. Club's request for comment.) Another Sun report alleges Foxx had "a major meltdown" on set which led to him firing "an executive producer, an assistant director and a unit director" as well as his own driver.
All the drama has possibly made Diaz regret her decision to return to Hollywood. "She hates drama and confrontation. This is why she retired in the first place," says a Sun source. An insider for The Daily Mail has a more mundane reason for Diaz's likely re-retirement: She'd just rather be at home with her kid. "Although she has gotten to see her family while shooting the film, it is just not the same," the source says, adding that Diaz and Foxx are "still very close" despite the alleged bizarre goings-on behind the scenes.
Back In Action is directed and co-written by Seth Gordon, with a buzzy cast that includes Andrew Scott, Jamie Demetriou, McKenna Roberts, Rylan Jackson, Kyle Chandler and Glenn Close. It's the latest in a string of collaborations between Foxx and Netflix, following Project Power, Day Shift, the upcoming They Cloned Tyrone, and Dad Stop Embarrassing Me!, his first sitcom since The Jamie Foxx Show. The Oscar winner clearly has a solid working relationship with the streamer; we'll see if that remains true after the alleged "nightmare" of Back In Action.