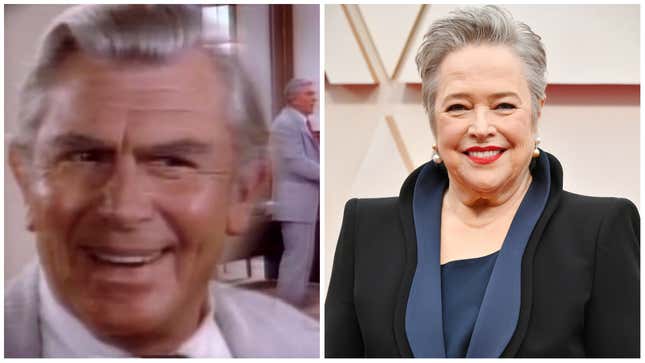 For the first time in nearly 30 years, we can rest easy. Ever since the end of the seminal legal procedural Matlock, fans have wondered when—if ever—will criminal defense attorney Ben Matlock return? Following the death of Andy Griffith in 2012, it seemed as though there would never be another Matlock.
Milo Ventimiglia on "The Company You Keep," "Gilmore Girls," and more
Though we never dare speak it allowed, Matlock heads the world over coalesced over one name that could don that white suit: Kathy Bates. CBS heard our silent prayers, and per Deadline, Bates will star as the famed lawyer in a pilot for a reboot of Matlock. The pilot comes from Jennie Snyder Urman and Eric Christian Olsen. Olsen is no stranger to stepping into another actor's shoes—he played Lloyd Christmas in the beloved Dumb And Dumber prequel, Dumb And Dumberer: When Harry Met Lloyd.
The announcement comes alongside another IP-heavy pilot that CBS is producing. In addition to Matlock, the network ordered a pilot for another Good Wife spin-off, Elsbeth, starring Carrie Preston. Elsbeth follows Preston's character Elsbeth Tascioni in a police procedural set in the Good-iverse.
Now, the real question is, will there ever be an Elsbeth-Matlock crossover? We know they're both set in the legal world and both in the United States—Matlock in Atlanta and Good Wife in Chicago. Technically, every show that's set in the United States and based around U.S. laws is in the same universe, so there's no reason why Elsbeth couldn't call Matlock for legal advice. Or maybe Matlock could make a stop over in Chicago and get wrapped up in a case. The crossover would require series orders for both and likely several seasons of groundwork to earn such a monumental crossover event. But we believe that the audience is there and open to "The Good Matlock."