Chris Rock is a comedian, which means he thinks everything is some kind of joke—probably even our nation's traffic laws. Surely that's the only explanation for why Rock has been pulled over by police three times in the past seven weeks alone. It's a reminder of the way so many people still face a constant struggle in this country, as they're forced to deal with being unfairly profiled as funny.
Rock has been posting photos of himself to social media every time he's been stopped by the cops, each one captioned with the same message: "wish me luck." The first incident was nearly a year ago, when Rock was detained by officers who saw him driving and probably said, "What's a funny guy doing driving a fancy car like that?"
This year, Rock has found himself detained nearly every couple of weeks for driving while funny. You know, how funny guys drive like this…

G/O Media may get a commission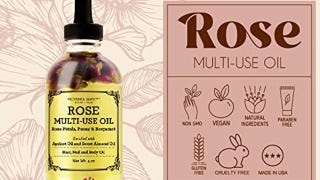 Provence Beauty Rose Multi-Use Oil
Rock is so funny, he doesn't even have to be driving to be pulled over.

In fact, last year Rock was riding shotgun with fellow comedian Jerry Seinfeld while filming an episode of Comedians In Cars Getting Coffee, when cops—always on alert whenever more than one funny guy gets together—pulled them over in New Jersey. "It'd be such a better episode if he pulled me to the side and beats the shit out of me, don't you think?" Rock said to Seinfeld, displaying the kind of grim humor-from-pain that has long been the salvation in the Comedian-American experience—while also contributing to their being singled out for being funny. Maybe Chris Rock should just stop acting so, y'know, funny.

Grey's Anatomy actor Isaiah Washington offered a similarly practical suggestion, seemingly intimating that Rock should get himself a car that no one could ever suspect of belonging to someone who's funny—like a Prius.
After all, surely this whole mess is within Rock's control. Just look at Washington, who has taken great pains to ensure that no one ever profiles him as funny. He's not like those "jokers."

@TopoftheTopLife @chrisrock ANYONE who knows me. Know that I'm no professional 'joker"…

— Isaiah Washington (@IWashington) April 1, 2015
Anyway, Chris Rock has yet to respond to Washington's suggestion, so it's unclear whether he does plan to adapt to profiling, or whether he'll continue to hope for a future where everyone is treated equally—no matter how funny they are.

[via The Huffington Post]