Day Three and it's on…
Security was confiscating pens as "potential weapons." Seriously. Getting through the front gate was an "open your bags and empty your pockets" experience with a full pat-down and immediate ejection for insolent behavior.
Such is the fear that Rage Against The Machine instills in liability lawyers and insurance adjusters.
Tethered to the press area by the short leash of Internet access for several hours, I was sorry to have to miss Tapes 'N Tapes, The Kooks, and The Coup (insert choice expletive here), but did manage to catch the first four main-stage acts in succession.
23-year-old Lebanese-born-Brit Mika was up first, doling out the musical equivalent of high-quality cotton candy. The description doesn't really give him the proper credit, of course. Boyo can sing. His voice–a remarked-upon mix of Freddie Mercury and George Michael–was in fine form. And whatever you think of the lightweight pop on his Life In Cartoon Motion debut, Mika proved himself to be a great performer. Live, songs like "Grace Kelly" take on a kind of Queen-style theatricality that has been in short supply recently. Respect.
Next, Lupe Fiasco, who made waves with last year's Food & Liquor by being everything rappers aren't supposed to be–suburban and religiously conservative for starters–played a set that sounded like the way forward for hip-hop. The Chicagoan's music was an amalgam of all the cool, innovative sounds to come out of pop and R&B;, all arranged for maximum bounce.
G/O Media may get a commission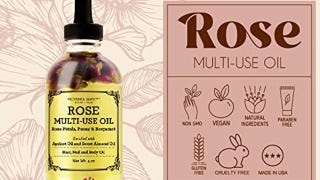 Provence Beauty Rose Multi-Use Oil
"Conflict Diamonds" was crafty, managing to marry a retro-'60s sample of Shirley Bassey's Bond-theme, "Diamonds Are Forever," with a modern beat then spin the result into a politically savvy history lesson educating bling-wearers about the diamond trade without getting too preachy. And the Gorillaz-borne track "Happy Industries" was infectious.
The Feeling–a new-ish U.K. act that clearly suckled on the generously melodic teat of 10cc growing up–was tremendous. The group's cover of The Buggles' "Video Killed The Radio Star" was the most discussed, but the originals were the real gems. "Never Be Lonely" was one of the best, a tight panoply of smart chords turned Technicolor with flawlessly performed three- and four-part harmonies.
Hitting the big stage afterward was Explosions In The Sky, a vast conglomerate of Pink Floydian sounds from Austin, Texas. Forget about the term "pot-friendly," this instrumental quartet is psilocybin-friendly, lysergic-friendly, an orchestral project that creates a gently psychedelic experience with cumulonimbus clouds of slowly gathering guitars.
The Roots pulled no punches on a long set of music that felt like a major statement. There was plenty of upbeat material: The Motown-influenced groover "The Seed (2.0)," from 2002's Phrenology and the band's cover of Talib Kweli's propulsive proletarian jam, "Get By"–folded into Biz Markie's smile-inducing "Just A Friend"–were two of the highlights.
But this was a heavy show, anchored by a bizarre, and incredibly long-winded suite of music that began with "The Star-Spangled Banner" and worked it's way though an arresting cover of Bob Dylan's "Masters Of War." Lead singer Black Thought came off more like Roger Waters than Dylan in his pained delivery, commenting on the current state of affairs in Iraq with language now nearly a half-century old: "Then you set back and watch when the death count gets higher."
The lone nod to country–and well-placed advertisement for Indio's Stagecoach Festival next weekend–Willie Nelson hit the big stage after an announcement guaranteed to pacify even country-haters: "Ladies and gentlemen, it's Willie Nelson's birthday."
With son Micah on drums and son Lukas on guitar, and distant or adopted relatives completing the band and ringing the stage, it was a family affair and felt like it. You get the feeling Willie Nelson would have played his set the exact same way for friends in his own backyard. The songs were mostly familiar: "Whisky River," "Mammas, Don't Let Your Babies Grow Up To Be Cowboys," and a medley of hits that included his grand gift to Patsy Cline, "Crazy."
For Willie fans, it was a cool performance marred by one embarrassment: The cameraman feeding the giant video monitors, who was clearly taking great pains to show Johnny Knoxville standing on the side of the stage. "Oh wow, it's the Jackass guy!" Sad.
After a little break that allowed the sky just enough time to turn purple, Crowded House hit the stage for its big reunion show and came out swinging on Temple Of Low Men's "When You Come." But a perfect set was just not to be. Shortly after launching into what should have been a big, lighter-in-the-air moment–the group's 1986 calling card, "Don't Dream It's Over,"–singer-songwriter/guitarist Neil Finn went silent and backed away from the mic. In fact, he took himself so far out of the musical equation you could sense the very real possibility of a full-fledged trainwreck. He subsequently raised his hands gesturing for the crowd to take over the vocals, but with no audience mic, the empty chorus was akin to Paul McCartney at LiveAid.
"Thanks for helping me out when my mic went down," Finn said afterward, "I got quite a shock before it went out." The band recovered–"Fall At Your Feet," "Been Locked Out," and the closer "Better Be Home Soon" were all splendid–but for fans who'd waited more than a decade to hear a live set of Crowded House's material, the gaping hole in "Don't Dream It's Over" (and Finn's apparent near-electrocution) was a bummer.
Air was up next at the Outdoor Theatre, and I was delighted to find a spot near the stage at the appointed time… which came and went. Scheduled to start at 8:35, Air was still a no-show at 9:05 and the rumors were flying: "They're refusing to go on," "They're having technical difficulties," and "They're fussing over the number of guests on the side-stage" were all heard over the sound of dozens, then hundreds of dejected kids walking away.
At 9:10–after a really long pre-recorded intro, Air's Nicolas Godin and Jean-Benoit Dunckel finally appeared. And their set of outerspace lounge was great, but the lateness really took its toll on the sense of wonder.
Meanwhile, at the Sahara Tent, Happy Mondays got its reunion off to a great start. The group's '60s-retro dance vibe–originally updated for the '80s and now being resurrected for the Aughts–was a curious kind of anomaly in the same tent that had witnessed the sounds of The Rapture–'70s-retro dance music updated for the Aughts (There's a compare/contrast thesis for you)–the night before. But that kind of music critic nincompoopery was certainly not on the minds of the crowd–a mix of O.G. Madchester fans and neophytes–which was dancing up a shit-storm.
Interestingly, Happy Mondays' founding percussionist/dancer/cheerleader Bez was not part of the festivities, having been denied entry into the United States by immigration authorities. (One has to wonder if the people responsible for the decision also confiscated his pens.)
Ratatat performed its instrumental brand of synthesizers and guitars simultaneously to a sweaty mass of hipsters packed into the Mojave Tent. But the biggest buzz was in the Gobi Tent where it was rumored that Iggy Pop was going to join Teddybears for "Punkrocker." He didn't, of course, but that didn't seem to pain the kids dancing to the Swedes' hip-hop-heavy dance tracks, which featured not only a DJ but two drummers providing the beats, along with videos of classic flicks (Warriors, The Shining, This Is Spinal Tap) digitally altered to feature teddy bear heads on the actors'. (Now there's a lawsuit waiting to happen.)
And then there was Sunday's headliner.
Saying that there was a "buzz" building all day in anticipation of Rage Against The Machine's reunion show would be a gross understatement. For fans of the rap-rock pioneers–particularly in and around the group's homebase of Los Angeles–Rage Against The Machine has developed an almost mythical reputation. To some, frontman Zack De La Rocha is a messianic leader, a people's hero cut from the same cloth as Cesar Chavez, or Gandhi, (or Lenin or you name it).
His endlessly angry lyrics–one continuous tirade against what he sees as the racist, fascist, capitalistic, "evil empire" of the United States–have fueled many a thought-provoking discussion. They have also fueled many a mosh-pit full of aggression-release-seeking young men who, for the most part, have no idea what De La Rocha is calling for: The wholesale overthrow of the United States' system of government, in favor of straight-up, unreconstructed communism.
And of course, there are people who just like Rage's music. But they like it a lot.
So the folks that turned up at Coachella were not just interested in seeing Rage reform but wringing their hands in anticipation of what De La Rocha would have to say about the current state of world affairs, the "War On Terror," and of course, President Bush.
After a pithy intro–"Good evening. We are Rage Against The Machine from Los Angeles, California"–De La Rocha, and the, ahem, ex-rhythm section of Audioslave became a band again. The sky didn't open up. No biblical plagues were visited upon the land. But the quartet did really and truly rock, or more accurately, rawk.
It was a by-the-numbers, greatest hits revue essentially, and you could certainly fault the band members for playing the songs exactly like the original recordings. But the fact that they played them exactly like the original recordings was pretty impressive for a quartet that hasn't performed in front of an audience in seven years.
"Testify," "Bulls On Parade," "People Of The Sun, "Guerilla Radio," "Renegades Of Funk," and "Sleep Now In The Fire" were all spot-on and just psychically tight. And De La Rocha proved that he hasn't lost an ounce of his vocal abilities: He can still roar at the top of his lungs at a level of intensity that would leave the average person hoarse in about fifteen seconds.
The reaction of the audience was, as expected, ecstatic. A mosh-pit opened up not only in front of the stage but in the V.I.P. area, which is either a testament to Rage's infectiously rhythmical riffs or a sickeningly pathetic statement about the hypocrisy inherent in slam-dancing to a group dedicated to absolute egalitarianism, behind a cyclone fence separating the have-wristbands from the have-nots.
The encore, begun after a politely short break, was the best part of the performance, and the closer–Rage's hands-down-best song, "Killing In The Name"–with its chant of "Fuck you, I won't do what you tell me," was a powerhouse. But for fans who actually wonder about the man behind the lyrics, the lone speech that capped the first set was the moment to remember.
Addressing the crowd for the first time since saying hello, De La Rocha didn't beat around the bush, so to speak, saying, "This current administration should be hung, and tried, and shot," and treated "like the war criminals they are." While the syntax of the first part was laughably bad (putting a new spin on the concept of habeas corpus), it was a powerful statement that the audience cheered vociferously.
But then he kept going–blaming "the system" and saying, "If the same laws that were applied to the Nazis were applied to U.S. presidents, every single one from Truman on, should have been shot"–broadening his allegation to such an extent that his point became dull, and his exhortation slipped into an exercise in rhetoric.
Surely it's hard being a spokesman for revolution. Like those Christian groups who believe the "Second Coming" will be hastened by utter catastrophe in the Middle East, some Communists seem to want the status of working men and women in this country to get worse in order to till the socio-economic soil to the point that it's sufficiently rutted to accept the radical seeds of Marxist thought.
Perhaps that was what De La Rocha was thinking when Rage decided to demonstrate against the Democratic National Convention's 2000 gathering in Los Angeles–which created a mess that made the Republicans look good by comparison, and helped pave the way for the election of George W. Bush.
Even if I'm way off, it seems pretty lame to lump every American president into the same category–equating the disgraced Nixon with Nobel Peace Prize winner Jimmy Carter, or even bumbling nice guy Gerald Ford. Maybe De La Rocha's brand of political broadside will lead to the rise of some viable third party, but the way I see it, blaming everyone is tantamount to blaming no one. And it's not particularly helpful to those decent people who are willing to work within the imperfect system to make much-needed changes. There are, after all, still lots of good options the constitution affords people who get off their asses long enough to write their congressperson: The right to improve the conditions of working families by improving access to quality education, healthcare, home ownership and all that boring-sounding but actually useful stuff; the right to stop funding an impossible war that shouldn't have been started in the first place; and even the right to impeach a president who, through high crimes or misdemeanors, has lost the confidence of the electorate.
All of which are American dreams.
Anyway, Coachella 2007 was great–a little out of the way, frustrating in terms of the countless number of simultaneous acts performing–but worth (almost) every minute.