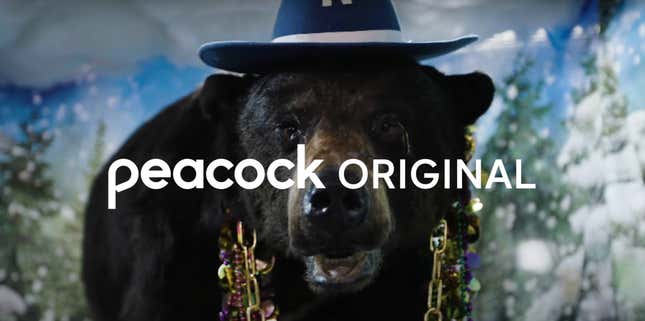 Our society is so hungry for entertainment nowadays that a 175-pound black bear can't even consume a measly $15 million of cocaine without having its corpse reanimated over and over again for the constant needs of the content mill. Come on guys, cannabis raccoon and McFlurry skunk are right there. We should be ashamed of ourselves.
Still, if you're jonesing for a quick trip to bonkers-town (we won't judge), the now-infamous addict's story hits just like the drug it was named for. And if you're ready to graduate from Elizabeth Banks' fictional version to something a little purer, Peacock has the hookup with a just-announced Cocaine Bear documentary that premieres tomorrow because, well, why wouldn't it? Cocaine Bear isn't about the journey! Cocaine Bear is about injecting a healthy dose of idiocy directly into your eyeballs! As quickly as humanly possible! It's Cocaine Bear!

Based on the trailer, Cocaine Bear: The True Story seems to actually focus more on the bear's supplier—doomed drug smuggler Drew Thornton—than the bear itself. Featuring interviews with various people involved in the case, including the special agent who actually found the bear and a former Knoxville, Tennessee sheriff who was one of the first on the scene after the kingpin fell to his death, the doc promises "corruption, murder, gun-running, you name it."
For fans of the movie (spoiler warning!), the true story won't feature any elementary-aged human kids housing fist-fulls of powder (good!) or bear kids doing the same thing (sad! They were really cute). Plus, there's nary a mention of character actress Margo Martindale, which is certainly a knock on the viewing experience overall.
Like McMillions or even Tiger King before it, Cocaine Bear: The True Story seems more concerned with using its wacky raison d'être to explore a real-life instance of the corruption and greed inherent to the American experience. Or, you could just pop an edible and not think about it too hard (or at all) because, and we cannot stress this enough, it's Cocaine Bear.