Perhaps you've heard of Swiss Army Man. It's the movie where Harry Potter himself, Daniel Radcliffe, plays a dead guy with rocket-powered flatulence and an erection that acts as a compass. When the film premiered at Sundance a couple days ago, in the kind of enormous auditorium they reserve for anything starring a big movie star, there were reportedly waves of walkouts—and news of this outraged reaction quickly escaped the bubble of Park City, as outlets like our very own picked up the story. I knew this was an event of the festival when I got a random text message from a friend asking if I'd seen it. The buzz on Farty Boner Corpse had gone viral!
Sharon Stone made a fraction of what Michael Douglas did for "Basic Instinct"
So to answer your question, Matt: Yes, I've now seen it. And it's surprisingly watchable! Possibly even weirder than the movie everyone's been playing in their head since they first read a logline, Swiss Army Man (Grade: B-) went over a lot better last night, in the close-to-midnight screening I attended, than its DOA reputation suggests. I saw only one fellow filmgoer trudge for the exit, while those who stayed behind roared with incredulous laughter throughout. Had they caught wind (har har) of the scandalized reaction, and were now treating the film like the instant cult item it wants to be? Or is this just solid proof that every audience is different, and that the response at one high-profile screening—packed to the gills with people only there for the big name on the poster and industry types angling for a hot acquisition—is no indication of how a movie will be received in general?
The easy elevator pitch on Swiss Army Man is that it's Cast Away meets Weekend At Bernie's. But such a description hardly accounts for the Stephen Chow-worthy moments of CGI slapstick, the body horror played for insane laughs, or the way this very strange movie frequently flirts with going indie-movie maudlin on our asses, before another loud blare of escaping gas snaps us back to crazy town. Paul Dano, bearded and babbling, is suicidal shipwreck survivor Hank, lone occupant of a desert island. Radcliffe is the bloated body that washes ashore, farting his way into Hank's heart. For a while, it seems Radcliffe has been hired to simply play dead, his unblinking, unspeaking presence a sick joke on anyone drawn to the actor's celebrity. But eventually, Manny—as Hank dubs his stiff new companion—begins to creak to life, at which point Dano's marooned hero starts educating him about the world (and masturbation) and plotting their escape off the island.
To say that this is not a movie to everyone's tastes is to understate the point; Swiss Army Man leans into its vulgar absurdity at every turn, beginning with a triumphant opening scene of Dano riding Radcliffe's corpse across the water like a speedboat—powered, of course, by his ass wind—and only getting more gonzo from there. But both actors fully commit to this lunatic scenario, even investing it with a little emotional gravity; at times, it feels like writer-directors Dan Kwan and Daniel Scheinert are daring viewers to push past the gross-out humor and get invested, too. This is a movie about loneliness and madness, and it's to the credit of its makers that Swiss Army Man pulls right up the edge of explaining away everything we've seen, before plunging right back into the fray. I spent most of the runtime wondering if I was seeing a ridiculous one-joke comedy or a work of warped genius. I'll split the difference, and just say that I was never bored. At Sundance, that's an unequivocal recommendation.
G/O Media may get a commission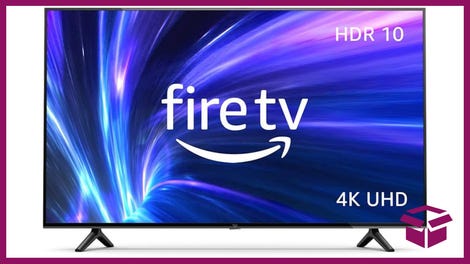 42% Off
Amazon Fire TV 50" 4K Smart TV
Kelly Reichardt's Certain Women (Grade: B+) inspired some audible scorn from the peanut gallery, too, though for entirely different reasons: Understated even by the standards of the writer-director who made Old Joy, the film assembles several movie stars for a triptych of minor-key Montana character sketches, each based on a short story by Maile Meloy (sister of Decemberists frontman Colin Meloy). In the first segment, Laura Dern plays a lawyer whose desperate client (Jared Harris) is getting screwed out of his workman compensation. In the second, Michelle Williams and James Le Gros are parents looking to acquire some sandstone for the house they're building together. And in the third, a lonely ranch hand (Lily Gladstone) develops an infatuation with the commuting lawyer (Kristen Stewart) teaching educational law in her one-horse town.
Only the last of these episodes truly stuns, and Reichardt makes the odd misstep of belatedly putting a punctuation on each of them, instead of letting their bold, ambiguous non-conclusions hold. Still, the material is perfectly suited to the filmmaker's interests and strengths, its compact mini-narratives allowing her to focus almost exclusively on tiny details of character and environment. And more than most short-story adaptations, this one really captures the spirit of that format—the open-ended mystery and vividness of great short fiction, the sense that you're being plopped down for a few meaningful minutes into a hyper-specific space. Imagine a version of Short Cuts that didn't weave its individual stories into some ensemble tapestry, instead simply offering several acute approximations of Raymond Carver's voice. That's Certain Women.
I should probably watch more documentaries at Sundance, especially given the big deal I made recently about how our film culture marginalizes nonfiction filmmaking. The problem is that so many of the docs that play Park City are by largely unknown filmmakers, making them even more of a crap shoot than anything else you could take a chance on at a film festival. The Land Of The Enlightened (Grade: C+), by director Pieter Jan De Pue, transports audiences to war-torn Afghanistan right before the U.S. military exited through a combination of documentary footage and staged, fictional material. The film jumps around, following multiple child gangs in the desert—some scavenging deserted Soviet landmines, others sticking up herders—and a platoon of American soldiers in the mountains, bombing the hell out of their surroundings and singing songs about conquering the country. De Pue is clearly looking to evoke the atmosphere of Afghanistan more than anything else, which excuses the lack of concrete details provided about any of these disparate groups. But while it's always refreshing to see a documentary with an actual visual language, The Land Of The Enlightened flirts with Koyaanisqatsi territory in its privileging of exotic, "awe-inspiring" imagery over information. Given that De Pue shot for a whole seven years in the country, why is so much of the slim, 87-minute running time occupied with slow-motion imagery of characters galloping through the desert on horseback? Surely there was footage of a more anthropological nature that he could have inserted instead?

What I'm personally more interested in is the relationship between the fiction and nonfiction portions; there's no indication of which is which (though I have my guesses), and knowing what De Pue felt the need to script and include alongside his genuine documentation would certainly illuminate the intentions of his project. I'm probably just searching for something as simultaneously transparent and tricky as Kate Plays Christine (Grade: B), the new film from Robert Greene, who makes his own unclassifiable doc-like-things when not serving as editor on films like Listen Up Philip and Approaching The Elephant. As in the recent Actress, Greene is exploring the nature of performance through a documentary lens, while also structuring the film in such a way that suggests not everything we're seeing is strictly "real."
The ostensible subject is Christine Chubbuck, the Florida news reporter who shot and killed herself on live television in 1974, in what's considered the very first televised suicide. (It was also the very loose inspiration for Network.) Greene comes at this stranger-than-fiction story through actress Kate Lyn Sheil, who's researching Chubbuck's life in preparation to play her in a dramatization. This allows Kate Plays Christine to function as both a fairly straightforward investigation of the incident and an inquiry into Sheil's own process. Naturally, there are parallels between the two women, both subjects of the camera's gaze, and Greene misses few opportunities to blur the line separating performer and "character."
Like Actress, the film puts out strong hints that its star and director are complicit in bending the reality of what we're seeing—that they're both "in on" the masquerade of the documentary process. It's never made clear whether the fictionalization Sheil is preparing for is a real project; Greene, after all, is the director of that movie too, and he includes several excerpts from this tacky melodrama, which frankly never quite looks like something an accomplished director like himself could really be responsible for. To my eyes, Kate Plays Christine misjudges its ending, as Sheil badly shows her hand during the big finale. Then again, this is the type of self-devouring, meta project that deflects such criticisms by its very nature. Every design flaw, calling attention to the artificial nature of the material, could be a feature.
As just about every other film critic has already managed to note in their respective pieces, usually through a no-brainer pairing, there are two Christine Chubbuck films here at Sundance this year. The other one, by Antonio Campos (Afterschool, Simon Killer), is a straight bio-drama—the exact kind of project, in other words, that Greene is partially criticizing in his film. But while Christine (Grade: B) is of dubious intention, attempting to demystify a tragic event through a lot of the usual speculative rationalizations, it's nonetheless a pretty engrossing 1970s character study, with more than a few dynamite scenes. Campos, who also produced the festival's blood-chilling The Eyes Of My Mother, has cast Rebecca Hall as Christine, and she's truly terrific in the role—melting down in slow-motion, commanding in her eccentricity. Reception to the film has been muted, but I have to wonder if critics would be kinder to Christine if there wasn't another movie at Sundance preemptively calling it bullshit.