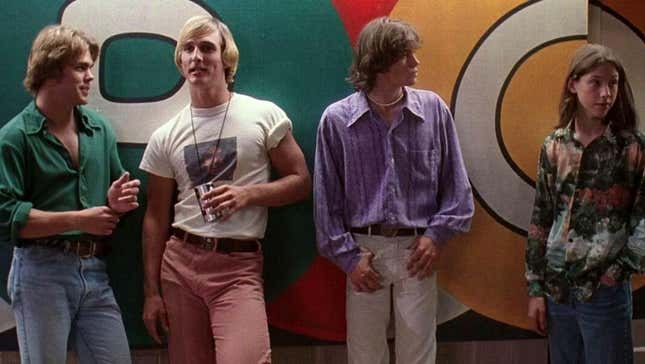 To paraphrase David Wooderson, "That's what I love about these high school movies, man. I get older, they stay the same age." Indeed, the best high school films remain, and filmmaker Richard Linklater's Dazed And Confused, which on September 24 celebrates the 30th anniversary of its release, is one of the most enduring of them all, ranking among the best in its genre. A box office flop at the time, Dazed's seemingly meandering but deceptively well-structured storyline paints a vivid portrait of the small town high school experience and, with authentic specificity, what that felt like in 1970s Middle America.
Richard Linklater waffles on whether he could kill someone or not
At the same time, it conveys some of the zeitgeist brewing in popular culture at the moment. While the film certainly has a rosy patina of nostalgia-bait, both for the era it depicts and the era it was made, Dazed And Confused still transcends through both lenses, thanks to Linklater's naturalistic, unforced and laid-back storytelling. Much like its precursors American Graffiti and Fast Times At Ridgemont High, Dazed—the lowest-key and stoner-iest of its niche—mixes everyday teenage hijinks with quietly monumental rites of passage, all climatically timed to the last day of school. It emerges as a terrific "hangout" movie that also conveys stealthy coming-of-age journeys experienced by many of the characters in its expansive ensemble.
The movie that just keeps L-I-V-I-N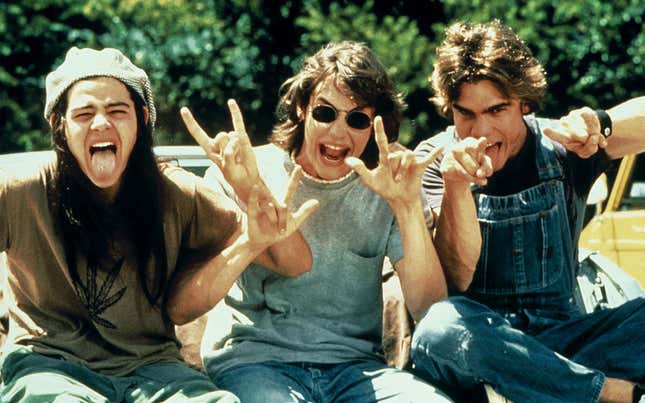 For every bong-hit of cinematic pleasure recognizable in its universal quality—the upperclassmen hazing the incoming freshman; the sexually charged bantering; the misplaced braggadocio; and the fumbling flirtations—there's something even more deeply resonant as the characters pass toward adulthood. That includes the class-clown Don (Sasha Jensen), the blissed-out, beautiful, but barely verbal Michelle (Mila Jovavich), the mean girl Darla (Parker Posey), the freshman tormenter O'Bannion (Ben Affleck), and the arrested-development philosophizer Wooderson (Matthew McConaughey).
The entry of Mitch (Wiley Wiggins) into a more grown-up world is harrowing at first, but once he finds himself warmly invited in he's entranced by the new experiences that await. Intellectual but decidedly unsmooth Tony (Anthony Rapp) gains confidence in his own appeal as he clicks with freshman Sabrina (Christin Hinojosa), while his friend Mike (Adam Goldberg) gets the unwelcome lesson that he's better off using his brains than his fists. And at the film's crescendo, Randall "Pink" Floyd (Jason London), who is increasingly ambivalent towards the pressure to commit to an anti-drug pledge in order to keep his place on the football team, finally chooses to assert himself against the coach's authority and agree to play on his own terms.
These journeys are contrasted by two holdouts, both tellingly past their high school expiration dates: O'Bannion, who clings to his simmering rage and sadism even when his hazing ritual is exposed as something darker than a mere annual pranking, and Wooderson, whose party hearty good vibes barely cloak his casual refusal to move forward into full-blown adult L-I-V-I-N. Both underscore Pink's clear-eyed, mature assessment, "If I ever start referring to these as the best years of my life, remind me to kill myself."

That both the laugh-out-loud moments and the subtly shaded life transitions ring with recognizable truth is what elevates Dazed And Confused above the average high school film; no high concept or convoluted plot machinations are needed. The best of the genre—which, along with Dazed, includes American Graffiti, The Breakfast Club, Fast Times At Ridgemont High, American Pie and The Perks Of Being A Wallflower—follow the everyday dramas and absurdities of simply being teenagers in high school, navigating the often delicate, sometimes fraught, always thrilling territory between childhood and the larger world. Whether capturing a contemporary time period or trying to channel the essence of a bygone era, the crème of these films connects us emotionally, at any age, directly to high school experiences—the ones we had and the ones we wished we'd had.

Loaded with future stars
Like so many of its high school film predecessors, there's something delightful about seeing just how many future Hollywood stars Linklater managed to pack into his cast. Many went on to high-profile careers, like Jovovich, Posey, Rapp, Goldberg, Joey Lauren Adams, Rory Cochrane, and Cole Hauser; still others continue to shine as full-fledged superstars, like Affleck, McConaughey, and (blink and you'll miss her) Renee Zellweger. Something about this movie's knew-them-when quality, like old high school yearbook photos, greatly enhances Dazed's re-watchability. A few of these actors even appeared in the films of the other young maverick independent directors who burst onto the scene around the same time as Linklater, including Quentin Tarantino and Kevin Smith.
There's also the seemingly era-specific but ultimately timeless template first laid down by George Lucas' American Graffiti, one that still works wonders: the soundtrack filled to the brim with enduringly appealing music from classic '70s artists—including Aerosmith, KISS, Alice Cooper, The Runaways, Peter Frampton, Deep Purple, ZZ Top, Seals and Crofts, and Lynyrd Skynyrd—is both ear candy to audiences of a certain age and potent enough to capture the attention of younger generations encountering the songs for perhaps the first time.
Linklater understood the power of context when it came to perfect needle drops. He closed out the movie with Mitch—alive with the thrill of his all-night adventure and still buzzed as he comes home at dawn—sinking into Foghat's "Slow Ride," juxtaposed against Pink, Wooderson, Slater, and Simone embarking on their quest for Aerosmith tickets. The song, if not the film itself, serves as an apt metaphor for cruising through the high school years (and in Wooderson's case, a little beyond).