No one would call Anna Calvi's music tame. This is an artist who announced herself in 2011 with the rousing drama of "Desire" and the sweeping, Morricone-inspired vistas of "Love Won't Be Leaving," who took the stage in flaming red silk, expressive riffs sparking from her sunburst Telecaster. It was enough to make Brian Eno enthusiastically declare her "the biggest thing since Patti Smith" and earn the Twickenham native a Mercury Prize nomination her first time out. Calvi's excellent second album, One Breath, which earned her second nod for the U.K.'s biggest music prize, pushed her sound to more playful, experimental territory, even if John Congleton's (St. Vincent) outsize noise-pop production occasionally felt more imposed upon than supportive of Calvi's compositions.
On her third album, Calvi unleashes a rawer, more ferocious voice, one sharpened by her hunt for agency and freedom as a queer woman. Calvi's work has always subtly defied gender conventions (see: songs like "Suzanne & I" and "I'll Be Your Man," her general stage presence), but with the announcement of Hunter, the musician published what was essentially a manifesto stating, fist raised, that this was a queer, feminist record: "I believe that if we were allowed to be somewhere in the middle, not pushed to the extremes of performed masculinity and femininity, we would all be more free… I want to explore a more subversive sexuality, which goes further than what is expected of a woman in our patriarchal heteronormative society." Driven by this passion, Hunter is a wrecking-ball demolition of boundaries.
Hunter lays claim to a range of roles and emotions typically off-limits for women, particularly aggression and sexual agency, while reclaiming the one usually assigned them: vulnerability. Naturally, these truths often coexist within the same song: In the psychobilly pulse of "Wish," Calvi is possessed by a Nick Cave-like mania, chasing down just "one more wish before I die," when the sight of her lover's eyes stops her dead in her tracks, a resplendent chorus of guitar, synth, and operatic wails momentarily arresting and soothing her. It's one of her finest songs to date, closing with an exquisite, howling fit of guitar work.
Repeatedly and unashamedly, the songs on Hunter declare desire—to survive, to play ("Hunter"), to know ("Alpha"), and, tellingly, to find paradise ("Indies Or Paradise"). They propose a utopia of fluidity: "I'll be the boy, you be the girl / I'll be the girl, you be the boy / I'll be the girl," Calvi repeats on the erotically charged "Chain," until the words lose their meaning and everyone can just get on with their kinks. And the songs argue for the transcendent power of living from such a place: "Now I feel you completely," Calvi sings after all acts are dropped on "As A Man," while elsewhere she renders small moments like eyes meeting or shadows falling in breathtaking high-saturation.
G/O Media may get a commission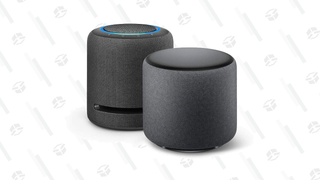 25% off - Prime Exclusive
Echo Studio + Echo Sub Bundle
That Calvi accomplishes all this with a return to relatively straightforward rock arrangements is a testament to her band, which here includes Bad Seed Martyn Casey on bass and Portishead's Adrian Utley on keys, and to her strengths as a songwriter and performer. Calvi's songs are simple but dynamic, built for big emotions, and on Hunter, the songs let her guitar playing and singing run free. She delivers equal power in both showy scenes of guitar or vocal exorcism (the end of "Don't Beat The Girl Out Of My Boy") and smaller, seemingly more candid moments, like when she slips into that hair-raising falsetto on the title track.
When Calvi first started teasing new music in the spring, flooding her Instagram with siren-red filters, she named artists like Fever Ray and Perfume Genius as influences on the work, and it's evident. With Hunter, Calvi joins the defiant celebrations of queer bodies and sexuality happening on albums like last year's Plunge or No Shape, and it's a message well-served by her rhapsodic art rock. But more than just grafting on its politics and themes of liberation, Hunter embodies them by capturing a freer, more complex—and queerer—view of its creator. Anna Calvi is on the loose.
---
Purchasing Hunter via Amazon helps support The A.V. Club.