Here's what's up in the world of TV for Sunday, June 30. All times are Eastern.
TOP PICK
Dexter/Ray Donovan (Showtime, 9/10 p.m.): Showtime doesn't let go of programming so easily (unless that programming involves Toni Collette playing multiple personalities within the same character or Jeremy Irons playing Pope Alexander VI, sexiest of popes), so it's fairly momentous that the network is allowing Dexter to wrap after eight seasons, rather than allowing Michael C. Hall to indiscriminately kill for an undetermined amount of time. Perhaps having Liev Schreiber in the role of Hollywood "fixer"/brand-spanking-new premium-cable antihero Ray Donovan will help soften the blow. At the very least, he could "fix" the problem of having no more new Dexter episodes by enlisting Joshua Alston and Todd VanDerWerff (who offers his thoughts on the Ray Donovan première) to perform two-man versions of Dexter Morgan's further exploits. What fun!
---
REGULAR COVERAGE
The Killing (AMC, 9 p.m.): With a title like "Eminent Domain," Phil Dyess-Nugent can only assume that the Killing cops are taking the week off to assess the legality of plans to build a freeway through Seward's cell. Positively riveting television awaits!
True Blood (HBO, 9 p.m.): Considering Governor's Burrell's anti-vampire agenda, there's no way the "valuable information" Eric learns about the politician tonight isn't "Burrell's a self-loathing vampire." But True Blood still retains some capacity to shock, so maybe Carrie Raisler's about to learn Burrell is just a human who was raised by neglectful supernatural foster parents.
Falling Skies (TNT, 9 p.m.): Tom and Pope are forced into an Enemy Mine-type situation after a mission goes awry. We'll leave you to decide which one is Dennis Quaid and which one is Louis Gossett Jr., so long as Les Chappell doesn't have to be Lance Kerwin.
G/O Media may get a commission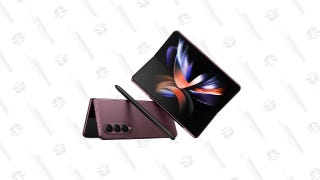 Save Up to $300
Galaxy Z Fold4
Family Tree (HBO, 10 p.m.): Bea, Monk, and Pete arrive in the States—and just in the nick of time, too, because a Family Tree visit to an Indian reservation wouldn't be right without commentary from the unrelenting realist on Nina Conti's right hand. Erik Adams has waited all his life to hear an adorably weathered puppet discuss the Trail of Tears.
The Venture Bros. (Adult Swim, midnight): After the false alarm of season five's first two episodes, Brock Samson's been all over the last few weeks of The Venture Bros. When the former Venture bodyguard and his cohorts at O.S.I. lose a pair of dangerous prisoners, Zack Handlen hopes they're never found, so that we can follow Brock forever and ever and ever.
---
TV CLUB CLASSIC
Farscape (11 a.m.): At times, it seems like Farscape's Jim Henson Company roots run only to the company's Creature Shop works—but then you read an episode title like "Home On The Remains" that underlines the show's ties to the Muppet Theater. That line may as well have orange fur, googly eyes, and an explosion at the end. Alasdair Wilkins says that joke's not half bad—he says it's not half good either. (Oh ho ho ho ho ho!)
Saturday Night Live (Classic)  (1 p.m.): ABBA comes aboard for two songs, then Loudon Wainwright III does a pair of numbers, and Phil Dyess-Nugent wonders how the hell Lorne Michaels and company ever found time for the sketches in these early episodes.
The Simpsons (Classic) (3 p.m.): The U.S. electoral system gets a serious in the jaw from "Sideshow Bob Roberts." If you were running for mayor, Erik Adams would vote for you!
---
WHAT ELSE IS ON?
BET Awards (BET, 8 p.m.): Dwayne Wade is scheduled to accept a humanitarian award at this otherwise music-centric awards show—that is unless LeBron James manages to sink a 19-foot jumper in the last 27 seconds of the ceremony and claim most of the glory for himself.
Skywire: Nik Talks The Walk (Discovery, 8 p.m.): The network revisits Nik Wallenda's record-breaking high-wire walk across the Grand Canyon, this time with commentary from the seventh-generation aerialist himself. It wouldn't be all that surprising if the audio is just Wallenda going "Oh man oh man oh man—what was I thinking?" for an hour, would it?
American Ninja Warrior (G4, 9 p.m.): The summer's most impossible physical challenge begins the hunt for contestants who won't beat its obstacles in this fifth-season première.
Zach Stone Is Gonna Be Famous (MTV, 11 p.m.): Zach Stone Is Gonna Be Saddled With A Now Unfortunately Prescient Title. Zach Stone Is Gonna Be Burned Off Unceremoniously Late On A Sunday Night. Zach Stone Is Gonna Call The Kids From Underemployed To Commiserate Sometime Next Week, As Soon As He Frees Himself From This Avalanche Of Empty Ben And Jerry's Containers.
The Expendables (Spike, 8 p.m.): An entire network's programming schedule summed up in aging action stars blowing things up real good. What The Wizard Of Oz is to Turner Classic Movies, The Expendables will be to Spike.
A Tree Grows In Brooklyn (TCM, 8 p.m.): Being a highly cultured type, your What's On Tonight? correspondent only knows this film and the novel it's based on as a punchline in a Bugs Bunny cartoon. He can only assume the movie is just 128 minutes of dogs being chased across the Brooklyn Bridge, under the expert guidance of Elia Kazan.
MLB Baseball: Yankees at Orioles (ESPN, 8 p.m.): Hey! Baseball's back in a Sunday edition of What's On Tonight?! And now that the NHL and NBA seasons have come to their respective dramatic conclusions, it'll be baseball (and the stray WNBA game) from here until NFL exhibition games! Enjoy your time in the sun, America's pastime.
---
IN CASE YOU MISSED IT
Maron (Friday): Where there is an appearance by Adam Scott, What's On Tonight? will tell you about it! (Adam Scott appeared in the one-hour first-season finale of Maron. And now you know. Our job here is done.)