Despite the fact that he doesn't take office until tomorrow, Donald Trump faced his first real presidential challenge today, attempting to look interested and engaged as 3 Doors Down, YouTube performers The Piano Guys, and country music star Toby Keith serenaded him at tonight's Make America Great Again! Welcome Concert, the must-cancel event of the 2017 political season.
But despite the many celebrity musicians that stepped up to turn down the Trump camp's invitations to perform, the concert did manage to put together a filled-out bill, featuring performances from artists like The Frontmen Of Country (Little Texas' Tim Rushlow, Lonestar's Richie McDonald, and Restless Heart's Larry Stewart). The award-winning artists treated fans to a number of their various bands' songs, plus a cover of Marc Cohn's "Jewish-guy-who-likes-gospel-music" hit, "Walking In Memphis," and Lee Greenwood's "God Bless The USA," featuring an appearance by Greenwood himself.
Meanwhile, 3 Doors Down played its biggest track, "Kryptonite," but resisted the urge to toss in one of the band's other major singles, "Loser"—despite its applicability to Trump's Twitter patois. The news media—which did god's work throughout the concert, keeping a camera trained on the president-elect's reactions throughout—managed to capture the entire Trump family's electric response to the year 2000's biggest hits:
Later, The Piano Guys took the stage at the Lincoln Memorial, becoming the first YouTube-spawned performers to cover a One Direction song at a presidential inaugural event. (In the band's defense, they did also play an original song, even if "It's Gonna Be Okay" felt a little on-the-nose for viewers looking for some reassurance as tomorrow approaches.)
Toby Keith, meanwhile, was the biggest non-Trump draw of the night, laying out a pretty solid foreign policy agenda with his playlist of choice. Keith's topics included respecting the American soldier, cutting imports of foreign products, and, of course, launching a boot up the asses of any bad guys not willing to make American exceptionalism exceptional again.
G/O Media may get a commission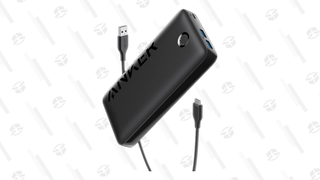 20% Off
Anker 335 Power Bank
Trump closed out the evening himself, delivering a speech that rated pretty low on the Donald Trump Craziness Scale. (Which is to say, no outright criticisms of the mainstream media or shout-outs to the people on his enemy's list.) Then, he and his family stepped up to the Lincoln Memorial itself, to contemplate God honestly knows what, while "The Battle Hymn Of The Republic" was sung, some legitimately cool fireworks were set off, and we all started to prepare ourselves for tomorrow in whichever ways our temperaments and political leanings see fit.