Film noir was born in the shadows. But as has been proven innumerable times over the last half-century or so of crime cinema, twisting tales of underworld intrigue can unfold anywhere, from the rain-soaked streets of New York City to the formica tables at a kitschy midcentury diner. The undisputed king of that latter mode is, of course, Quentin Tarantino, whose influence can be felt not only in the setting of writer-director Drew Goddard's latest, Bad Times At The El Royale, but in the way the film weaves soul music (and one pointedly placed Deep Purple song) into its DNA. You can also feel it in the dialogue scenes, which blend high stakes and mundane chatter with a sarcastic flair reminiscent of the Pulp Fiction director's early work.

But Goddard is a different sort of postmodernist than Tarantino. He's less concerned with pastiche than breaking noir down to its individual elements, rearranging them, and putting them back together again. That being said, unlike the director's debut feature The Cabin In The Woods, Bad Times At The El Royale isn't a deconstruction of the neo-noir genre so much as a structurally ambitious example of same. In short: It's Drew Goddard all right, being as reverent as he can ever be. But while his signature approach brings a distinct (and welcome) flash of wit to the proceedings, it also exposes the film's weaknesses.
We open with a long, unbroken time-lapse shot of a nameless man in a three-piece suit (Nick Offerman) pulling up the floorboards of a wood-paneled '50s motel room and stashing a briefcase underneath. Fast-forward 10 years to the late '60s/early '70s and the lobby of the El Royale, a once-trendy, now practically abandoned midcentury motel straddling the Nevada/California state line. The El Royale is bisected by a thick red line painted right down the center of the lobby, indicating which half of the motel is in California and which half is in Nevada. (Rooms in California cost a little bit extra.) At the end of the line is a glowing yellow jukebox, its curves as sensual as the fins on a 1959 Cadillac Eldorado. This ominously placed gadget serves as the unofficial timekeeper of the piece, the clank of quarters falling down its slot and the click of records falling into place serving as deftly executed sub-markers within the various chapters of the fractured storyline.
G/O Media may get a commission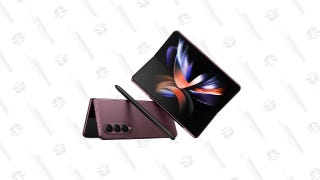 Save Up to $300
Galaxy Z Fold4
Standing in the lobby is a mismatched group of strangers: We've got gregarious good old boy/vacuum-cleaner salesman Laramie Seymour Sullivan (Jon Hamm); road-weary priest Father Daniel Flynn (Jeff Bridges); struggling soul singer Darlene Sweet (Cynthia Erivo); and irritable hippie chick Emily Summerspring (Dakota Johnson), who signs the ledger meekly offered up by sole employee Miles (Lewis Pullman) with a defiant "fuck you." Two of these strangers are not who they say they are, and another has big trouble on their tail.

In paranoid Goddard style, shortly after check-in Laramie uncovers a number of bugs that have been placed around his motel room, which leads him to discover a network of tunnels and two-way mirrors that allow a mysterious someone (or someones) to watch the guests as they do... well, everything people do in motel rooms. (It's a system remarkably similar to the one in the recent Netflix documentary Voyeur.) As it turns out, this isn't for sexual gratification, but political gain. A number of prominent figures have been secretly filmed partying at the El Royale over the years, and one of the strangers is on a mission to retrieve one of these sensitive "home movies." The others are searching for fame, money, redemption, or some combination thereof.
There's a lot of plot in this nearly two-and-a-half hour film. Major characters are unceremoniously dispatched, new characters are introduced, secrets are revealed, and loyalties are tested. There's also a lot of talking, the character-driven, subtext-rich conversation that actors love. Bridges in particular seems to relish his, but the true MVP is Erivo, who late in the film delivers a fed-up feminist monologue—"I'm just bored of men like you. Fragile little men who prey on the weak and lost ... I'd rather sit and listen to the rain," she says—that nearly makes up for some of the film's more frustrating character beats all on its own.
About that: Although the film is stuffed with quotable quips, some of the minor characters, particularly Emily's younger sister, Ruth (Cailee Spaeny)—a brainwashed member of a Manson-esque cult run by the sexy, dangerous Billy Lee (Chris Hemsworth)—exhibit behavior that doesn't make a lot of sense, and more importantly, undermines the emotional resonance of their arcs. In The Cabin In The Woods, having characters who were more walking plot contrivances than fully realized human beings was an asset, given the nature of the story. Here, in a film that asks its audience to spend extended amounts of time with these folks and care about them as individuals, it's a liability.
Goddard's flair for structural mischief produces similarly mixed results. An early segment re-telling the same plot point from several different perspectives cleverly combines character development and game-changing plot revelations, an impressive display of screenwriting prowess. But the introduction of new players late in the film raises questions of whether Goddard might have taken a sharp left turn because he didn't know how to end the existing story. Thank goodness we have Erivo's Darlene, a real person in a film populated by quippy characters, whose a cappella performances of '60s R&B hits secure her place as the emotional center of the film. Erivo is primarily a theater actress, and Bad Times At The El Royale is her feature-film debut. (She also has a role in the upcoming Widows.) With any luck, she'll experience the same career boom Hemsworth did right around the time he appeared in a Drew Goddard film.
---
Note: This is an expanded version of the review The A.V. Club ran from Fantastic Fest.