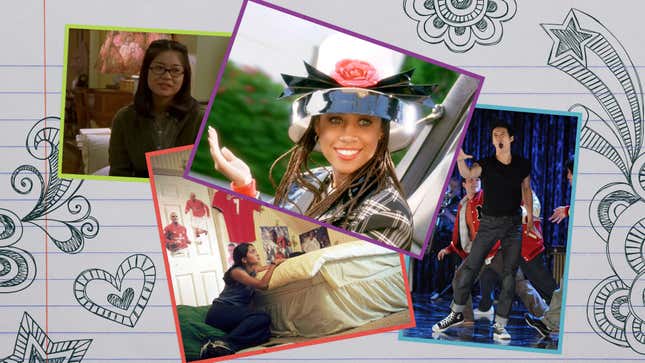 For years, they were everywhere: leaning against lockers, grabbing lunch in the school cafeteria, slow dancing at prom, nervously leaning in for their first-ever kiss—and fighting off serial killers/vampires/cheerleaders, depending on what genre you were into at the time.
Alan Cumming talks "The Traitors," "Cabaret," and "Schmigadoon!"
They were wearing backpacks they'd casually-not-so-casually slung over one shoulder. They were decked out in the latest (and hottest) fashion trends. And they were, quite honestly, the living embodiment of that Steve Buscemi reaction gif. You know, the one where he's smiling out from beneath a backwards-facing baseball cap, carrying a skateboard, and cheerily greeting a school room full of teens with an unforgettable, "How do you do, fellow kids"?

Yeah, that one.

That's right, everyone: Once upon a time, the teenagers we fell in love with onscreen were not, in fact, teenagers. Not even close, to be honest. And I have the receipts to prove it, too. (Alexa, please play "Kids In America" by Kim Wilde.)

Melissa Joan Hart was 20 when she filmed the first episodes of Sabrina The Teenage Witch, and Nicholas Brendon was 26 when he began portraying Xander, a teen with seriously impressive facial hair on Buffy The Vampire Slayer. He was, incidentally, just one year younger than Robia LaMorte (who played Xander's high school teacher, Miss Calendar) and Charisma Carpenter (a.k.a. Cordelia, his fleeting onscreen squeeze).
Half the teens in the first Scream film were played by actors in their late twenties. Harry Shum Jr. was 30 when his character Mike graduated high school on Glee. And Cory Monteith (RIP) was 27 when he began singing his heart out as Finn.
Think I'm done? Think again, because the cast of 90210 is riddled with 30-somethings playing school kids, too. Jason Earles was 30 when he starred as Miley's teenage brother, Jackson, on Hannah Montana. The uncannily youthful Keiko Agena—or Lane Kim, to Gilmore Girls fans everywhere—was 27 (27!) when she was cast as Rory's 16-year-old BFF in the series. Stacey Dash was 28 when she joined the virgin drivers of Clueless as Dionne. (Paul Rudd, meanwhile, was 26, but, y'know, he's an ageless vampire so I don't think he counts.)

Parminder Nagra was 27 when she taught us to Bend It Like Beckham. Tobey Maguire's Friendly Neighborhood Spiderman was a cool 27, too, and we never even noticed. And don't even get me started on the Chase Crawfords, Kerr Smiths, and Chad Michael Murrays of the world, because I know you don't have the time.

Here's the thing, though: I'm not even mad about the fact that I believed with all my heart, for a ridiculously long time, that all of these grownups were teenagers. That was on me and my naiveté. Also, it should go without saying that they were all magnificent (nearly all, anyway) and that they very much needed to be there. Remember, so-called Dawson casting—hiring adults well past adolescence to play teens—is done because, if actors are under the age of 18, they can only work for a certain number of hours. And, due to the nature of the content that they have to film (nobody wants to keep things PG really, do they?) older actors tend to feel more … well, more appropriate, I guess.
Like I say, I'm not mad. What I am, however, is absolutely convinced that these adult teens are the reason so many Millennials like myself find ourselves trapped in a state of arrested development. Think about it: Nowadays, we finally, finally, finally look like the teens we grew up watching, by which I mean we're zit-free (most of the time) and able to afford some semblance of a daily hair and skincare regime. Plenty of us are still living at home. Some of us have facial hair, others have ditched the training bras at last, and still more of us feel way more comfortable in our skin now than we ever did in high school.

We are, essentially, the Hobbits of our society: We "come of age" at 33—and that's likely because the benchmark for teen success, or for "aspirational teenhood," if you prefer, was always so visibly portrayed by grown adults rolling their eyes at their suspiciously fresh-faced parents. (In all seriousness, please don't make me invoke the seven-year age gap between Mean Girls' Rachel McAdams and her onscreen mom, Amy Poehler, because I'll do it. You know I will.)
For years, we have been unable to correctly guess a single person's age, let alone fathom why restaurants and stores are hiring literal babies to serve us—literal babies who are, I hasten to add, just teenagers who look like actual teenagers. (Note to self: stop mentally accusing companies of breaking child labor laws and come to terms with reality.) So, yes, you better believe we find it oddly disconcerting when we're presented with an onscreen teen who looks and sounds like a genuine non-screen teen, too.

Case in point? Tom Holland's portrayal of Peter Parker was lamented online by (whisper it) men of a certain age, all of whom were inexplicably furious that their beloved Spider-Man was now a Spiderboy. And that's in spite of the fact that, at 18, Tom is actually three years older than the suped-up high schooler he's playing.

Exhibit B is Kiernan Shipka, who sparked a similar reaction when it was announced she'd be taking over the role of Sabrina Spellman from the aforementioned Melissa Joan Hart. Some of my pals, nostalgic for the old days, made it very clear they weren't here for "Baby Sabrina"—although, as I'm sure you've guessed already, the talented Kiernan is actually two years older than the bewitching 16-year-old she won over critics as.

Finally, Exhibit C is (wait for it) Stranger Things, which sees its cast littered with actual teens—all of whom were cast when they were actual tweens. Here's the problem, though: while a mere 20 months separates the first and third seasons of the never-ending sci-fi caper, the cast aged four years (four years!) in that same period. Season four, too, saw them heroically portraying the same kids they made famous all those years ago, despite most of them now being in their 20s. Which, I suppose, is even more jarring than if producers had hired 20- or 30-somethings in the first place.
I guess what I'm saying is this: Our idea of what a teenager looks like is well and truly warped. And while plenty of TV shows nowadays make a point of giving us actual teenage actors (here's looking at you Ms. Marvel, Heartstopper, and the recent Gossip Girl reboot), there are also some that still adhere to that "cast an adult as a kid" trope of old. Sex Education's Tanya Reynolds and Ncuti "The Doctor" Gatwa were in their late twenties when the series kicked off.

The Derry Girls, too, were almost all similarly aged when the coming-of-age series started. And Nicola "The Wee Lesbian" Coughlan was in her thirties. Not to mention: There was just one ( one, people!) teenager in the cast of To All The Boys I Loved Before: Anna Cathcart, who played Kitty, Lara Jean's kid sister, was 15 when the first made-for-Netflix film came out.
Like I say, it's all a bit … confusing out there. So, to help you out, here are some signs that the high schooler you're talking to is actually Never Been Kissed-ing you:
They only ever carry the skateboard; they never actually use it.
Their hair is impeccable, always (no sign of any frizz here, folks)
In fact, strike that: They just look amazing, always. Never a pimple in sight.
They're constantly using the latest teen lingo ("that's drip") but it sounds every bit as natural as if they had glass marbles crashing around inside their mouth.
Their sneakers are a distractingly blinding box-fresh white.
Their clothes positively ooze "quiet luxury" and are way out of reach of their classmates' monthly allowance.
That or, y'know, they live in their cheerleader uniform/letterman jacket.
Facial hair isn't just peach fuzz or cute little whispery tufts: It's fully established.
Or they have an insanely prominent five-o'clock shadow.
Male voices shouldn't be as deep as this, right?
Erm, also that bicep-baring, torso-hugging tank? Exposing way too many defined muscles for a teen, quite frankly.
Is ... is that a bald spot?
They only ever stand in really good lighting.
Their glasses don't have any lenses in them.
They look as if they've been attacked by a professional makeup artist's brush on the way into school.
They patently aren't a bumbling pubescent, and you know it.
You can do this, everyone, I promise, even if Gen Z and the new Generation Alpha are far better at hair and makeup than we ever were, thanks to all the TikTok tutorials out there.

Hmm. Good luck, I guess … you're going to need it.