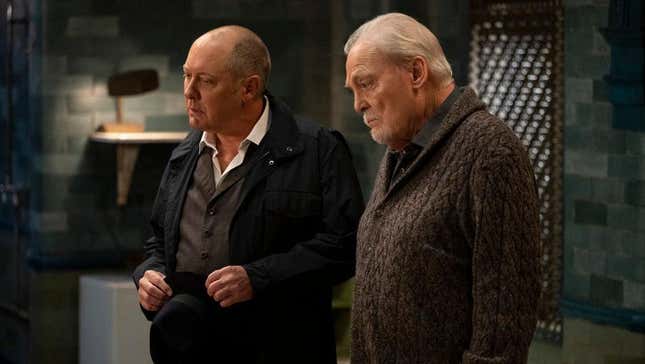 Returning for its 10th and ‌final season, The Blacklist is pulling out all the stops and calling a few favors from previous guest stars, with Stacy Keach and Chin Wan making their return to the show. Wan began appearing as Blacklister Wujing in season one, while Keach made the list in season six as Robert Vesco, an absolutely choice name. Now back on the show before its curtain call, Wujing has some news for Vesco about one Mr. Red Reddington (James Spader) in this exclusive clip.
The clip seemingly sees Wujing finally telling Vesco about the basic premise of The Blacklist. After appearing on the show for three seasons, it's about time. Wujing is lording this power over Vesco, even though he only learned about Reddington last season. Red Reddington really knows how to keep the truth under his hat.

The show recently passed its 200th episode, which is a nice little feather in James Spader's trademark black hat. His reliable, smarmy demeanor and the occasional appearance by an imaginary lion have kept fans hooked for a decade.
"After 10 years, hundreds of Blacklist cases, and more than 200 episodes produced, we're honored to reach our conclusion," showrunner John Eisendrath said in a statement. "It's been incredibly fun to create the strange, devious, and delightful Blacklisters to challenge Raymond Reddington and our FBI Task Force each week. We would like to thank everyone at NBC and Sony, our extraordinary crew who make the impossible happen every day, our endlessly inventive writers and producers, and our remarkable cast who brought life to these characters. We appreciate our dedicated fanbase who came along for this wonderful ride and are excited to share this final season with them."

The Blacklist airs on Sundays on NBC.