While a handful of new shows on Fox's 2002-03 schedule struggled or were swiftly canceled, two were seen as the future of the network: Fastlane, a modern Miami-Vice-meets-Starsky & Hutch executive-produced by McG, and the Dominic Purcell-led amnesia procedural John Doe. Fastlane and John Doe were the first freshman series to receive full-season pick-ups from Fox that season, and they were considered the top picks for second-season renewal. Based on industry reports at the time, Fox wanted to keep either Fastlane or John Doe for the 2003-04 Thursday or Friday night lineup. Preston Beckman, then-Fox's executive VP of strategic program planning, even confirmed that desire prior to the network upfront presentations. But by the May 2003 upfronts, both shows were officially on the canceled list, along with cult favorites Andy Richter Controls The Universe and Futurama and reality show duds like Married By America and the Monica Lewinsky-hosted Mr. Personality.

Fastlane and John Doe came and went in the same television season and on the same network as Firefly, but that's where the similarities end. Even after Fastlane ended up in Firefly's Friday night death slot, the show was treated relatively well by Fox. It had the full season order, as well as an initially decent yet competitive time slot in which it thrived (Wednesdays at 9 p.m.), and its episodes actually aired in proper succession. All positive signs of a network giving a show a chance, be it in 2002 or 2016. So how does a show with that type of support end up on the chopping block alongside beloved cult comedies and forgotten unscripted trash?
Fastlane starred Peter Facinelli, Bill Bellamy, Tiffani Thiessen, and a $2.6 million-per-episode budget.
Unlike most shows covered in this feature, Fastlane wasn't canceled because of low ratings, even though it suffered diminishing returns following the move to Friday. Fastlane was canceled for the very reason it was interesting and fascinating to watch: It was too expensive. That $2.6 million was reflected in all of the cars, locations, stunts, explosions, and music (which was scrubbed for home-video release) it took to create the over-the-top world of Fastlane.
That unheard-of price tag was all part of the creators' specific vision for the series. "The goal of the show is to make it feel like an hour of film on television every week," McG, who co-created Fastlane with John McNamara, told Entertainment Weekly in 2002. The series succeeded in that goal, turning weekly undercover cop assignments into a popcorn spectacle for the small screen. Each "hour of film" built off the show's premise: LAPD Officer Van Ray (Facinelli) and former gang member-turned-NYPD Detective Deaqon Hayes (Bellamy) are partnered up to work for a deep undercover task force, under the supervision of LAPD Lieutenant Wilhelmina "Billie" Chambers (Thiessen). They had iron-clad criminal aliases, they never showed their badges, and they used their criminal connections to gain access to Los Angeles' seedy underbelly in a way other cops simply couldn't.
G/O Media may get a commission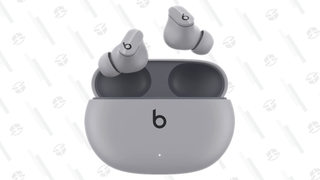 They also had at their disposal the Candy Store, an abandoned theater decked out as the ultimate man cave, filled with exotic cars, cash, and bling, all for the purpose of busting high-class and high-profile criminals. The motto of the Candy Store is one that's repeated ad nauseam throughout the series: "Everything we seize, we keep. Everything we keep, we use." In a 2002 interview, Bill Bellamy said it best: "I think the Candy Store is a male fantasy. I think it represents everything that is innately male from the cars to the pool table to the motorcycles, snowmobiles, watercraft, guns […] It's just an overload of toys." And an "overload of toys," for the world of TV magic, amounts to a pretty penny. Fastlane was the rare example of a show about excess and decadence that was actually excessive and decadent.
In the pilot alone, Fastlane featured music from The Vines, Wu-Tang Clan, Limp Bizkit, Ted Nugent, Folk Implosion, Depeche Mode, Phil Collins, and 2 Live Crew. The original theme song for the show was performed by Snoop Dogg. Fastlane wanted to be an hour's worth of weekly cinematic entertainment, but it was also "a self-described adult music video," with every other scene playing as if it were sandwiched between Nelly and Avril Lavigne in an MTV video block—no doubt a symptom of McG's history of directing clips for Sugar Ray (a band he co-founded) and Smash Mouth. On top of the fees for music licensing, toys, and explosions, guest stars like Isaac Hayes, Robert Forster, George Hamilton, Naomi Campbell, and more also ran up Fastlane's tab. Not to mention the budget for slow motion (a McG favorite) and unnecessary split screens.
Fastlane allowed a director with McG's hyper-stylized approach to have full creative control, something that can't be said about later McG-produced efforts like The O.C., Supernatural, Chuck, or Nikita. When Fastlane premiered, the man otherwise known as Joseph McGinty Nichol had only the flashy Charlie's Angels movies and videos like "Pretty Fly (For A White Guy)," "Got The Life," and "One Week" on his resumé. Ridiculous credentials from a 2016 vantage point, but such was the action landscape in 2002. The previous summer, The Fast And The Furious was a success at the box office, opening the door for Fastlane and the existence of movies like 2002's xXx, 2004's Torque, and Fastlane's spiritual successor: 2003's 2 Fast 2 Furious.
The fact that Fastlane was even able to make it to 22 episodes without fizzling out or completely flopping is an accomplishment all on its own. The rare discussion about Fastlane doesn't tend to boil down to plot. But even without the high budget looming over everything, the sheer amount of "too much" in the premise of undercover cops operating in the high-class crime world always meant there was a shelf life for the show's storytelling ability. The series peaks halfway through its run in the cop killer-centric two-parter "Defense" and "Offense," the greatest representation of what McG wanted Fastlane to be—and the best example of the show's potential. In these two stuffed episodes, the repercussions of the Candy Store team's actions are under full scrutiny, with an actual body count creating stakes for the rest of the series. The subject matter doesn't eliminate the show's more shallow aspects—it increases them tenfold. "Defense" begins as an all-out hip-hop music video before it turns into a different, shoot-'em-up style rock music video.
For a series aiming to deliver an hour-long blockbuster every week, "Defense" and "Offense" deliver, in spades. But there was nowhere for the rest of Fastlane to go but down. The final eight episodes of the season featured a shift in undercover dynamics and the basic premise of the show. All of a sudden, Van and Deaq were blowing cover more frequently, and the undercover aspects became secondary to the series. The show diminished the characters' extravagant lifestyles, while the directorial elements and editing tricks worked double overtime to compensate for fewer toys and explosions. This makes sense as a potentially cost-cutting measure, but it also undercut the show's long-term prospects. In 2016, the obvious answer would be to keep the show as a 13-14 episode (or even shorter) series, if keeping the budget was non-negotiable. (In this era of #PeakTV when reality television is commonplace, there is more room than ever for eye candy and excess on the small screen). But in 2002, the only answer was cancellation. "Cool" shows and movies like Fastlane were a dime a dozen for Warner Bros. and Fox, even at $2.6 million a pop.
And in 2002, no one knew that The Fast And The Furious was going to spawn one of the biggest movie franchises of all time. Entourage wouldn't make excessive bro culture and "hugging it out" a part of the pop-culture lexicon until 2004. The Starsky & Hutch film came out in 2004 and Michael Mann's Miami Vice adaptation followed in 2006—both so close to Fastlane yet still too far. Fastlane was a series for the Pepsi Blue generation, coming and going just as fast as the gaudy, berry-flavored soda. But had Fastlane debuted a few years later, it might have fit right into a fast and furious landscape.
One-season wonder, weirdo, or wannabe? Weirdo.