"You're oil, I'm water," says Detective Annalise Villa (Jaina Lee Ortiz) near the end of the pilot of Rosewood, Fox's latest series about a co-ed crime-fighting duo who, with any luck, will be planning an extravagant wedding seven seasons hence. As it currently stands, Villa is the reluctant quasi-partner to Dr. Beaumont Rosewood (Morris Chestnut), Miami's suavest, most handsome forensic pathologist. Together, Villa and Rosewood make a potent team, fueled by her plucky police work, his streetwise anatomical problem solving, and their purportedly effervescent chemistry. Even while bickering like the married couple central to every Great American Novel, they manage to solve the murders the dunderheaded cops can't handle, which is all of them. And lest the audience forget these two started as a hopeless mismatch, Villa says things like "You're oil, I'm water, and we got lucky."
Harmlessness is Rosewood's greatest virtue. It's an easy, breezy, cops-and-cadavers procedural that fails to put forth a compelling argument for its very existence, and is inessential viewing for anyone who hasn't written a substantial amount of Bones fan-fiction. So why is it so frustrating to watch? Probably because it's a reflection of the television industry's most craven programming instincts. Bones has long been a punchline for sophisticated television consumers, but has quietly grown into a power player for Fox, and is headed into its 11th season after proving impervious to time-slot shuffling. Still, it's impossible to conceal the wear-and-tear on a show after 11 years, and Fox executives must be searching desperately for an appropriate replacement. Like the Bones spin-off The Finder before it, Rosewood seems like the underwhelming understudy for an ably filled role.
Creator Todd Harthan, formerly a writer on Psych, tries to bring the same light, comedic tone to Rosewood with considerably less success. Harthan's approach is not inherently flawed, as it worked for Psych, Monk, and the other "kooky crime fighter" shows on which USA built its brand. For that matter, Rosewood is on brand for Fox, which between House, Rake, and the recently canceled Backstrom, has built its own stable of shows offering skewed character-based takes on the case-of-the-week whodunnit. But the comedic tone doesn't serve Rosewood well because of its leads. Chestnut emanates charm without even trying, but his lack of comedic experience shows through in his scenes opposite Ortiz, which could easily be read as dramatic scenes were they scored differently. Ortiz, meanwhile, is playing essentially the same tough-as-nails lady cop role she played in The After, Chris Carter's busted Amazon pilot; her character is first seen hitting a heavy bag so that there's no confusion about her being a complete badass. Her character is supposed to be Rosewood's comic foil, and her exasperation with his unorthodox techniques should be a running joke of its own, but Ortiz seems like she was under the impression that she was acting in a different kind of show.
The success of a show like Rosewood hinges on the chemistry between the leads, and with that lacking, more scrutiny goes to the supporting cast and the premise itself, neither of which stand up to closer examination. Rosewood is so good at what he does, he apparently doesn't need the fully fleshed-out support team that usually comes standard with procedurals. Instead, he has only two lab assistants: his sister Pippy (Gabrielle Dennis) and her fiancee Tara (Anna Konkle), who quibble about wedding details while swabbing a cadaver's fingerprints for clues. The estimable Lorraine Toussaint was a late addition to the cast, and while she's a fine choice to play Rosewood's mother Donna, it's doubtful she'll get enough to do with the show so focused on Rosewood and Villa's tense working relationship.
G/O Media may get a commission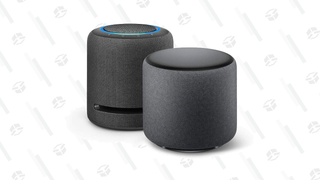 25% off - Prime Exclusive
Echo Studio + Echo Sub Bundle
Beyond the tired, will-they-yes-of-course-they-will dynamic between Rosewood and Villa, the show's premise is weirdly thin. There's no macro-story, and Rosewood's only other element is a character attribute, not a story driver. Rosewood reveals that he's afflicted with a long list of congenital health defects as a result of being born months ahead of schedule, but there's not much more to it other than his desire to make the most of the limited time he has before his illnesses catch up to him. If only the show was as aware as its title character that it's operating on borrowed time.