A recent spin of the "How Will Lena Dunham Disappoint Us This Time" wheel landed on "defending a man accused of rape," as Dunham and her Girls co-showrunner Jenni Konner defended Murray Miller—a writer for the show accused of sexual assault by actress Aurora Perrineau—in a statement that basically said, "he's always been cool to us, so she must be lying." Dunham would later walk that statement back, and one writer for her Lenny Letter email newsletter would quit in disgust, citing Perrineau's accusation and Dunham's "hipster racism" as the reason for her departure. (Perrineau is biracial, and the daughter of Oz and Lost's Harold Perrineau.)
At the time, Miller's attorneys said that Perrineau was trying to extort money from their client, and now they are walking back that statement as well. According to Variety, Miller's attorneys have been forced to admit that they were the ones making false claims, and that Perrineau had never requested monetary damages from their client. In a statement, they say:
In a previous statement to the media, we stated that Ms. Perrineau sought substantial monetary damages from our client Murray Miller. Neither Ms. Perrineau nor her attorney have ever made a demand for money. Our previous above statement was incorrect and the result of a good-faith misunderstanding.
Hard to see what about trying to smear a sexual assault victim by painting her as a gold-digging liar, playing on bigoted stereotypes of women of color in the process, constitutes "good faith," but whatever you say, guy. In her initial claim, Perrineau said that Miller sexually assaulted her in 2012, when she was 17 and he was 35; she and her mother unequivocally denied at the time that they had demanded any sort of financial compensation for the assault.
UPDATE, 3:30 p.m.: Aurora's father, actor Harold Perrineau, has posted a passionate, heartfelt statement in support of his daughter on Twitter. You can read it below.
G/O Media may get a commission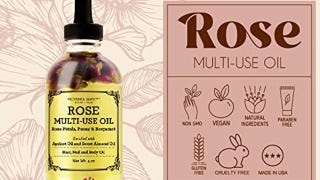 Provence Beauty Rose Multi-Use Oil