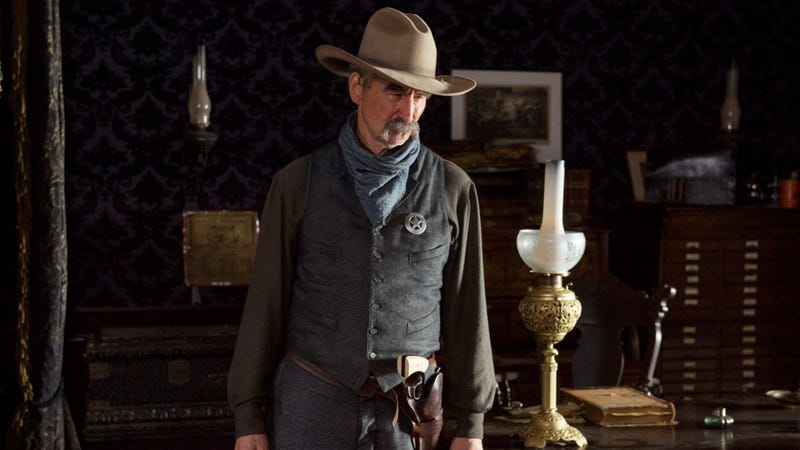 Here's what's up in the world of TV for Wednesday, November 22. All times are Eastern.
Top pick
Godless (Netflix, 3:01 a.m.): Any new Steven Soderbergh project is worth a look, but his first foray back to TV following The Knick is especially intriguing. Jeff Daniels, Michelle Dockery, and Jack O'Connell star in a series set in the isolated mining town of La Belle, New Mexic—a town almost wholly populated by women, that ends up taking in a man (O'Connell) on the run from a notorious criminal (Daniels). The trailer featured some spectacular camera work, and with a surfeit of talent in front of the camera, this looks to be one hell of a potential Thanksgiving binge-watch. Sean T. Collins will climb into the saddle for daily reviews starting Monday.
Regular coverage
Survivor (CBS, 8 p.m.)
Mr. Robot (USA, 10 p.m.)

Wild card
20/20: Lights, Camera, Christmas! Inside Holiday Movie Classics (ABC, 10 p.m.): Did you know Jack Nicholson was almost chosen to play the role of the father in A Christmas Story? That would've been unsettling, right? Learn more facts like that during this holiday-themed installment of the long-running newsmagazine show, which features interviews with The Santa Clause's Tim Allen, Peter Billingsley from A Christmas Story, Beverly D'Angelo and Chevy Chase from National Lampoon's Christmas Vacation, and... Daddy's Home 2's Mel Gibson?! The fuck, 20/20?!