Here's what's up in the world of TV for Sunday, March 29th. All times are Eastern.
Top pick
Going Clear: Scientology And The Prison Of Belief (HBO, 8 p.m.): After months of speculation, anticipation, and threatened litigation, HBO's tell-all Scientology documentary premieres tonight. Joshua Alston gave it an A and said the documentary is "bruising…Worse than the tales of the church's unconscionable financial, psychological, and physical abuse is the pervasive sense that the scope of human suffering is wider than a two-hour documentary can comfortably accommodate." But we once walked by the Celebrity Scientology Center while it was hosting a Jurassic Park screening and bouncy house garden, so really, how bad it could actually be? (A: Real bad, shut up, What's On Tonight.)
Also noted
WrestleMania 31 (WWE Network/YouTube, 5 p.m.): Living life in this chaotic, fucked up world can be trying, but there is still a light that won't go out: resident WWE expert LaToya Ferguson is covering WrestleMania 31 for The AV Club. We don't know what we did to deserve such joy in our lives, but we will not fight the spectacular results.

G/O Media may get a commission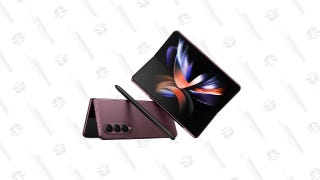 Save Up to $300
Galaxy Z Fold4
Call The Midwife (PBS, 8 p.m.): The fourth season opens in a new decade: the 1960's! We know this is about midwives and nuns, but if we were to play Period Piece Bingo, we'd bank on seeing some blunts, bouffants, and a healthy dose of teenage hysteria.
Mr. Selfridge (PBS, 9 p.m.): But if you'd rather explore the dusty streets of 1919 London, turn to the third season premiere of Jeremy Piven's favorite show starring Jeremy Piven.
The Walking Dead (AMC, 9 p.m.): The fifth season ends with ninety minutes of existential crises and gruesome kills (we assume). Zack Handlen will be on hand to parse through the wreckage, even if he can't quite get on board with the spinoff's official mandate to Fear The Walking Dead.
Regular coverage
The Last Man On Earth (FOX, 9 p.m.)
Shameless (Showtime, 9 p.m.)
The Good Wife (CBS, 9 p.m.)
Battle Creek (CBS, 10 p.m.)
Classic coverage
The Simpsons (3 p.m.)
What else is on?
iHeart Radio Music Festival (NBC, 8 p.m.): iHeart Radio promises two hours of the "year's biggest acts," which we KNOW is a lie because ZAYN WON'T BE THERE!!!!1
Killing Jesus (NGC, 8 p.m.): "A three-hour global television event" based on Bill O'Reilly's book of the same name premieres on Palm Sunday, and if any part of that sounds appealing to you, goodbye and godspeed.
Blood Sweat and Heels (Bravo, 9 p.m.): A series that sounds like a Kroll Show parody of a Bravo show has its second season premiere.
NCAA Basketball: Regional Finals (CBS, 2:20/5:05 p.m.): Nothing against basketball, but we think we'd be 1000% more interested if we could have Abbi and Ilana providing commentary on the shorts situation.

Pirates of the Caribbean: Curse of the Black Pearl (FX, 6 p.m.): Hey, remember when there was one Pirates of the Caribbean starring Orlando Bloom with something resembling a personality, Keira Knightley rioting against corsets, and Johnny Depp as an actually fun character instead of a sentient pile of drunk dishrags? That was nice. (Pirates of the Carribean 5: Dead Men Tell No Tales, out July 7 2017.)
In case you missed it
Hart Of Dixie: The heartfelt CW show took its likely last bow on Friday, so you should check out Carrie Raisler's lovely tribute to Bluebell.